Best Reggae Album Nominations - Grammy Awards 2020
11/20/2019 by Reggaeville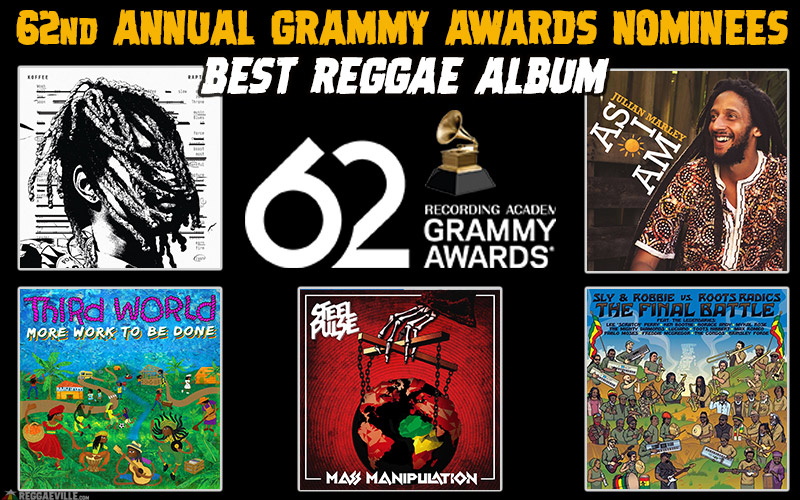 The 62nd Annual Grammy Awards nominees have been revealed.


Five releases made it to the final round and winners will be awarded in 2020.

What are the eligibility requirements for nominations?

For the 62nd Annual GRAMMY Awards, recordings must be released between October 1, 2018, and August 31, 2019. To be eligible, recordings must be for sale commercially via general distribution or made available as a digital recording, either for sale or via a recognized streaming service.

To be considered an album, recordings must contain at least five different tracks and a total playing time of 15 minutes or a total playing time of at least 30 minutes with no minimum track requirement. Recordings (albums/singles) must be available to the public as stand-alone purchases or audio-only streams by August 31, 2019.
BEST REGGAE ALBUM - NOMINEES 2019
For albums containing at least 51% playing time of new reggae recordings.
NOMINATION FACTS
Koffee's first nomination with her debut EP Rapture.
Koffee is the fifth female nomination ever! Judy Mowatt (1985), Rita Marley (1991), Sister Carol (1996) and Etana (2018) were nominated, but didn't win.
The Final Battle features Lee Scratch Perry, Ken Boothe, Horace Andy, Mykal Rose, Mighty Diamonds, Luciano, Toots Hibbert, Max Romeo, Pablo Moses, Freddie McGregor, The Congos and Brinsley Forde.
Third World never won a Grammy, but got nominated 7 times from 1997 - 2005.
Third World's album More Work To Be Done is produced by Damian Marley.
7th nomination for Steel Pulse. Babylon The Bandit won in 1986.
Julian Marley was nominated in 2009, but his brother Stephen won.
Ziggy Marley holds the record for the most Best Reggae Album wins: 7!
Recent album releases by Spragga Benz (Chiliagon), Busy Signal (Parts of the Puzzle), Maxi Priest (It All Comes Back To Love), Pressure Busspipe (Rebel With A Cause) and Etana (Dimensions) were released after August 31. They have to be submitted for the next Grammy Award in 2021.

The 62nd Annual Grammy Awards ceremony, hosted by Alicia Keys, is scheduled for January 26, 2020, at Staples Center in Los Angeles. The Premiere Ceremony 2019 (pre-telecast event) was hosted by Shaggy, who also took the trophy for his collaboration album 44/876 with Sting.
Here is the complete list of previous winners in the REGGAE CATEGORY*:
1984 Black Uhuru - Anthem
1985 Jimmy Cliff - Cliff Hanger
1986 Steel Pulse - Babylon the Bandit
1987 Peter Tosh - No Nuclear War
1988 Ziggy Marley & The Melody Makers - Conscious Party
1989 Ziggy Marley & The Melody Makers - One Bright Day
1990 Bunny Wailer - Time Will Tell: A Tribute to Bob Marley
1991 Shabba Ranks - As Raw As Ever
1992 Shabba Ranks - X-tra Naked
1993 Inner Circle - Bad Boys
1994 Bunny Wailer - Crucial! Roots Classics
1995 Shaggy - Boombastic
1996 Bunny Wailer - Hall of Frame: A Tribute to Bob Marley's 50th Anniversary
1997 Ziggy Marley & The Melody Makers - Fallen Is Babylon
1998 Sly and Robbie - Friends
1999 Burning Spear - Calling Rastafari
2000 Beenie Man - Art and Life
2001 Damian Marley - Halfway Tree
2002 Lee Perry - Jamaican E.T.
2003 Sean Paul - Dutty Rock
2004 Toots & the Maytals - True Love
2005 Damian Marley - Welcome to Jamrock
2006 Ziggy Marley - Love Is My Religion
2007 Stephen Marley – Mind Control
2008 Burning Spear - Jah Is Real
2009 Stephen Marley - Mind Control Acoustic
2010 Buju Banton - Before the Dawn
2011 Stephen Marley - Revelation Pt. 1 – The Root of Life
2012 Jimmy Cliff - Rebirth
2013 Ziggy Marley - In Concert
2014 Ziggy Marley - Fly Rasta
2015 Morgan Heritage - Strictly Roots
2016 Ziggy Marley - Ziggy Marley
2017 Damian 'Jr Gong' Marley - Stony Hill
2018 Sting & Shaggy - 44/876
2019 ???

*CATEGORY NAME CHANGE:
BEST REGGAE RECORDING (1984 - 1990)
BEST REGGAE ALBUM (1991 - 2019)