➜ GET IN TOUCH advertising@reggaeville.com

➜ BOOK A BANNER CAMPAIGN NOW...
to promote your festival, event, release, etc.. on one of the most popular Reggae website worldwide with the most comprehensive festival and concert agenda, latest news, interviews, reviews plus the most recent music, videos and releases!

✘ TRAFFIC OVERVIEW ➟ CLICK HERE FOR ALL REGGAEVILLE MEDIA STATS
➜ RELAUNCH
In October 2016 Reggaeville.com had a major relaunch. The page is now 100% responsive on all devices and with a brand new layout it provides a unique user experience.

➜ BANNER RATES
Our banner rate is 1 Euro CPC (cost per click).
Because of the generally decreasing click rates in banner campaigns, we have changed our banner rates from 10 Euro CPM (cost per thousand impressions) to 1 Euro CPC (cost per click) to guarantee a successful campaign to our clients. The change from 10 Euro CPM to 1 Euro CPC guarantees a strong click rate of 1%!

➜ BANNER VISIBILITY
Banner clicks are the easy-to-measure part of a campaign. In addition the total amount of banner displays need to be considered. In order to get a certain number of clicks, we display the banners as often as needed until the goal has been reached.

➜ BANNER POSITIONS
Every banner campaign runs with 4 different formats, which will be delivered in rotation placed on our various positions. That way your campaign reaches users on all devices (mobile, desktop & tablet).

➜ BANNER SPECS
BILLBOARD 970x250px (desktop) max size: 175kb
LEADERBORD 728x188px (tablet) max size: 150kb
LARGE RECTANGLE 336x280px (all devices) max size: 150kb
MOBILE LEADERBOARD 320x100px (mobile) max size: 100kb
Mandatory: Design must contain at least one animated element.
Format: GIF!
Recommended: Animated designs, use of photos, easy to read text!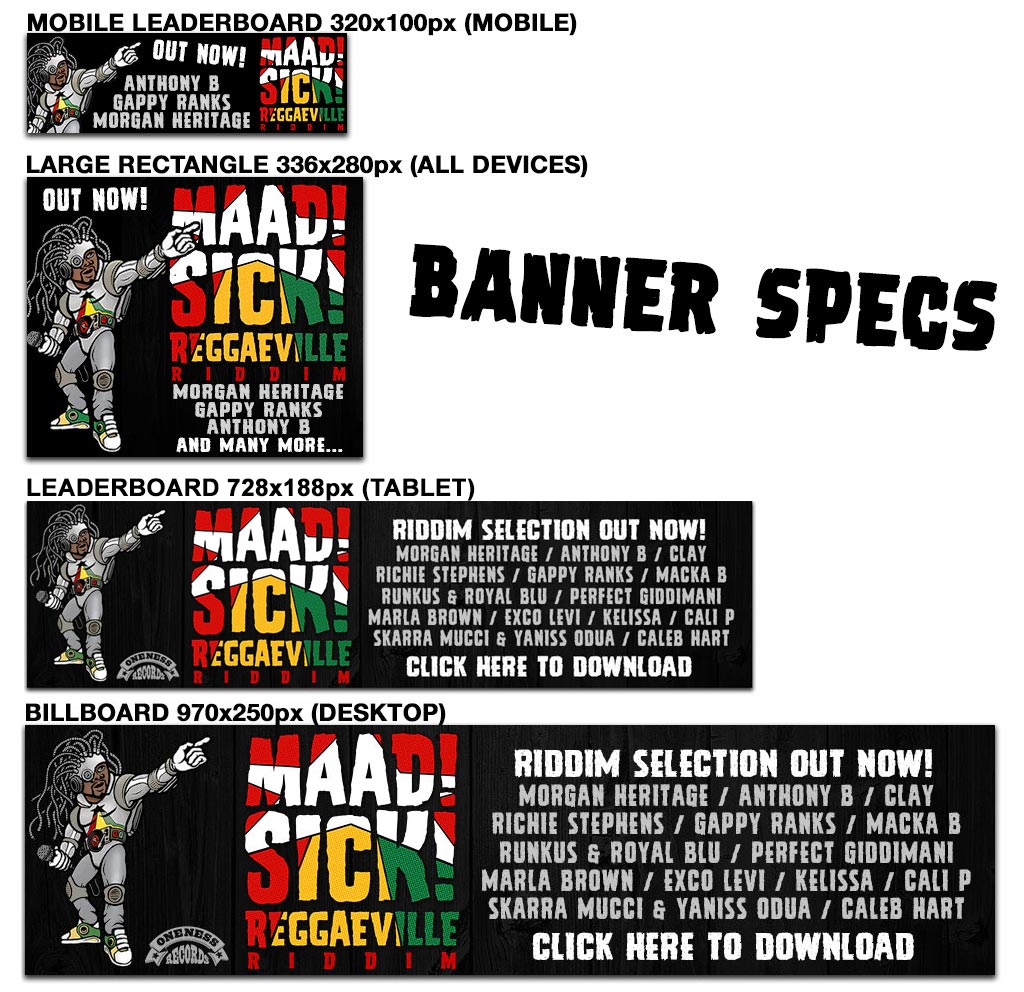 MORE ADVERTISING INFO: MEDIA STATS # YEARBOOK MAGAZINE # FESTIVILLE MAGAZINE