Review
Album Review: Third World - More Work To Be Done
08/16/2019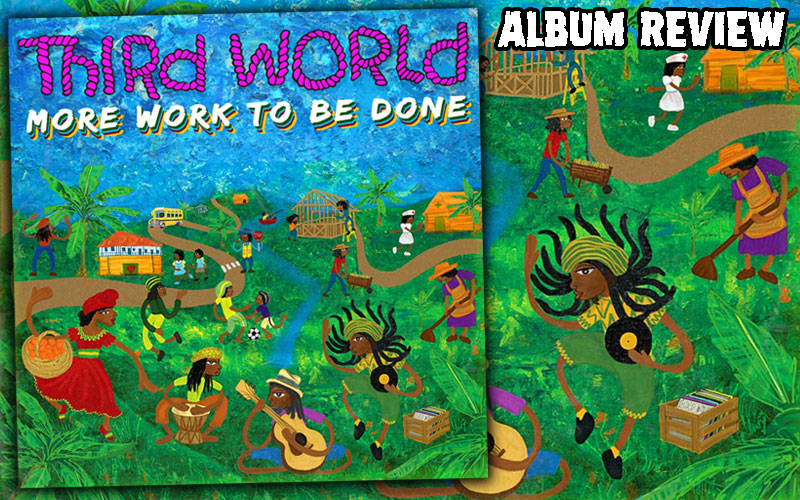 After over four decades as one of the preeminent Jamaican bands, Third World returns with a prevailing prescription: there is still "more work to be done." Enlisting the help of Damian and Stephen Marley, as executive producers of the 11-song set, the venerable group delivers a sharply executed and meticulous album that mirrors the diversity of style and genre within the expansive world of Third World. Threading classic one-drop reggae with vintage R&B, adorned by present-day descendants of their legacy - with guests such as Chronixx and Busy Signal - the veteran band has once again created a work of musical art, or should it be said, art of musical work.

Leading with a seductive pacifying guitar and lilting flute, the opening YimMasGan then springs to life, riding on a breeze of lush harmony vocals, jumpstarting the record's intent. From there is a shift to '70s R&B, winking with a reference to 96 degrees in the shade, under spirited horns on Third World Keeps Turning. A reggae-lite vibe carries Loving You is Easy, while the call for racial harmony on People of a Different Color features Pressure Busspipe as the first of several guests lending a hand.

Once again R&B details emerge, this time on Na Na Na, a kind of hybrid between old-time dancefloor burner and current sing-along, with Chronixx bringing his updated spark to the fire. There is another hint to the past via disco-era voicebox dotting Feel Good made contemporary by the rapid force of Busy Signal, whose impactful turn grabs the ear. Winner of the U.S. TV show, The Voice, Tessanne Chin joins Tarrus Riley for the gentle Island Dreams, while the repeated refrain rings again and again on the following Sheep in Meadows.

Next, Damian Marley steps out from behind the board, bringing his distinctive vocal styling to You're Not The Only One. Give Jr. Gong a lot of credit for keeping the sound of Third World true, and for showcasing the various talents within the band's songwriting and musicianship. Guests serve the song, not the opposite, and Marley and his sibling, Stephen, along with Third World's singer and guitarist Cat Coore - also executive producing - find the sweet spot between contributing and overshadowing.

The provocative title track precedes the closing Hear Us Out, and its own message to disseminate. Though airy and upbeat, and most certainly optimistic, it is a clear call for action. Like the ten before it, the finale exemplifies what makes Third World an enduring group; finding the messengers - be it within one-drop or soul or lovers' rock - to ensure the message gets through. And the work gets done.

---
Release details
Third World - More Work To Be Done
DIGITAL RELEASE / CD / VINYL [Ghetto Youths International]
Release date: 08/16/2019
Tracks
01. YimMasGan
02. Third World Keeps Turning
03. Loving You Is Easy
04. People of a Different Colour feat. Pressure Busspipe
05. Na Na Na feat. Chronixx
06. Feel Good feat. Busy Signal
07. Island Dreams feat. Tessanne Chin & Tarrus Riley
08. Sheep In Meadows
09. You're Not The Only One feat. Damian Marley
10. More Work To Be Done
11. Hear Us Out
Produced by
Damian Marley
Featured artists
Chronixx
/
Pressure Busspipe
/
Tessanne Chin
/
Tarrus Riley
/
Damian Marley
/
Busy Signal