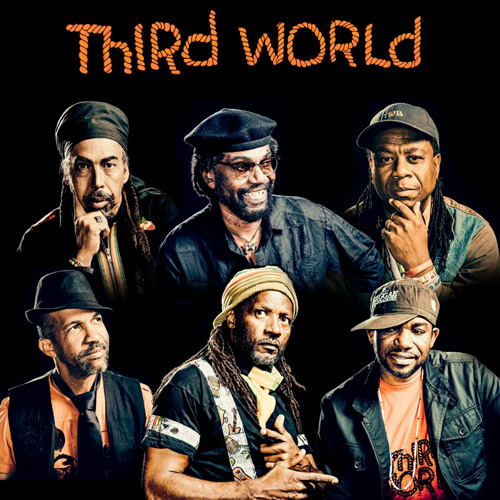 Third World is one of the longest-lived reggae bands of all time, and one of Jamaica's most consistently popular crossover acts among international audiences. While the band was long capable of authentic roots reggae, they usually preferred to mix in elements of ReB, funk, pop, and rock (and, later on, dancehall and rap). Purists often criticized their music as tame and polished, overly beholden to commercial concerns. Indeed, they were regular visitors to the American and British charts during the '80s, but the best of their output was undeniably satisfying on a creative level as well.
Third World was originally formed in 1973 by keyboardist Michael "Ibo" Cooper and guitarist/cellist Steven "Cat" Coore. Both had received formal training at music schools in Jamaica, and both had played around the Kingston reggae scene before joining the original lineup of Inner Circle around 1968. When they left to form their own band in 1973, they took Inner Circle bassist Richard Daley with them, and also recruited drummer Carl Barovier, percussionist Irvin "Carrot" Jarrett, and lead singer Milton "Prilly" Hamilton. Barovier was quickly replaced by Cornell Marshall, and the group made its live debut that year at Jamaica's independence celebration. They played around the Kingston club scene and made a name for themselves as one of the few fully self-contained bands around. Having all their own musicians on hand, Third World didn't need to rely on sound systems to play records that weren't practical to duplicate live. As a result, they found it difficult to land a label deal, since most labels in Jamaica were operated by sound systems.
Third World solved the problem by traveling to England for a tour, and subsequently signing with the internationally minded Island label. Island issued their debut single, "Railroad Track," in 1974 and sent them out on a European tour as the opening act for Bob Marley e the Wailers. Their self-titled debut album was released in 1976 and featured a successful cover of the Abyssinians' roots classic "Satta Massagana." The follow-up, 1977's 96° in the Shade, introduced new drummer Willie "Roots" Stewart and new lead singer William Clarke, aka Bunny Rugs. It was an enormous critical success in the U.K. and Europe, and spawned an all-time classic single in the title track. That set the stage for the group's commercial breakthrough album, 1978's Journey to Addis, which featured a funky, disco-flavored reggae cover of the O'Jays' "Now That We Found Love." The song hit the Top Ten on the American ReB charts in 1979, as well as the British pop Top Ten, and the LP climbed into the ReB Top 20. The follow-up single, "Cool Meditation," made the British Top 20, and Third World found themselves international stars.
OThe group quickly followed its breakout hit with The Story's Been Told later in 1979, and it charted in the U.S., though not as high as its predecessor. In 1980, they issued two albums, Rise in Harmony and the film soundtrack Prisoner in the Street, which marked the end of their tenure with Island. Third World next signed with CBS and debuted with 1981's Rock the World, which gave them another significant crossover hit in "Dancing on the Floor (Hooked on Love)," a British Top Ten. At the 1981 Reggae Sunsplash Festival, Stevie Wonder joined Third World on-stage to perform his tribute to Bob Marley, "Master Blaster (Jammin')"; it went well enough that Wonder wrote and produced two singles on the group's next album, 1982's You've Got the Power. The first, "Try Jah Love," was a funky dance track that became another significant crossover hit in America, nearly reaching the ReB Top 20. The second, "You're Playing Us Too Close," wasn't as commercially successful, but Wonder's efforts were enough to make You've Got the Power Third World's second album to hit the ReB Top 20.
The band's success continued on through the '80s, as 1983's All the Way Strong and 1985's Sense of Purpose both made the ReB Top 50. The latter album produced several minor crossover hits in the title track, "One on One," and "One More Time," which sported state-of-the-art, club-friendly dance beats. However, 1987's Hold on to Love didn't fare so well, and the group wound up parting ways with CBS and moving over to Mercury. Their 1989 label debut, Serious Business, restored their commercial standing with American ReB audiences, climbing into the Top 30 on the strength of a third major crossover hit, "Forbidden Love." One of the first commercially successful fusions of reggae and rap, "Forbidden Love" featured a guest appearance by Stetsasonic lead rapper Daddy O, and charted in the ReB Top 20. Serious Business also marked the departure of Irvin "Carrot" Jarrett, who was briefly replaced by "Forbidden Love" co-writer Rupert "Gypsy" Bent III.
Third World's second Mercury album was 1992's dancehall-flavored Committed, which produced a Top 30 ReB hit in the title cut. However, it proved to be their last major-label outing. Their next release, 1994's concert set Live It Up, appeared on the band's own label and marked the return of Rupert Bent, who wound up joining the band as a guitarist, keyboardist, percussionist, and occasional vocalist. In 1997, founding member Michael "Ibo" Cooper and Willie Stewart both departed, and were replaced by keyboardist Leroy "Baarbe" Romans and drummer Tony "Ruption" Williams, respectively. This lineup released Generation Coming in 1999, landing guest spots from Shaggy and Bounty Killer. Afterwards, Romans was replaced by Herbie Harris, who made his studio debut on 2003's Ain't Givin' Up. The same year the band celebrated a quarter century of playing music by rerecording their classics for 25th Anniversary. Two years later they returned with Black Gold and Green which included guests Beres Hammond, Wayne Marshall, and Blu Fox.