Out in January 2019: YEARBOOK 2018 - BEST OF REGGAEVILLE.com
We will feature one artist or group on the cover and compile the best of 2018. Including the popular Personal Artist Highlights section and the exclusive results of our Album of the Year poll. The Yearbook will be available as FREE PDF DOWNLOAD and is fully embedded in our website via issuu.com. ➟ Read & download past editions here!
SCROLL DOWN FOR ALL DETAILS TO BOOK AN ADVERT!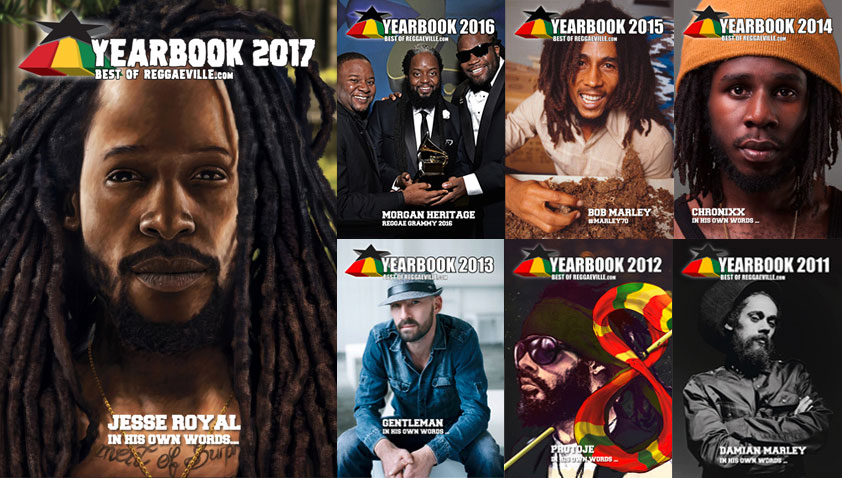 DEADLINE BOOKING: JANUARY 18, 2019!
DEADLINE ADVERT SUBMISSION: JANUARY 21, 2019!
✘ YEARBOOK ADVERT RATES incl. FREE BANNER CAMPAIGN
ADVERT A: 1/2 PAGE 400 Euro
incl. FREE Banner Campaign in the value of 300 Euro

ADVERT B: 1/1 PAGE 750 Euro
incl. FREE Banner Campaign in the value of 500 Euro

ADVERT C: 2/1 PAGE 1500 Euro
incl. FREE Banner Campaign in the value of 1000 Euro
➟ CLICK HERE TO CONVERT EURO TO $US @ XE.xom

✘ SPECIAL OFFER - FREE BANNER CAMPAIGN
All advert bookings include a Free Banner Campaign as listed above.

✘ ADVERT SPECS
1/2 PAGE 148x102mm (horiziontal)
1/2 PAGE 72x210mm (vertical)
1/1 PAGE 148x210mm
2/1 PAGE 296x210mm
+ 3mm bleed on each side
PDF/X-3:2002 or tif, jpg in 1:1 300dpi
✘ BANNER SPECS
➟ CLICK HERE FOR ALL DETAILS ABOUT BANNERING!

✘ MAKE YOUR ORDER

choose advert A, B or C
choose start date and duration of banner campaign
submit company address incl. valid VAT#
submit advert not later than January 21, 2019!
submit banner
payment options: Paypal & Wire Transfer
GET IN TOUCH advertising@reggaeville.com
MORE ADVERTISING INFO: MEDIA STATS # BANNER CAMPAIGNS # FESTIVILLE MAGAZINE