07/05 - 07/07 2019
Festival Report - SummerJam 2019
07/05/2019 by Gardy Stein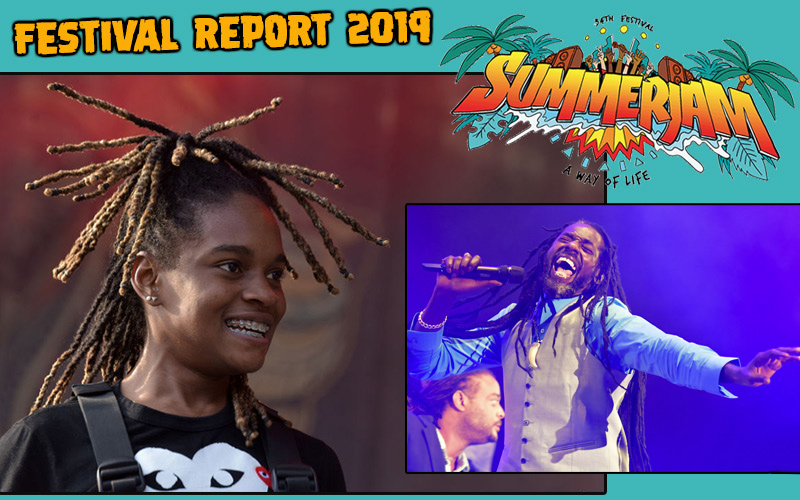 WELCOME TO THE 34th SUMMERJAM FESTIVAL!
A Way Of Life is this year's motto of Cologne's long-running festival, a headline chosen because it's "more important than ever to align with a positive, versatile and tolerant lifestyle", as the organizer explains. Again, tens of thousands will heed the call to indulge in the music and culture that have taken the world by storm, originating from a small island in the Caribbean. To make sure you don't miss a thing about this Reggae way of life, Team Reggaeville is on the spot to provide you with photos, videos, a full festival report and interviews - and to party hard, as we celebrate our 10th anniversary!

CLICK HERE TO WATCH ALL SUMMERJAM 2019 VIDEOS
CLICK HERE TO VIEW THE SUMMERJAM 2019 PHOTO REPORT

THURSDAY, JULY 4th
While trains, cars and buses bring in visitors from all over Germany and beyond, while tents are set up and friends find each other on the shore of Cologne's Fühlinger See, the festival crew has already installed the infrastructure necessary to host such a huge event (big up to all helpers and workers!). Through their efforts, a haimish feeling hovers over the area when we arrive in the early evening, and the fondly decorated Vibez Village does its name credit. It's here that we kick off the weekend, and the Riddim Magazine Allstars have already installed their Vinyl Thursdays set on stage.

Their choice of acts is just perfect. Starting with Los Apartamentos, this locally based band introduces the audience to Mento, the Jamaican folk music that gave birth to Ska, Rocksteady and, eventually, Reggae. They play tracks off their recently released album Water Di Garden to which people swing and sway in the gathering dusk.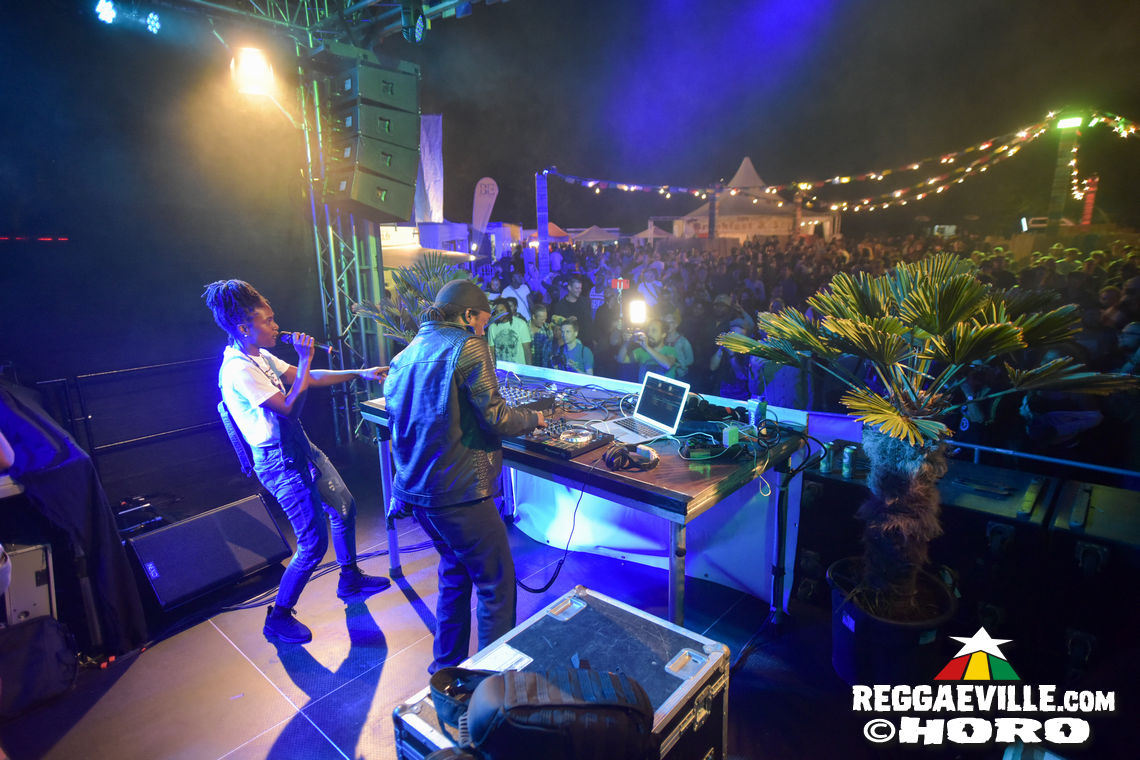 The thread thus woven is taken up by DJ Michael Plempe, who guides us through time with Rocksteady and early Reggae tunes. We arrive in the present when Riddim-Mag-CEO Ellen announces Aza Lineage, special guest from Kingston, Jamaica. The young artist welcomes the audience, and is in turn warmly welcomed as she starts to flow on well-known riddims like Full Up or Taxi. She is one of a whole truckload of talented, powerful and female singers from Jamaica who start to be recognized internationally and, most importantly, support each other no matter what. Thus, Aza hails Sevana, Xana Romeo, Lila Iké and Koffee, whose performance on Friday is already eagerly awaited. With Lineage-tunes like Soundsystem and Tell You Where I'm From, we are sent off into a night of musical anticipation, looking forward to many more highlights to come!

FRIDAY, JULY 5th
2:00pm
Gates open! SummerJam, Day 1 is about to unfold. The island in the Fühlinger See welcomes its visitors with excellent festival weather: blue sky, a few clouds to attenuate the heat of the sun, a fresh breeze... An eager and exceptionally beautiful crowd takes possession of the grounds, and while the Red Stage gets ready for its first act Krazin, Team Reggaeville fans out to gift the visitors with a limited edition of 5.000 Festiville Magazines.

3:00pm
Our working station is all set up, and so it doesn't take long to get ready for an interview with Banda Senderos. Meanwhile, the Green Stage is opened by Mo-Torres, a local rapper who has a way of interacting with his audience that wins over most of them before his show ends. I especially like the humour of a song about what the world would be like if there were no women, and it's rock-infused beat.

4:00pm
Stage Red is ablaze with Ricky Dietz. Even though the name suggests a one-man-show, the project includes two artists: Sway Clarke and Seeed-Frontman Pierre Baigorry aka Peter Fox. Together they create extremely interesting stuff that incorporates everything from Lagos-inspired Shaku-rhythms to Berlin bass (check their tune called Flex Pon You).

5:00pm
Banda Senderos have just started to play on Stage Green. Their fresh, latin-flavoured delivery hits fertile ground, and it's as much a visual joy to watch people dance and smile in the sunshine as it's a sonic one to hear the band play. Tracks off their current album Oase find eager ears, and their fan-base has certainly grown a bit today.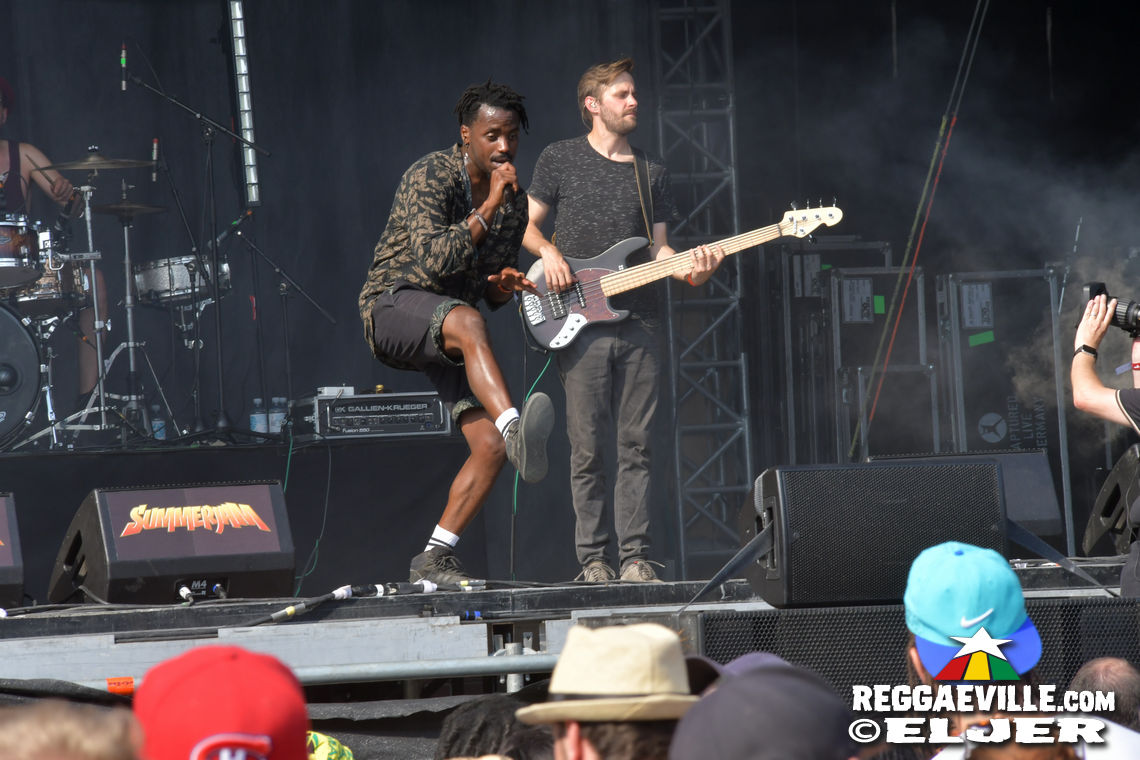 6:00pm
Getting ready for Koffee! This exceptionally talented young lady is gracing the Summerjam stage for the first time ever, and after a little detour to the Riddim tent, where Aza Lineage is awaited for a Meet & Greet, we assemble in front of Stage Green to see her show. A huge crowd has done so likewise, possibly the biggest I've seen so far today. The Raggamuffins get ready on their instruments, and shortly after the two background singers enter the stage, Mikayla Simpson appears and is taking people's hearts by storm. Those who know her scream and dance and sing along to her every word in songs like Raggamuffin or Throne, and those who don't are visibly impressed. In the photo-pit, a smiling Agent Sasco follows the show next to his wife and Penthouse-Records founder Donovan Germain. Legends in the place!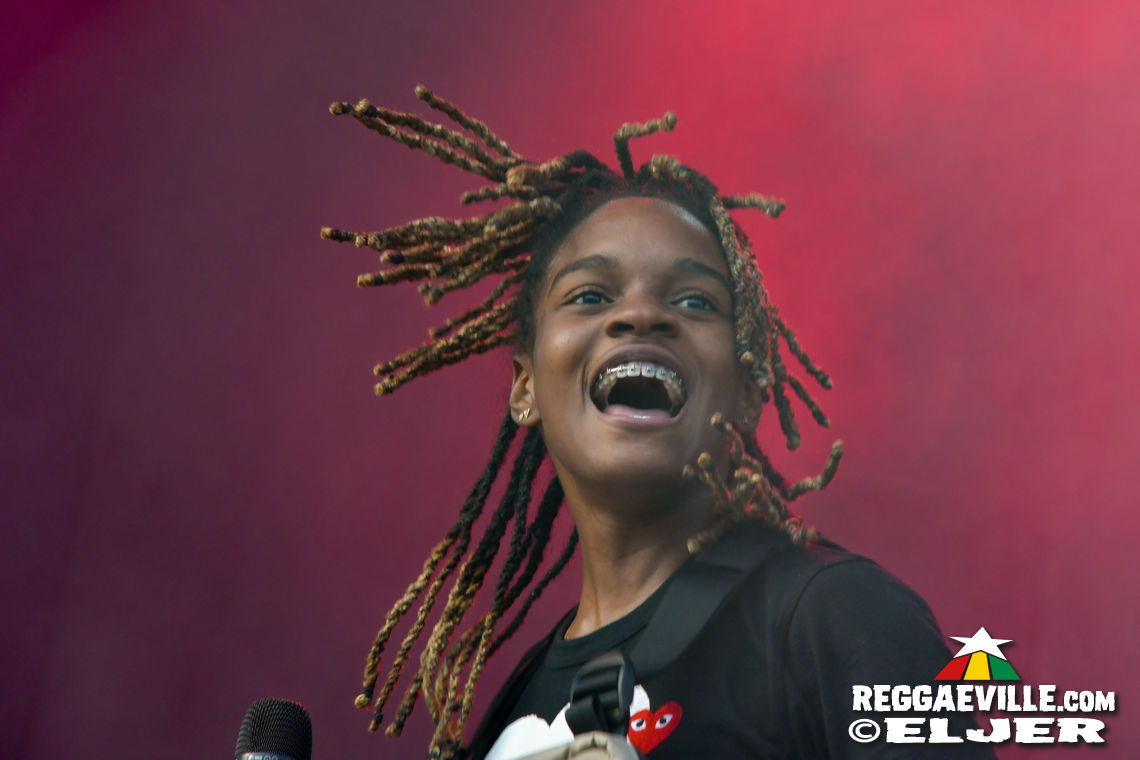 7:00pm
Change of location again. On Stage Red which, as you might have noticed, hosts mostly non-Reggae acts and is thus a bit neglected in this report, Max Herre and his team have installed themselves for a dose of thoughtful, harmonious music. It's hard to beleive that songs like Anna and Tabula Raza pt. II are already around for 20 years now, but it's a more recent song that touches me most: Dunkles Kapitel, a wake-up call for everybody to face the very real threat of right-wing, nationalist violence. "We can't continue to live in our bubble and think this doesn't concern us. We have to come together and discuss a solution!", the singer urges.

8:00pm
Back to the Green Stage. Richie Spice and his Element Band are making good use of the "golden hour" their slot has granted them, singing and playing to a sun-drenched crowd that is still as big as it was an hour ago. Each song he delivers is getting a bigger forward than the last one - Brown Skin, Ghetto Girl, Youths Dem Cold and Gideon Boot are hailed ever louder and proove that Mr. Spice is an artists who has released a considerable amount of songs, each one more hit thatn the rest. And he really knows how to build up a vibe too, communicating smoothly with his band and making the audience go mad during Marijuana Pon De Corner.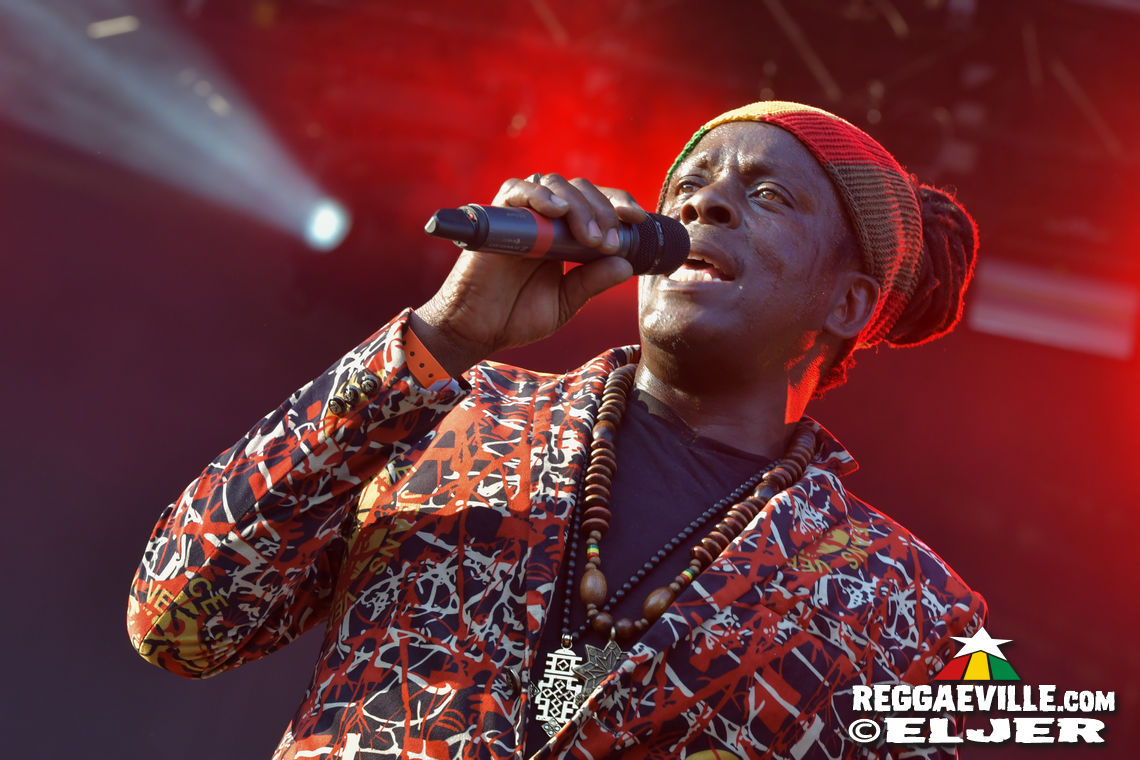 9:00pm
The brightly lit musical torch is passed on to Agent Sasco on Stage Green, and he firmly holds the crowd's attention with his Romain Virgo combination Fade Away. "Becoming a father was a life-changing experience for me", he addresses the people, "so this one goes out to all the real fathers dem, those who are there for their kids!" Time for Something's Gotta Give! He then picks up speed and brings his Dancehall persona to the fore, bringing the crowd to a boil with tunes like Dancehall Again. His set is closed with the introduction of the brand-new track Slow Down, a beautiful little thing produced by UK-Ghanaian mastermind Juls.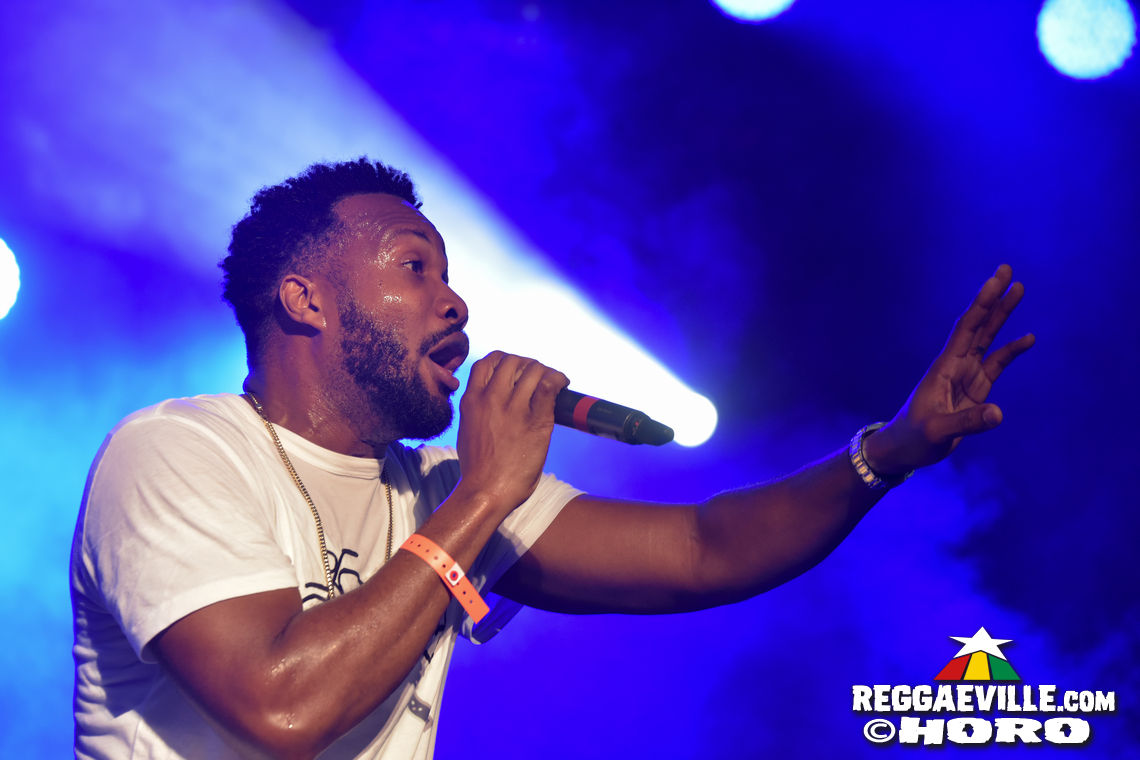 10:00pm
Break! Food! Water! In order to satisfy some basic physical needs, we circle the festival grounds to disvcover the international variety of food on display. Vietnamese, Turkish, Italian, Jamaican - the choice is delicious and thus something is in for everybody's taste.

11:00pm
Now we are ready to return with full force for the finals of the night. The crowd around Stage Red, where Bonez MC and RAF Camora just started their show infront of an impressive stage design, is so huge that I almost expect the Green Stage to be empty, but no - at least as many people flock the place there. SummerJam has reached its maximum capacity, it seems! Into this poiling pot drops Popcaan, a fiercly energetic artist who kindles the fire once more with tracks like Family, Only Man She Want, We Still A Win and Clarks. "Thank you for coming, thank you for supporting Dancehall music!" he says. "I see Jamaican flags, I see Trinidad flags, I see St. Lucia flags, I see African flags, that's beautiful, people - if you are proud where you come from, put up your hands!"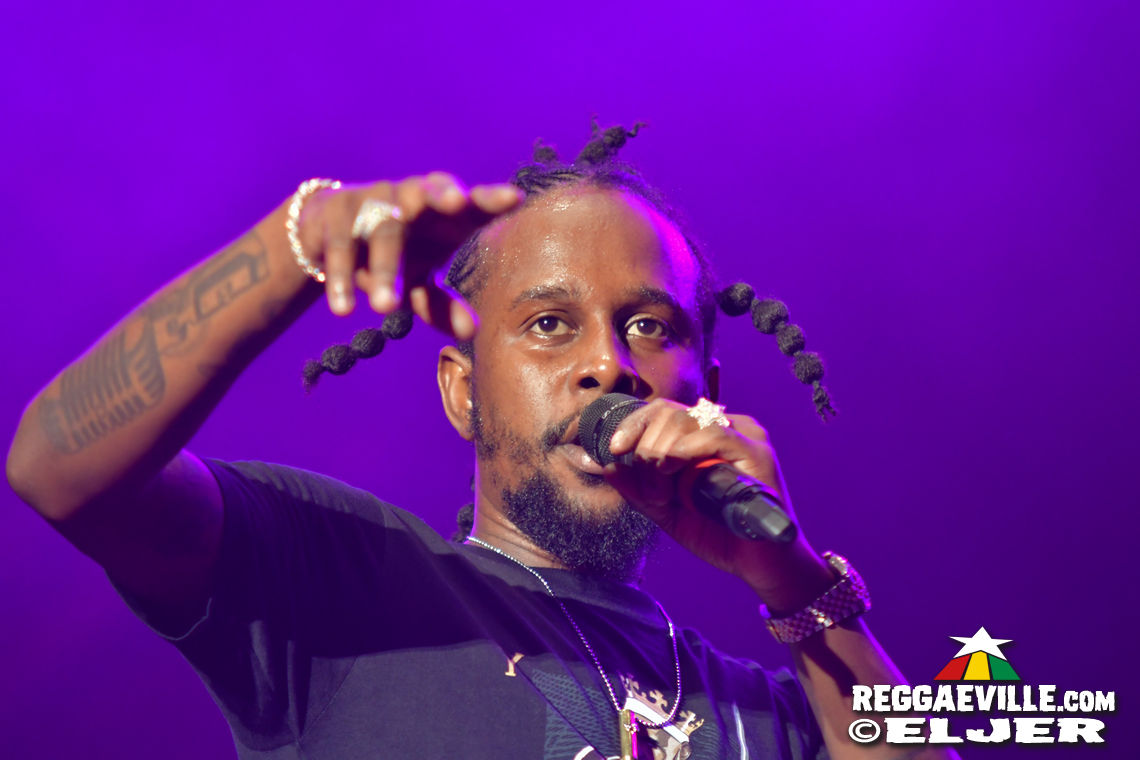 Midnight
The live shows are over, the party continues. Both in the Dancehall area, where Jugglerz and PowPow, and in the Vibez Village and all over the camping site, people in high spirits enjoy the night. And, as Team Reggaeville has a jubilee to celebrate, we'll close each daily report with the individual highlights from the crew!

TEAM REGGAEVILLE HIGHLIGHTS:
Rune (video/photographer): Koffee's performance, the complete show. It was my first time to see her live, and I love the energy she has on stage, the ease she inhibits it with. My favourite song is Raggamuffin.

Eljer (photographer): Richie Spice! I really like him, as a person and as an artist. I haven't seen him for some time, and today was the first time I saw him move around, dance and laugh on stage. That was great to see! Also, when I was walking through the audience, I saw people dance and sing along to every word of his songs - what a vibe!

HoRo (photographer): It's a joy for me to arrive and, through the efforts of staff and security that have become friends over the years, feel instantly at home in the press area. My highlight was Koffee, on stage but even more so off stage, when she was watching and dancing to Agent Sasco.

Celine (videographer): Koffee! I've heard so much about her and was looking forward to her show. It exceeded my expectations! She has grown so much in such a short time, it's a pleasure to see.

Björn (videographer, content-manager): Actually, my highlight is always arriving here at the location and meeting people I only see once or twice a year. From the performances, it was really fun to see Banda Senderos. I like their style, it's something new!

Gardy (author): My favourite moment was when I was able to shake hands with Donovan Germain in front of the stage during Richie Spice's performance.

Alex (videographer): The show of Popcaan and his Ruffcut Band. In my opinion, they are really the dopest backing band from Jamaica right now. And also Agent Sasco's performance, he is such an amazing entertainer. It reminds me of the time when I was able to jam with him and his band.

Munchy: My interview with Koffee - the 50th edition of Wha Gwaan Munchy. And to see Popcaan live, that was really a special moment. WATCH KOFFEE @ WHA' GWAAN MUNCHY!?!? HERE

Julian (boss-man): Koffee's debut performance was maaaad! Another highlight in a little different way, was a photo posted on Instagram by german rapper Bonez MC with Popcaan. It was removed after a few hours. View below to find out why... on the left Bonez MC's photo and on the right Popcaan posing backstage with two fans: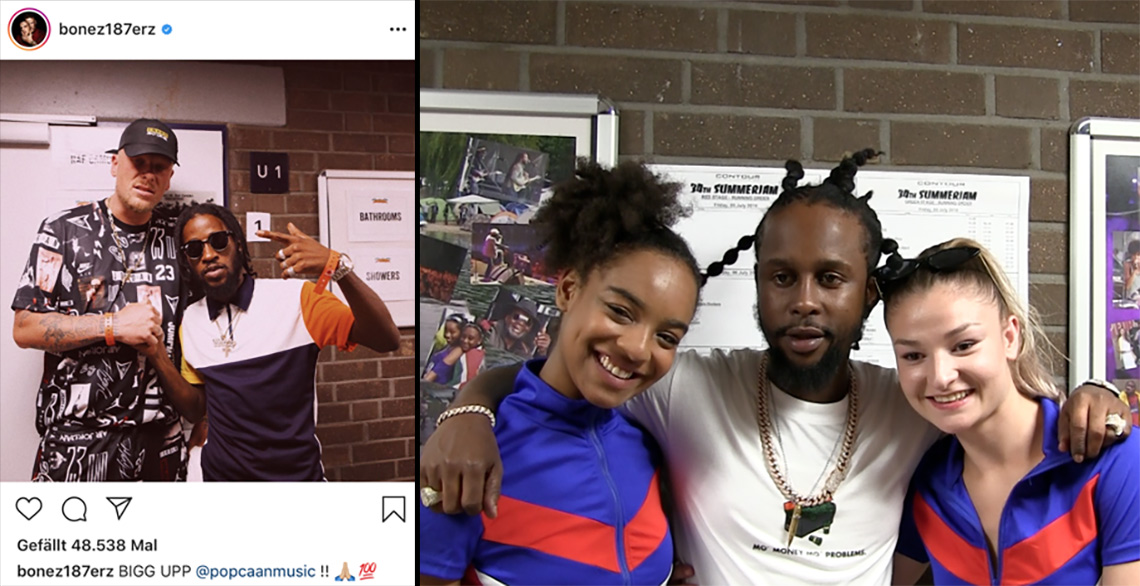 SATURDAY, JULY 6th
1:00pm
More sunshine, more music, more vibes - day two of this XXL festival has begun. Yesterday's kick-off has come and gone with a decent and diverse program (of which we covered at least the Reggae & Dancehall part), and, as far as we can tell, without any major accidents or brawls. Let peace and love reign!

2:00pm
Fully rested or not, the program starts early today, and its no overstatement to say that Iriepathie got the hardest slot of all. In the dazzling blaze of midday, the Austrian brothers Syrix and Professa and their band open the Green Stage, and surprisingly many people are already up and dancing to the beat, despite the heat. Not a hard thing to do actually, with tracks like Die Ganze Nacht and Denk Positiv.

The crowd is amazing. Hoola-Hoop and soap bubbles and glitter all over. When we come back from a short excursion to the Red Stage where Hamburg's I-Fire are in full swing (they, at least, can play in the shade), a dancing class is in session. Started by a group of girls in the front, soon half the audience is copying their simple move: clap hands twice, clap thighs twice, put hands in the air and turn around. Even though it may sound a bit cliché, it's extremely fun to join in (and to watch), and the band afterwards tells me that this warmed their hearts biiiiig time.

3:00pm
One of the interviewees in our Festiville Mag, we find GReeeN backstage with the Iriepathie singers, and since they are on their way to the lake to jump in and cool off, we join them. Munchy settles down with the young singer on the runway and starts her first ever Reggaeville interview in German. Behind us on the Green Stage, moderator Ganjaman announces Ees and the Yes-Ja! Band. Their danceable mix of Kwaito, Afro-Pop, Reggae and HipHop adds yet another flavour to this musically diverse festival, and is a wonderful wake-up call for those who have crawled out of their tents by now.

4:00pm
On Stage Red, Samory-I and his Black Ark Band represent the first Jamaican act of the night. Propelled to international attention by his fantastic debut album Black Gold, we hear Rastaman and the title track - oooh, that bass makes the listeners happy! The musical delivery is a feast for our ears, reaching a definite climax with Rasta Nuh Gangsta, even more so when the second part of the song gives rise to an extended live dub mix. "This is Dub!" Samory-I insists while the track ends with the sweetest fade-out ever.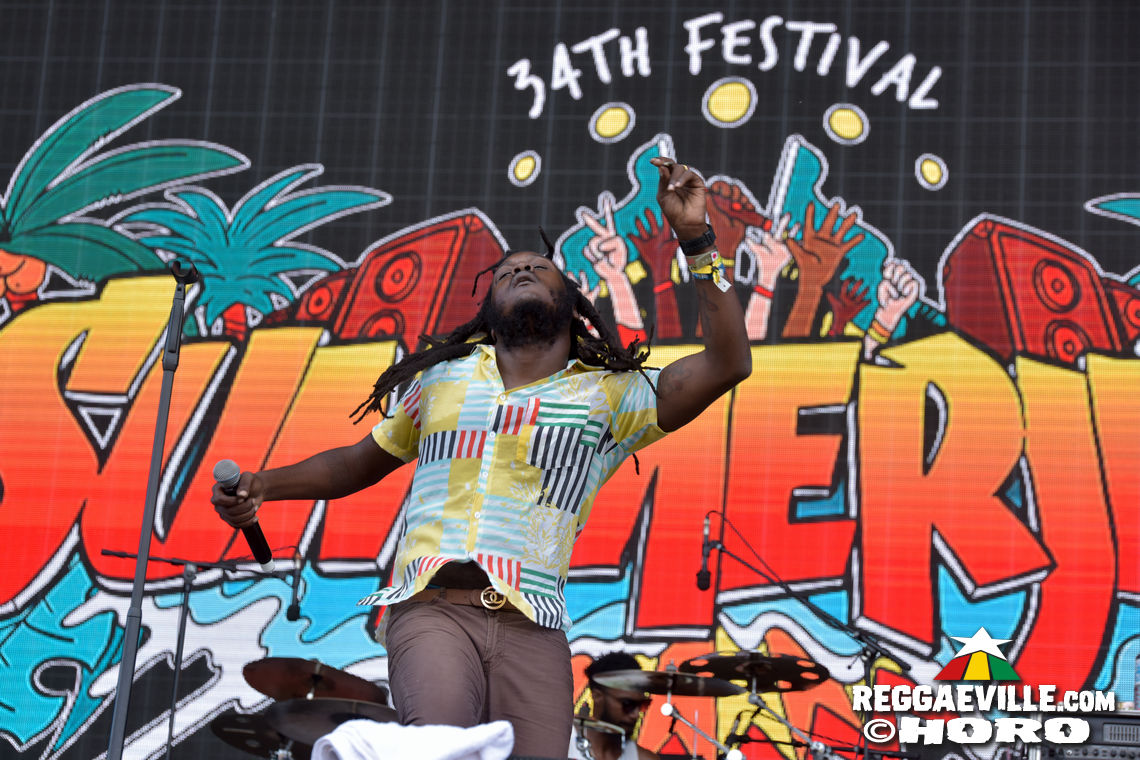 A young man walks through the crowd with a nebulizer, squirting fog-clouds of water on everyone as he passes. Refreshing! A sonic refreshment awaits us at the Youth Rebel Soundstation next to the Riddim Tent. Aza Lineage, who just finished an interview, gives a little soundsystem performance, and soon a tight knot of people surrounds her. She seems much more at ease today than on the Vibes Village Stage on Thursday, and gets the attention and forwards she deserves. Big up, empress Aza!

5:00pm
Kabaka Pyramid & The Bebble Rockers are just entering Stage Red. So far, the timetable is meticulously held, and for the next 70 or so mintues, Kabaka leads us into his realm of word, sound and power. He presents many songs from his debut album Kontraband (Everywhere I Go, for instance), but also older pieces and the brand-new Mr. Gunman, and in so doing reveals a considerable growth, both vocally and with his band. A livication to "my favourite arist Sizzla" and a powerful Kontraband bring us to the end of his show. "We still have Protoje a forward," Kabaka says before he leaves, "we still have di Gargamel a forward, the original one!"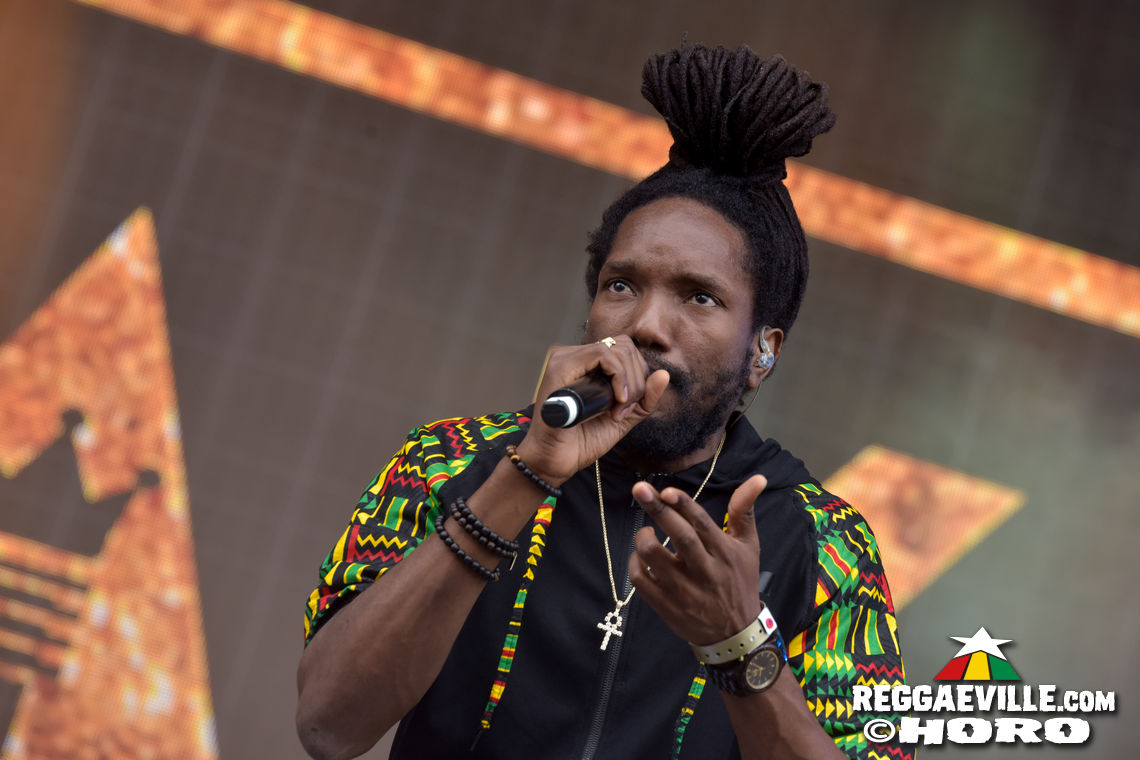 6:00pm
Team Reggaeville awaits Kabaka backstage to hand out one of the "10 Years Anniversary Reggaeville Awards" to him. More than 20 such plaques were prepared, both for the team, for the artists (e.g. Kabaka, Protoje and Alborosie) and important "partners in crime" like the Rockpalast or Marius from Rootdown Promotion, and of course to SummerJam boss Klaus and press-lady Jutta and other team-members who run di place here!

7:00pm
Nura follows Mono & Nikitaman on the Green Stage to cater for the national fans (there are girls as young as 12 or 13 years of age in the front who sing along word for word to the parental advisory lyrics), and an important message as she leaves stage: "Refugees are welcome here!".

Our attention is firmly held by Stage Red and Dub Inc. With their unique combination of French, North-African and Arab influences, they are fervently cheered by the equally diverse crowd. Even if not every word is completely understood by every one, the band knows how to bring across their vibes nevertheless.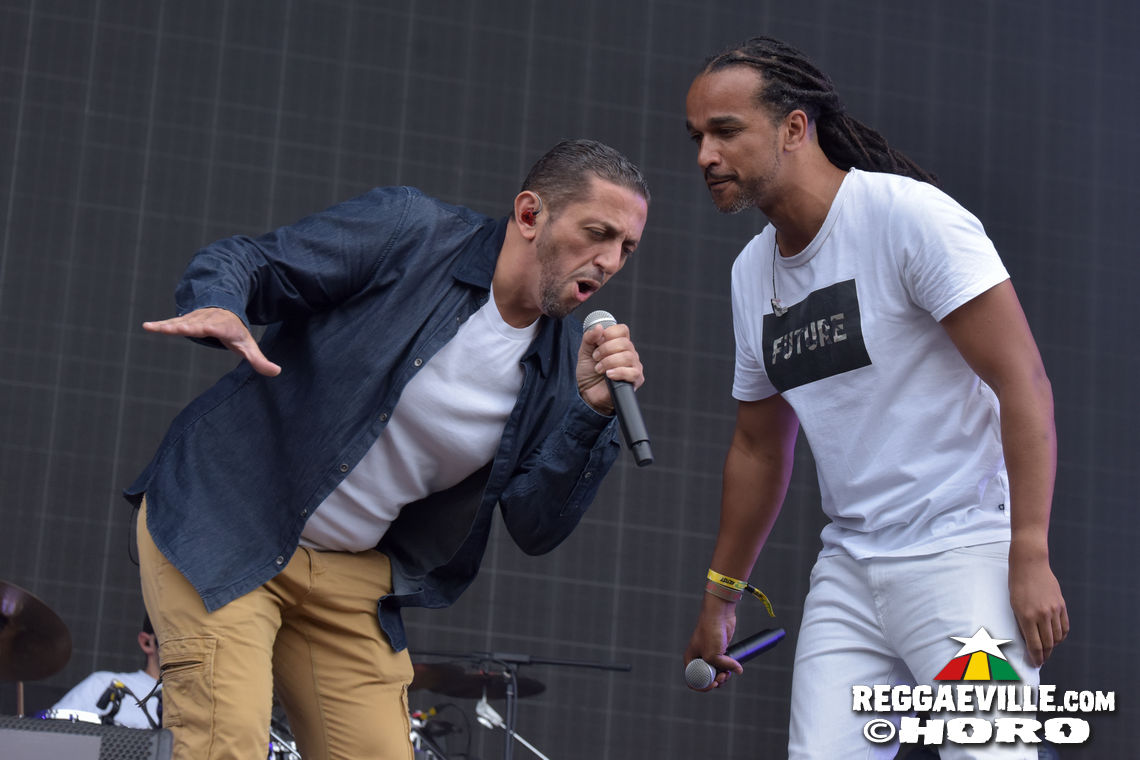 8:00pm
Stage Green, artist GReeeN - what a nice coincidence! The place is full, the average age has dropped considerably and the mood is more than energetic. It's hard to describe the effect he has, this mixture of exceptional talent, boyish charme and the intimate way to talk to his fans - it always feels as if he's friends with every single one in the audience. An then his songs are a real joy to listen and sing along to. Both older pieces like THC, Stoned Durch Den Wald, Kommissar or Vanilla Sky and tracks off his brand new album Smaragd (Roll It Up, Autostrada or Lieg Am See) enchant the audience, culmunating in a crowd-gone-mad Eismann.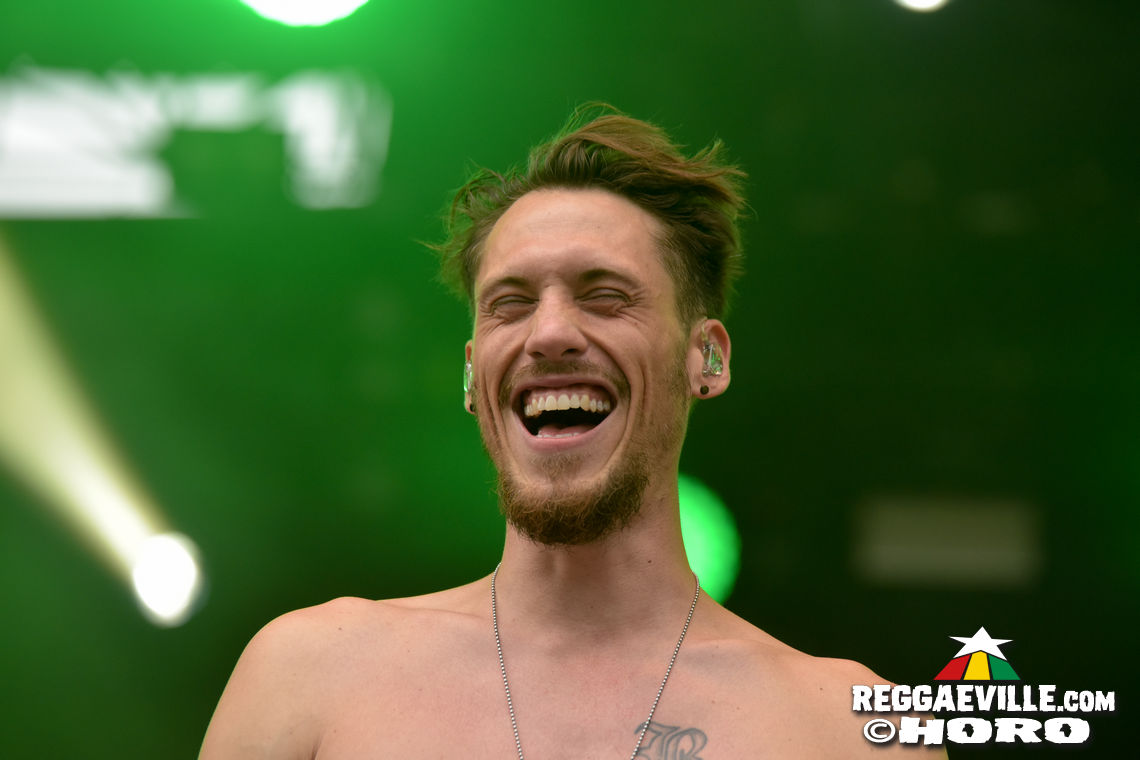 9:00pm
It's not an easy task to reach the Red Stage. The crowd has grown considerably, and Protoje is in the middle of Blood Money when we finally get within visual range of his In.Digg.Nation Collective. The gathering darkness allows the lights to spread an extra special atmosphere, and Protoje's last 3 songs (including Who Knows and Kingston Be Wise) contribute to THE festival feeling.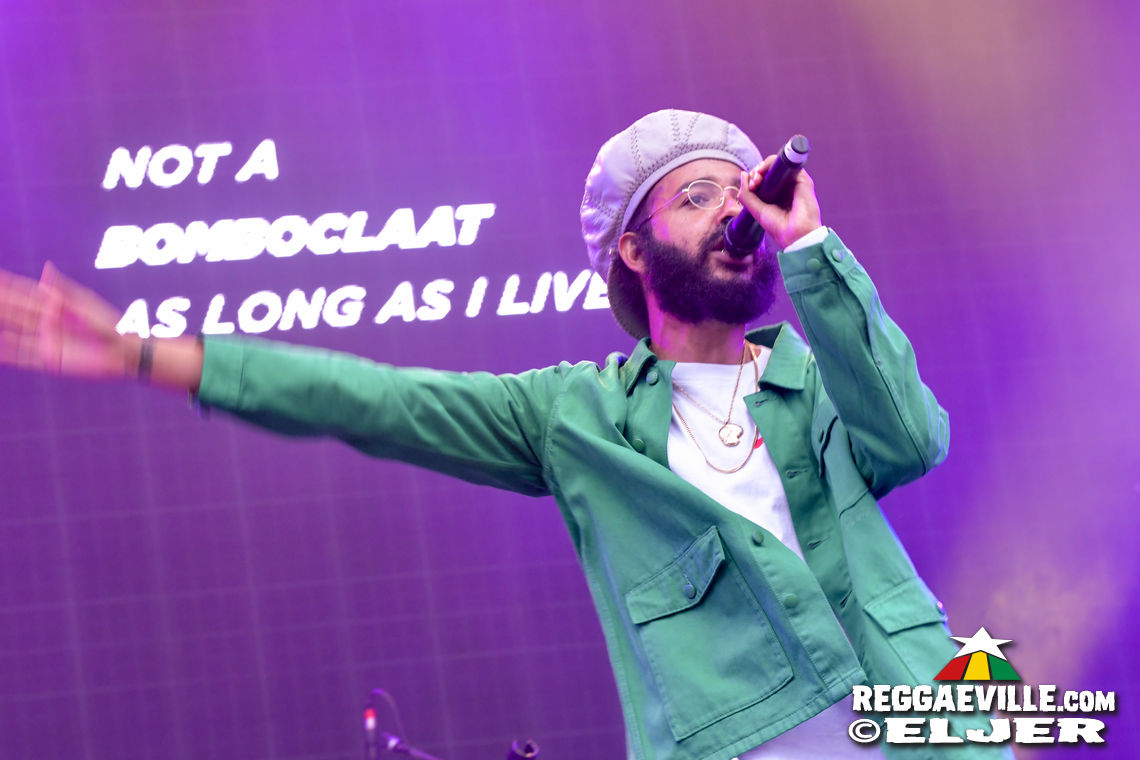 10:00pm
In the backstage area, the tension rises as everyone tries to get a glimpse of the Gargamel who has arrived by now and prepares for his highly anticipated show. Still,staff and security remain calm and friendly, and throughout the weekend, even potentially hectic situations are mastered competently. A big shout-out to the SummerJam team!

11:00pm
While Nigerian-born Azonto-star Wizkid closes his Dj-accompanied set, gear and cameras are checked one last time, and we braze ourselves for the long march to freed..., ahm, to the FOH of the Red Stage. As expected, the crowd has grown even more, and already during the sound-check, whistles, claps and shouts of "Buju!" ring through the night.

11:30pm - 1:00am
There is so much to say about this show that we decided to give it the space it needs in an extra concert review. READ THE BUJU BANTON @ SUMMERJAM 2019 REVIEW HERE!

TEAM REGGAEVILLE HIGHLIGHTS:
Today's highlights are understood in addition to the Buju Show, as, in one way or other, this was everyone's highlight!

Alex (videographer): To be able to watch the Buju show on stage. And watching the bands deliver, noticing how they get better every year.

Munchy: Seeing Lenky Marsden play the Diwali Riddim and Buju performing on it. Apart from that? The time we spent with GReeeN at the lake. The fact that we had a very good conversation that went far beyond an interview!

Björn (videos & editing): To see the artists grow. Kabaka for instance, and his band. And to have great people like Team Reggaeville to work with, I really enjoy that.

Celine (videographer): I-Fire was my highlight, I never heard of them before and really like their energy. I will check out some stuff when I'm back home!

HoRo (photographer): It was good to see Dub Inc and I-Fire again, especially I-Fire, I haven't seen them live for some years. And Ees - I heard the name a few times, but never his output. A very pleasant, unique and exceptional kind of music he calls Nam Flava. His performance was very good, you could sense their joy playing together. From a photographer's point of view, their set was a guaranty for good motives, nice gestures and facial expressions.

Gardy: The soundsystem set of Aza Lineage at Youthrebels Cologne Sound. And that she came to visit us at our workplace to have a look at the video Reggaeville just uploaded.

Rune (video/photographer): To follow Kabaka Pyramid's show in the back of the Red Stage.

Eljer (photographer): Protoje! The fact that I was able to watch the whole concert from the photo-pit.

Julian (boss-man): Dellé during the set of Querbeat, that was a powerful surprise.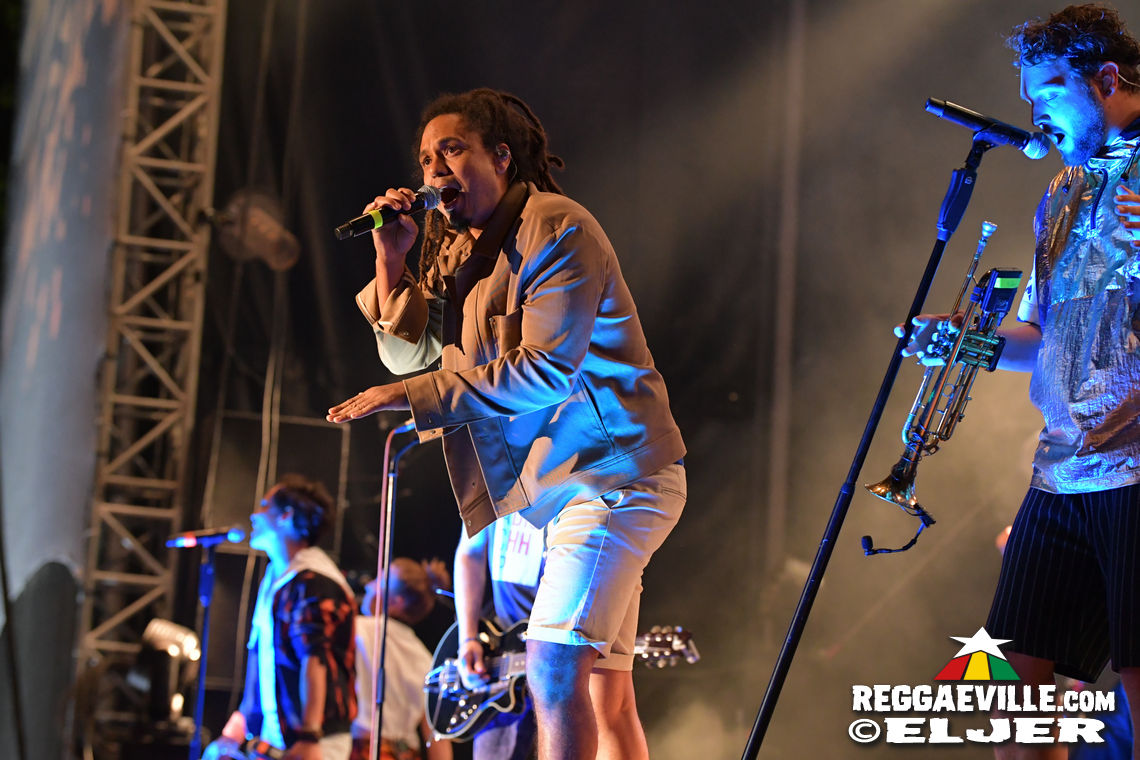 SUNDAY, JULY 7th
1:00pm
Ok, let's give this day number three a chance to add some vibes to a festival which, at least for me, is defined by last night's appearance of Buju Banton. When the gates open, only a few early birds trickle in, since most visitors have used the chance to dance all through the night with Sentinel Sound, Hush Hush & Radio Sabor. We enter a remarkably clean island (next to the efficient installation of backstage, medical and sanitary facilities, also the vendor stalls and cleaning workers really did a great job throughout the weekend - respect!) and set up our "office" once more, as it's almost time for the first slots of the day.

2:00pm
Disappointment and surprise! While the artist name Jugo Ürdens (a word-play originating from German Schlager-singer Udo Jürgens) suggests a clever, humourous or maybe even satirical content, the three youngsters on the Green Stage deliver a pretty average Rap-based output on genre-typical, hihat-dominated computer-riddims. On Stage Red, though, a singer called Malik rocks the beats his DJ provides - in a wheelchair at that! Big up to all people who make things happen despite the rocks on their road.

3:00pm
The Reggae feeling is back full force when Tribal Seeds enter the Red Stage after a quick change-over. By now, more people have gathered, and so the phat sound of the Californian band drops on many appreciative ears. In part, this abundance of sonic bliss is due to the sheer number of musicians on stage (nine!), in part of course it's their skills that make this show such an outstanding experience. One of the most rootsy US Reggae-bands, they also incorporate a variety of other styles, and thus Rock, Cumbia and Nyabinghi beats feature in their songs.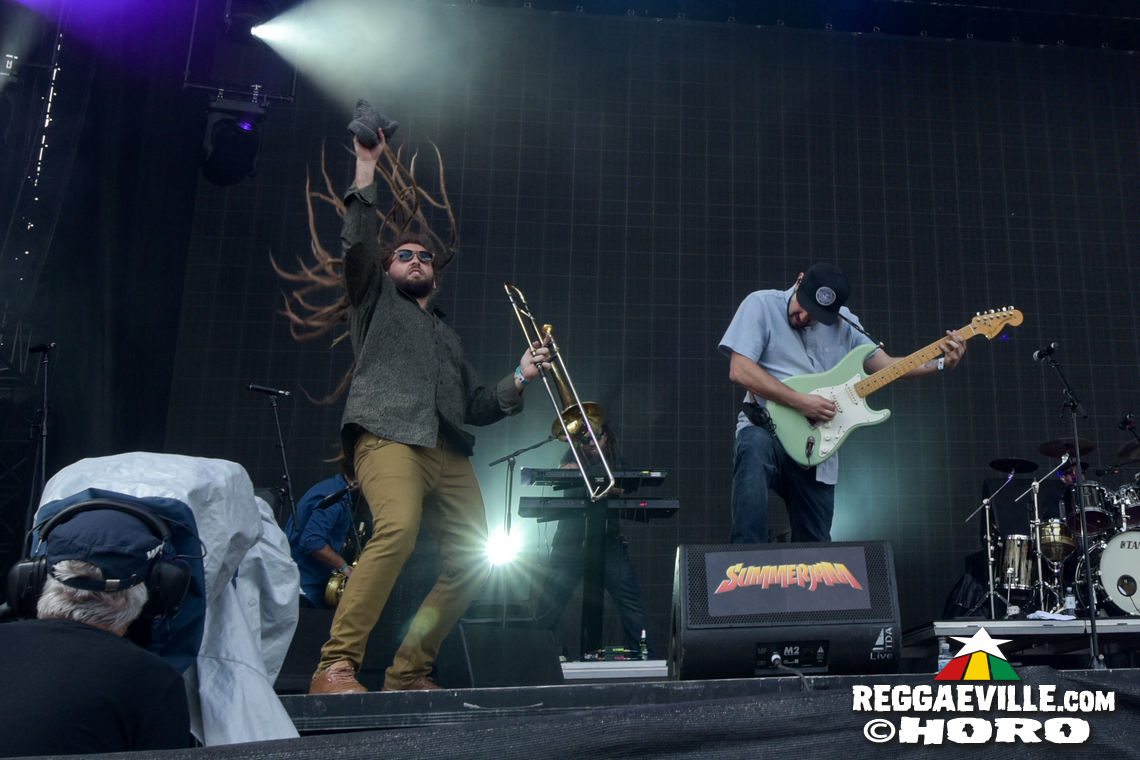 4:00pm
Struggle! While the beginning of Slightly Stoopid on the Red Stage promises a fine concert, Klub Kartell exercises an equally strong pull. Thus, after induldging in the energizing vibes of the American guests for the first 3 or 4 songs, we shift our attention to the Green Stage once more. Here, starting with a little delay, another special performance awaits us. Klub Kartell, an amalgamation of musicians that perform both as artist group and as backing band in different settings, is about to appear with the fiery combination of Germany's Toké, UK's Gardna and Sweden's Promoe. Together, they bring us a welcome diversity in both vocals, styles and outfit, starting with a more Rap-/ HipHop-oriented set which turns almost acoustic when Toké picks up the guitar and sings Movement. Both Gardna and Promoe deliver own material as well, always accompanied by the other two, the fit band and special guest Guido Craveiro on the sound desk.

5:00pm
Hungry, we hungry! While Slightly Stoopid close their set on Stage Red, we make a trip to Ivan's, the Jamaican food stand that's in high demand by all Jerk Chicken lovers. Our choice is Ackee & Saltfish, however, served with a portion of perfectly cooked rice & peas. Yummy!

6:00pm
Alborosie and his Shengen Clan have conquered the SummerJam and send Team Reggaeville into an extensive déjà-vue, as the artist was our guest at this year's edition of the Easter Special. The well-known notes of Poser, Living Dread or Can't Cool boom through the speakers, and the marching drums are the right energy for this early evening. "This is not just a festival, this is a torch we have to carry on, so let's light it!" he addresses the audience and adds "No matter your sexual orientation, we are all one!" A clear statement against discrimination!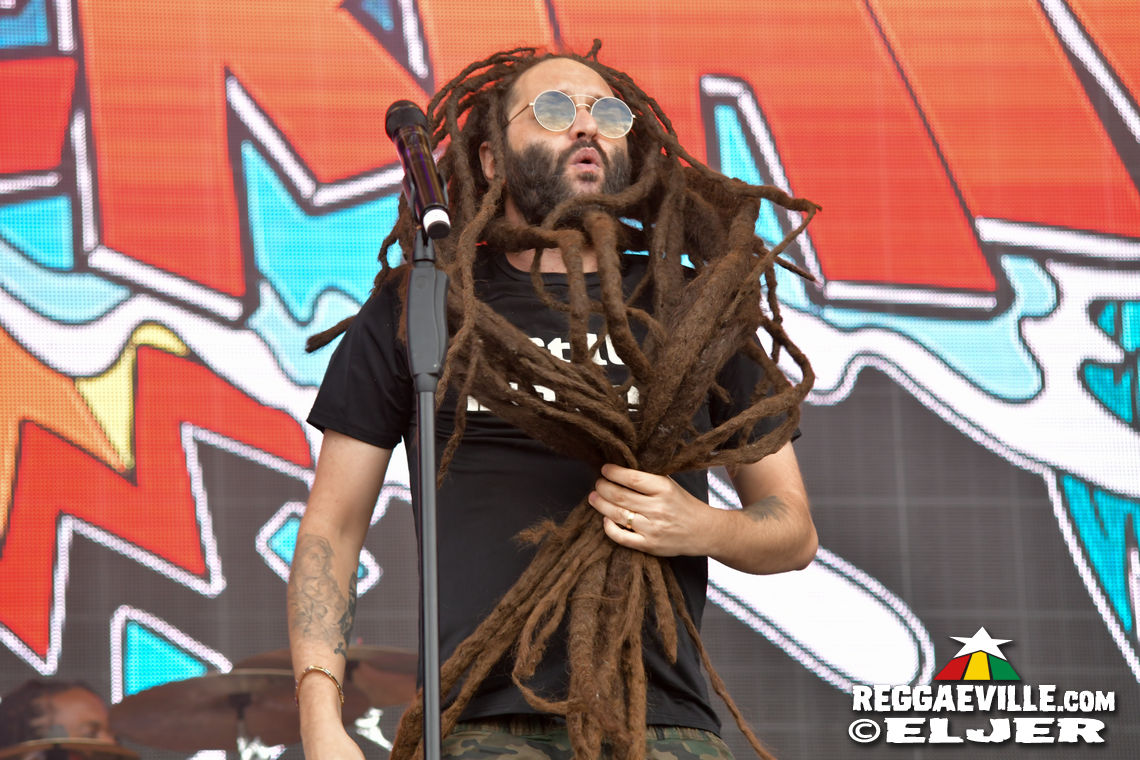 7:00pm
A dream come true! Cypress Hill are to appear next on the Red Stage and, yet again, the crowd is packed to maximum capacity (and, in their case, we allow ourselves a little genre-escape). The HipHop veterans are four on stage, and singers Sen Dog and B-Real lead the crowd through the almost 30 years of their existance, starting with their first self-entitled album via milestones like Black Sunday or IV into the present with Elephants On Acid. Dr. Greenthumb, When The Shit Goes Down and, most of all, Insane In The Brain get crazy responses from old and young alike. After Tequila Sunrise, they introduce their crew, and the ensuing soli by Mix Master Mike on the DJ-desk and Eric Bobo on percussions is transmitted on the big LED screen, so everyone can follow the incredibly quick movements of the two.

8:00pm
Die Orsons on Stage Green are an interesting sight. The four men in colourful outfits (one of them looks like a frog!) play a humorous set, the most important motivation being fun, it seems. In fact, they take an ironic, imaginative approach to Rap, ridiculing the oh so common proneness of the genre to swaggering, machoism and glorification of violence. I like! They follow Lgoony and precede the Colognian Rappers 257ers, both of which we simply don't have the capacity to cover. However, the latter must have thrown one mad sick party over there since, when I come back later to collect the last copies of our Festiville Magazine, the ground is soaked with foam and confetti, and even the security in the photo-pit has gotten all wet!

9:00pm
Jimmy Cliff now - a legend and frequent guest at the festival. In fact, the last time I saw him was right here in 2011, on Stage Red, a few moments before sunset. Thus, I experience his show in a bubble of nostalgia and a certain awe, evoked both by the singer's age and his dazzling outfit. Dressed like a Pharao, he starts his show with a medley of evergreens to a hushed audience, and when he reaches Rivers Of Babylon, many of the older generation present sing along. Followed by hits like Wonderful World, Vietnam or The Harder They Come, people enjoy this last opportunity to dance until, with a final drum roll, the veteran takes his leave.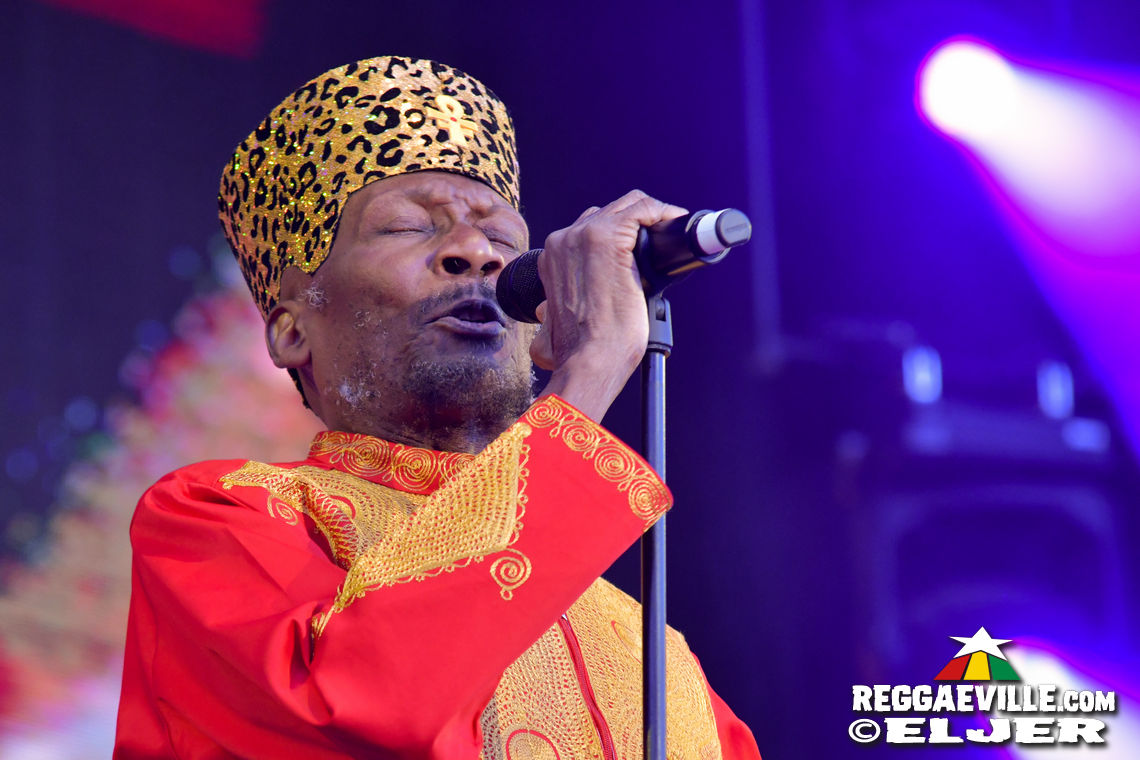 10:30pm
Is it really over already? As always in such a moment, the satisfaction and happines this year's edition of the SummerJam Festival has given us mingles with a little sadness. With a beautiful firework, the festival team expresses its gratitude to the 28.000 visitors, and moderator Andrew Murphy takes up the mic once more to hold a little speech and thank the staff and the artists who were part of this experience. He then picks up his guitar and, to a manifold choir of voices, strums both Redemption Song, his traditional closing song. With that, the 34th edition of the SummerJam is history, its chapters well documented by Team Reggaeville. Make sure you browse the photo and video galleries we put up for you, and please feel free to tell us YOUR highlight in the comment section below!

TEAM REGGAEVILLE HIGHLIGHTS:
One last time, our crew looks back on another full festival day to distill those golden moments that will stay with us forever.

Munchy: Tribal Seeds, both on and off stage. Great music, great people!

Björn (videographer/content manager): To get the chance to watch Cypress Hill live! And to enter their their backstage room by accident after they were gone, finding a Roskilde shirt they left here.

Rune (video/photographer): The performance of Tribal Seeds and the firework at the end.

Ellen (photographer) & Celine (videographer): Jimmy Cliff! When he started playing the intro, the whole crowd went silent. That was a magical moment, with the last rays of sun illuminating the place.

HoRo (photographer): Tribal Seeds. Their deep Roots, every sound from the dub effects to the powerful vocals and lyrics.

Gardy: Standing in the crowd when Cypress Hill played Insane In The Brain, shouting along at the top of my lungs, jumping up and down with everyone else. Teenage memories!

Julian (boss-man): When Andrew Murphy was singing Redemption Song and everybody joined in! Thats always a very special moment.


CLICK HERE TO WATCH ALL SUMMERJAM 2019 VIDEOS
CLICK HERE TO VIEW THE SUMMERJAM 2019 PHOTO REPORT