07/05 - 07/07 2019
Concert Review: Buju Banton in Cologne, Germany @ SummerJam 2019
07/12/2019 by Gardy Stein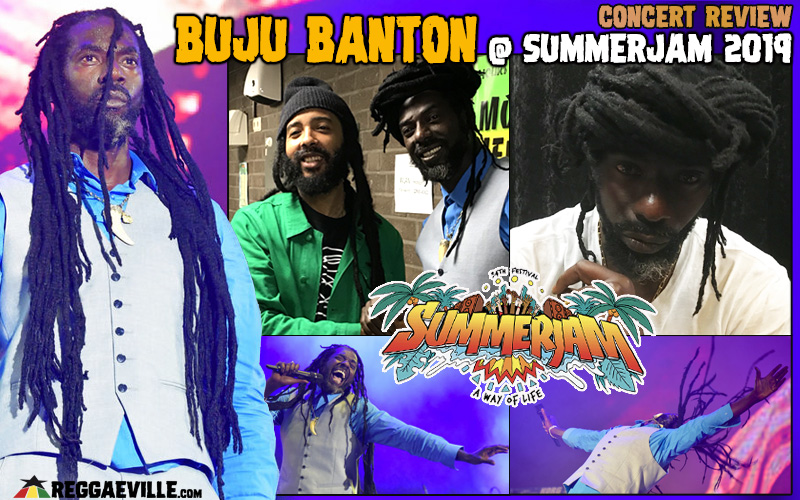 SUMMERJAM FESTIVAL IN COLOGNE, GERMANY - JULY 6, 2019
How to put this in words? How to describe something that goes far beyond logic thinking or cognitive perception? Imagine eating your favourite home-made diner after returning from a long absence, imagine the first day off after working two weeks straight, imagine jumping in a cool lake after a day-long march through the desert... certainly, every one of you can find a metaphor to relate to how fans feel seeing Buju Banton aka Gargamel live again after such a long period of deprivement.
His performance at this year's SummerJam Festival is the first on European ground in 10 years (his last tour here was Rasta Got Soul in 2009) and, accordingly, fans have come from all over to witness his return. Excitement and anticipation peak when, at 11:30pm sharp, the members of his 'Til Shiloh Band under the musical direction of Lenky Marsden take their places behind their respective instruments: Mitchum "Khan" Chin and Kenroy "Shortman" Mullings on guitar, Courtney Sinclair on keys, Keneil Delisser on drums, Stephen DePass on bass, Verlando Small on saxophone and as harmony singers Nikki Burt, Carol Dexter and Adena Myrie (Buju's sister) on the mic. An overdose of music, artist presence and emotion make the ensuing 90 minutes a bit surreal.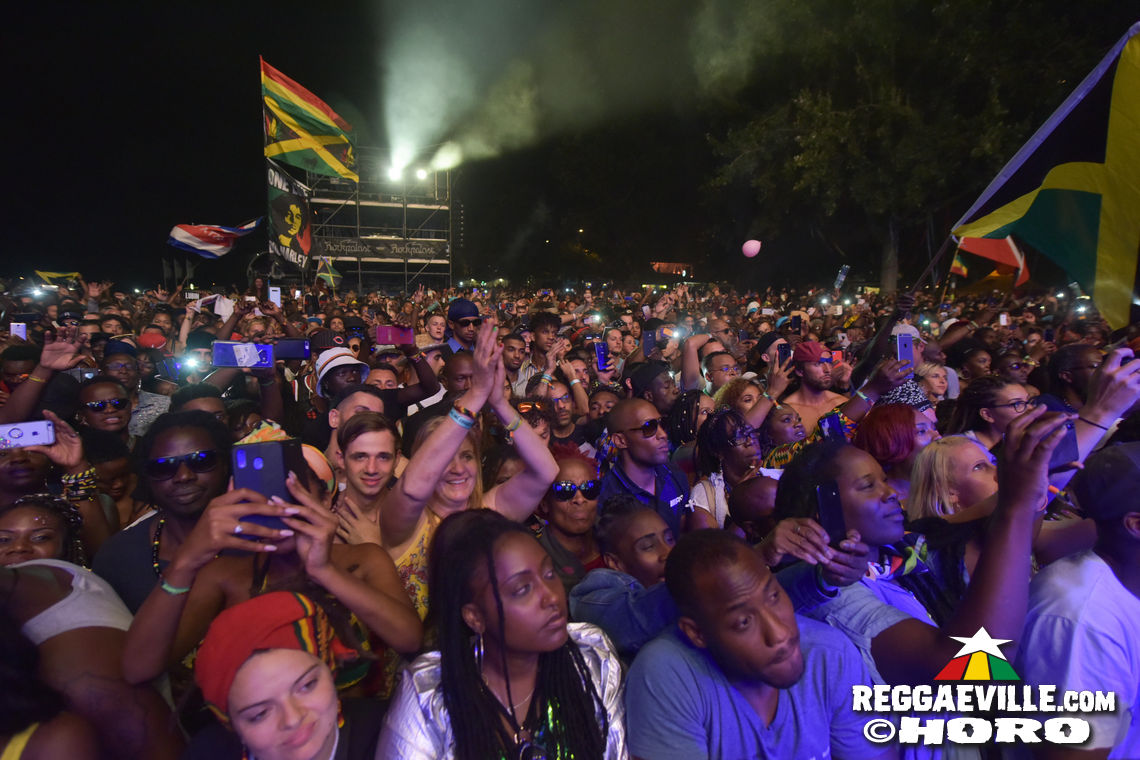 Watching the show from front of house tower, we have the privilege to see legendary sound engineer Errol Brown at work.. In high concentration, his swift fingers fly over the board, and then, finally, the moment is there: the sounds of Carl Orff's O Fortuna herald the coming of the one and only Buju Banton. "Oh our father who art in Zion, hallowed be thy name! Thy kingdom come on earth, thy will be done on earth, hallowed be thy name!" After this well-known Intro, Destiny is the song the artist enters stage with, and it instantly kicks in, making my heart ache and forming a lump in my throat. To hear his voice again, strong and sonorous as ever, to see him standing there, proud and tall, jumping, raising his hand for a greeting... The crowd greets back, welcoming the artist with an army of raised hands (and mobile phones), screams and whistles.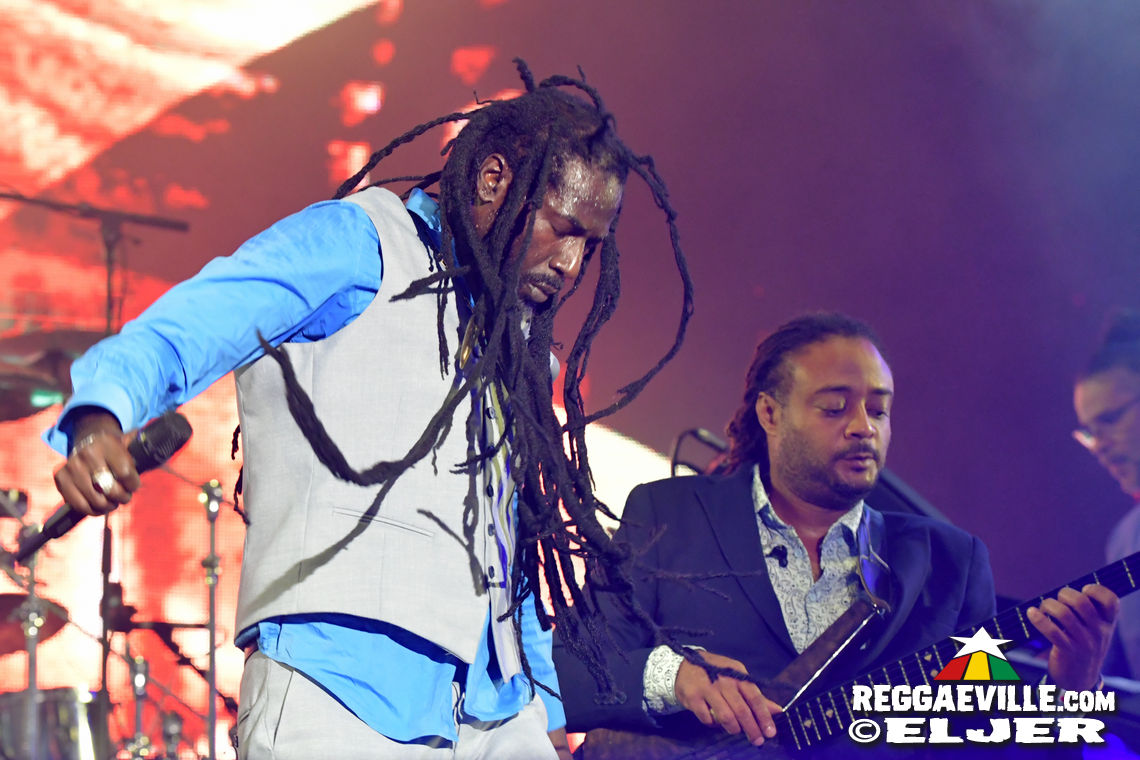 People are jumping up and down when Buju starts It's Not An Easy Road, thousands of voices join him in Hills And Valleys and Lord Give I Strength, during which the percussionist comes up front for an interlude on a huge djembe drum. The ever-blazin Wipeout Riddim leads into a medley of Time & Affection, Shalala and, yes, Champion. "I love to entertain. But I also love to be entertained, so let's interact. How are you feeling?" Buju addresses the audience, adding "We've got some catching up tp do!"
With Batty Rider and Don't Be Silly, Buju starts a powerful journey through his discography, giving the audience ample opportunity to sing along to Untold Stories and a breathtakingly performed Mighty Dread. "It feels good to be in Germany again" the artist tells us, "I still remember the day when I landed in Berlin for the first time. And now, 14 or 15 years later, I'm back - let's dance!"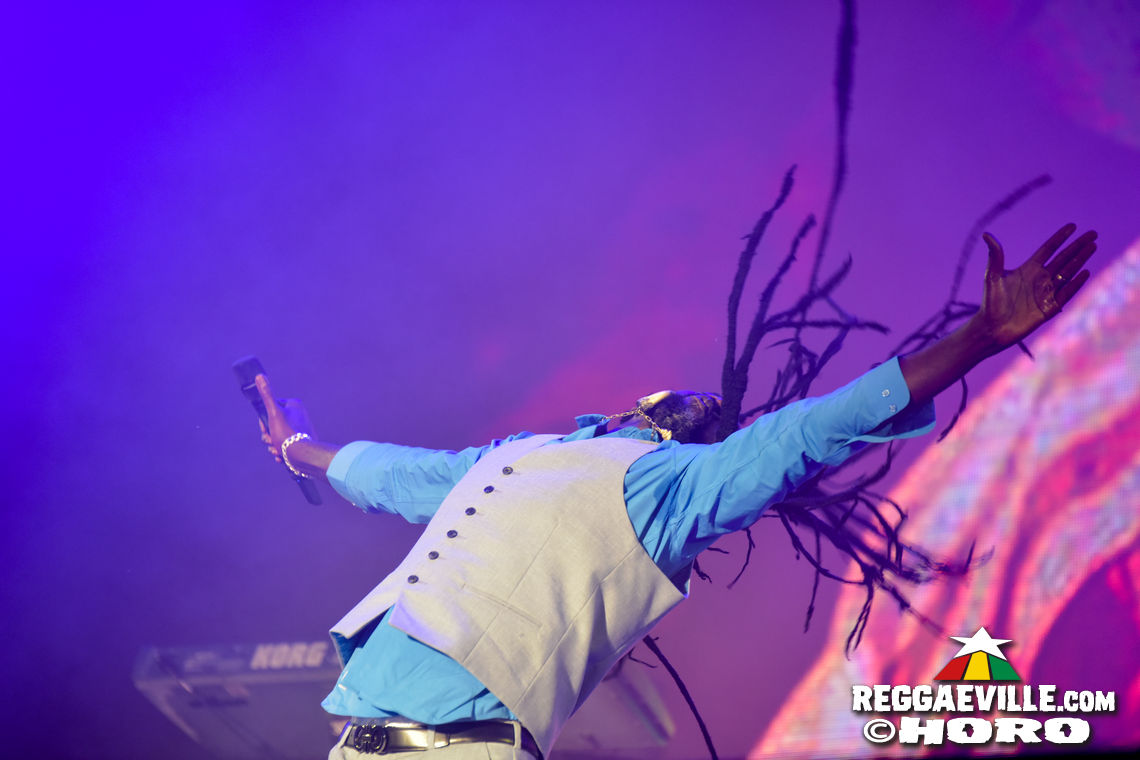 Better Must Come is an invitation to do just that, and nobody seems to feel the slight drizzle that started falling from the sky. It's just a bit of liquid sunshine anyway, helping to keep the dust at bay, shuffled up by ten thousands of feet. "One for the ladies!", Buju announces and jumps into Cry No More, hardly giving us time to breathe before he continues with I Wanna Be Loved. He then talks about his collaboration with Beres Hammond, stressing the fact that he feels sorry that the singer is not here to join in. Even so, both Pull Up The Vibes and I Don't Know Why are a joy to behold, and after Browning and Black Woman, the ladies' segment gives way to more serious teachings.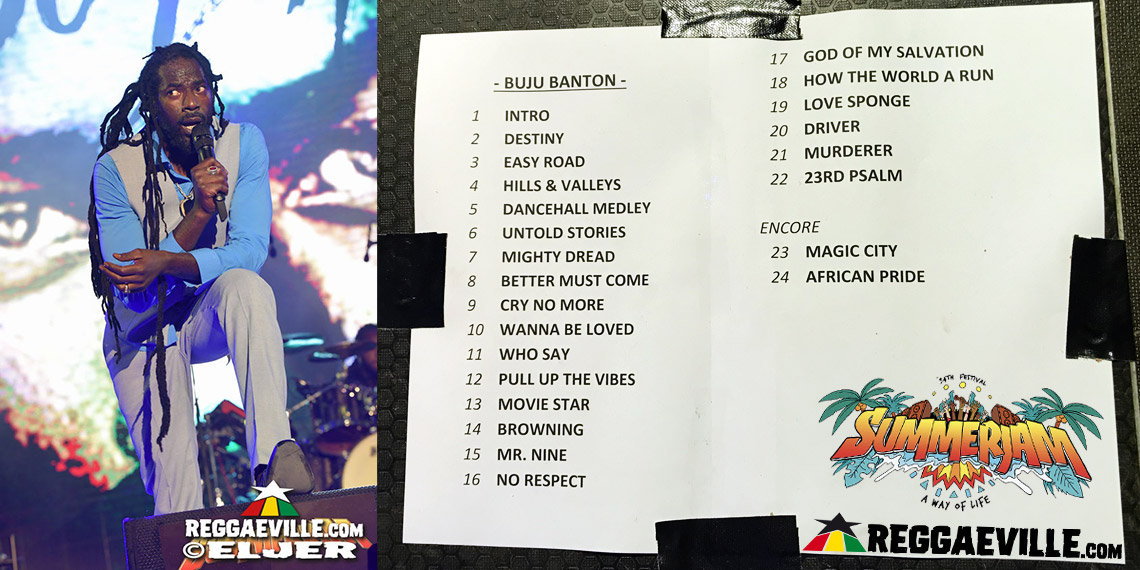 Mr. Nine, No Respect, God Of My Salvation and Driver bear further proof of the artist's extensive catalogue, and when he tells his band to bring it down low, even the audience turns quiet to not miss a word. Buju addresses his African brothers and sisters in the audience now, telling them about his visit in the motherland and even singing some lines in Wolof. "We are all Africans, no matter where you live!" he goes on to say, turning to the ladies again with a fervently sung-along-to Love Sponge. His voice full of painful tenderness, he interludes Closer To Me and, more painful still because of the longing it evokes, One To One.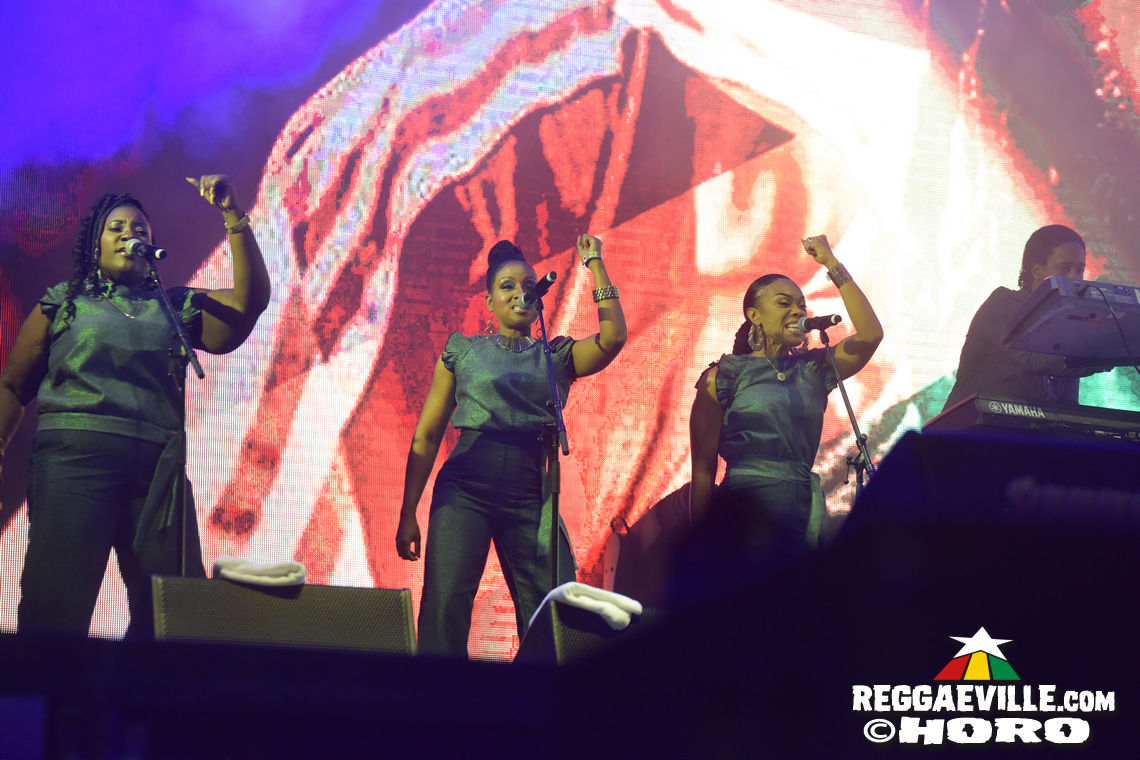 The enchantment thus created turns into an all-compassing energy when the distinctive sounds of the next song hit: Murderer! Honestly, it's close to impossible to describe the vibe that sweeps away the crowd right now. Singing along is not enough, it's rather a shouting along for the audience, jumping up and down in a frenzy where the limited space allows. As if to cool off, Mr. Banton slowly comes to an end with 23rd Psalm, after which he speaks to us again: "Thank your for taking the time to be here, thank you most of all for supporting Reggae music. Until we meet again!"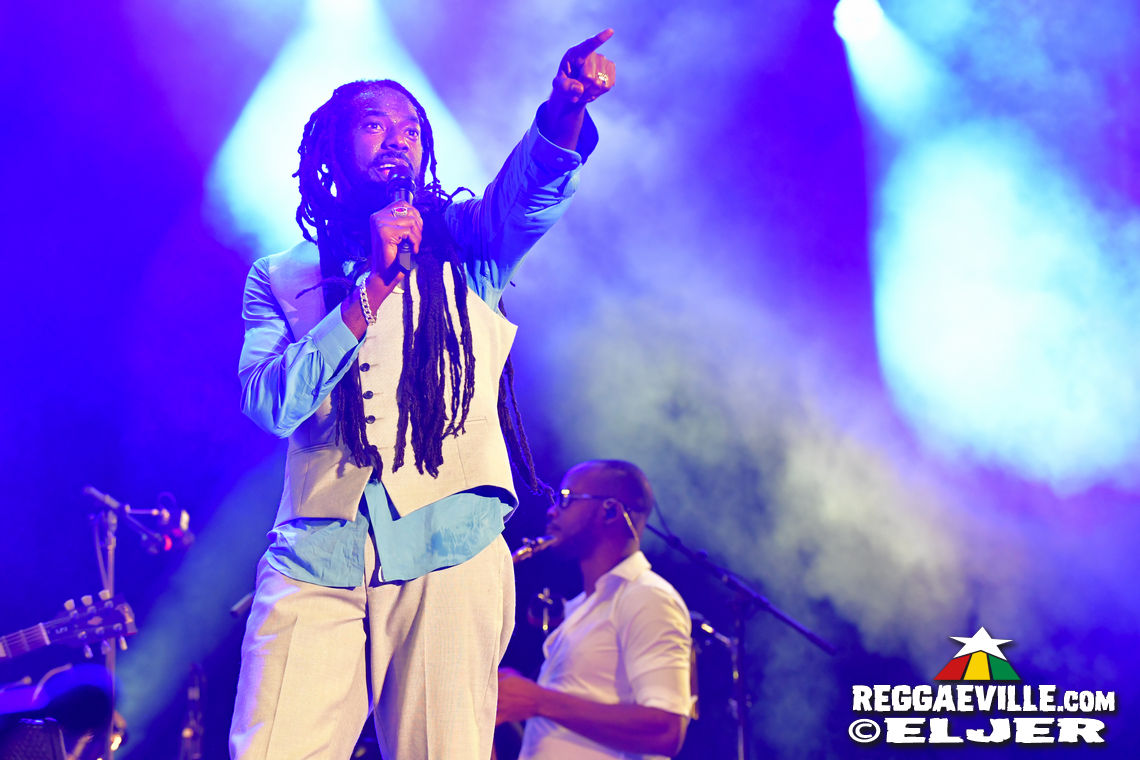 And then, just like that, this dream come true ist over. No encore, as we already reached the strict curfew of 1am, so, after expressing their appreciation in a lengthy applause, the crowd slowly disperses. Backstage, a sweat-drenched but elated Gargamel chats with other artists and crew members, confirming the positive impression he conveyed on stage: Buju Banton is back, he is hungry and he certainly has great things in store for us! Thank you for blessing us tonight, and please return to Germany soon!

VIEW THE PHOTO REPORT HERE! AND WATCH BUJU BANTON LIVE BELOW: