07/03 - 07/05 2020
Coronavirus! Reggae Festival & Tour Cancellations
04/15/2020 by Reggaeville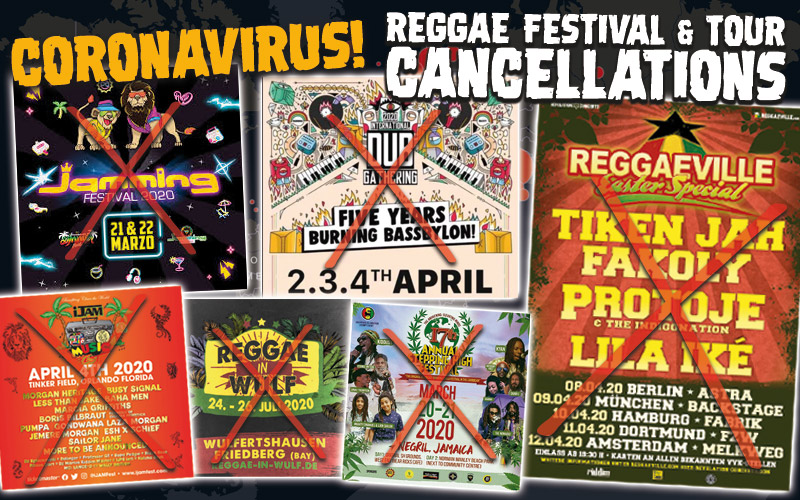 UPDATE: On April 15, the german government announced, that all large events till August 31, 2020 are forbidden. That means, there will be no festivals or touring during that time... no SummerJam, no Reggae Jam, no Ruhr Reggae Summer, etc.. some days later the governments in The Netherlands & Belgium issued the same information. Of course it's up to each festival to communicate about a cancellation or postponement, but basically the entire Festival season in Europe is off in 2020!
The outbreak of the Coronavirus (COVID-19) caused several cancellations recently worldwide.

The famous South by Southwest Conference & Festivals (SXSW) in Austin, Texas (USA) will not take place. It was scheduled for March 13-22, 2020. Same for the TwitchCon in Amsterdam, The Netherlands (May 2-3, 2020). The Italian soccer league (Serie A) postponed several matches, while others were played in empty stadiums and today it was announced, that all sport events till April 3 are cancelled! The second-leg of Paris Saint-Germain's last-16 Champions League tie against Borussia Dortmund at the Parc des Princes on Wednesday (March 11, 2020) will be played behind closed doors.

Now the first Reggae events are affected by Coronavirus. Unfortunately, the current situation does not look good and possibly further cancellations will follow. Julian Marley was supposed to play two concerts in Japan (March 16 - 17, 2020), but they were cancelled recently. A connection to Coronavirus wasn't mentioned.

We will keep you up to date and keep our Festival & Concert agenda as up to date as possible. Below is a list (not complete, make sure to double check all dates) of the cancelled events:

CANCELLED/POSTPONED EVENTS & TOURS
(click on the festival name for details)
Emerald City Fest in Montserrat (March 15, 2020)
Afro Nation - Puerto Rico (March 18 - 21, 2020)
Reggae Rise Up - Florida (March 20 - 22, 2020)
Bud Light Reggaefest in Mt Snow, VT - USA (March 20 - 22, 2020)
Stepping High Festival in Negril, Jamaica (March 20-21, 2020)
Jamming Festival in Colombia (March 21 - 22, 2020)
International Dub Gathering in Taragona, Spain (April 2 - 4, 2020)
IJAM Music Fest in Orlando, FL - USA (April 4, 2020)
Love & Harmony Cruise - Florida, USA (April 6 - 11, 2020)
Reggaeville Easter Special in Germany & Amsterdam (April 8 - 12, 2020)
Rodigan & The Outlook Orchestra in London, UK (April 9 - 10, 2020)
London International Ska Festival (April 9 - 12, 2020)
Austin Reggae Festival in Austin, TX - USA (April 17 - 19, 2020)
Reggae Rise Up - Las Vegas (April 18 - 20, 2020)
Freedom Sounds Festival in Germany (April 24 & 25, 2020)
California Roots Festival in USA (May 22 - 24, 2020)
Reggae In Wulf in Germany (July 24 - 26, 2020)

Tribal Seeds - South America Tour (March 2020)
EarthKry - USA Tour (March 2020)
The Wailers - Brazil Tour (March 2020)
Stephen Marley - USA Tour (March/April 2020)
DUB FX - Europe Tour (March/April 2020)
Pressure Busspipe & I Grade Dub - Europe Tour (March/April 2020)
Alborosie & The Shengen Clan - South America Tour (March/April)
Protoje & Lila Iké - Europe Tour (April 8 - May 3, 2020)
Culture feat. Kenyatta Hill - Europe Tour (April 2020)
Inna De Yard - France Tour (April 2020)

REGGAEVILLE EASTER SPECIAL
"Sadly the Coronavirus affected the Reggaeville Easter Special, too. The planned shows will not happen in April 2020. We are currently checking all options to find new dates. Stay tuned for details in the next days, including info about the already bought tickets. Thanks for your understanding!"

STEPPING HIGH FESTIVAL
"The promoters of Stepping High Festival have been paying close attention to threat posed by COVID-19 (Coronavirus) pandemic. After careful consideration, the painful decision was made to suspend the festival slated for March 20 – 21, 2020 until further notice."



IJAM MUSIC FEST
"We came to this decision hesitantly but given the unpredictably of this outbreak and increased cases daily in Florida. Along with the State of Medical Emergency Florida is under by Govorner DeSantis, we felt this is the right decision for our attendees. We will announce a new date in the coming weeks. Refunds are available at point of purchase. Thank you for your support! #iJAMFest will be back!!!"