Review
Album Review: Young Lords - Rise
03/21/2016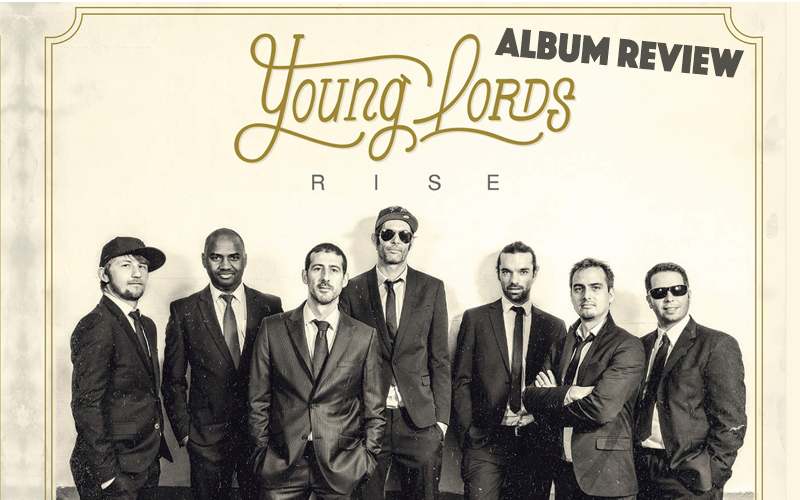 After last year's four track EP release Humble, the Young Lords, a fusion project of the Marseille based backing band The Handcart and singer Alex Keren, present their debut album Rise. Renowned for their live performances on Europe's Reggae stages with among others Linval Thompson, the Mighty Diamonds or the Abyssinians and also for their releases featuring Morgan Heritage (Mission in Progress) or Fantan Mojah (Stronger), The Handcart, in cooperation with their new singer, invite us to 12 tunes of 70s inspired Reggae and Ska.

Although, different in instrumental focus, the songs are similar in musical delivery, sometimes focused on the reggae basics which were coined in this decade crucial to Reggae music and sometimes experimental. In Precious for example, layers of acoustic guitars are the only form of accompaniment to Kerens pop-, and in this case, ballad like vocal performance. The Young Lords take us through picturesque instrumental landscapes; hills and valleys, beaches and saloons, often painted by poetic and warm guitar lines and spherical falsetto back vocals in the style of Israel Vibration, as in the album's first and name-giving song Rise. Songs like Call My Name, count on a catchy organ hook in order to create a nostalgic sound image. Tired lives from an impelling brass hook, in Youth, the horns support the rich harmonies of some upright piano arpeggios which carry the singer's phrases, and in Eyes On You, the brass section helps to create a majestic offbeat sound for a slow One Drop. Definitely one of the highlights of this album is Dennis Alcapone's appearance on Rockin It, where the legendary singjay comments on a souly love song. With their video for Humble, the Young Lords already drew some attention last year.

Admittedly, the chorus doesn't get out of your head that easily once you heard the song or watched the video. This, however, can be rather annoying if you're not a fan of flat didactic imperatives when it comes to lyrics. Just like Humble, Under the Sun which's message is "I don't really wanna go to work" was released alongside a video last year. The only uptempo Ska tune on the album, Someone Else stands out, yet, is still authentic within the band's aspired sound concept and therefore fits well within the rest of Rise. With Beauties of Life and Grab It, the Young Lords present two groovy and solid Roots Reggae riddims, which keep their magic independent of the songwriting.

Being a stylistically confident Reggae band in terms of the quality of its riddims, it pretty much depends on how much significance the individual listener attaches to content and lyrical delivery if Rise eventually ends up in his or her shelf.


---
Release details
Young Lords - Rise
DIGITAL RELEASE [Dibyz Music]
Release date: 03/18/2016
Tracks
01. Rise
02. Tired
03. Humble
04. Rockin'it feat. Dennis Alcapone
05. Youth
06. Call My Name
07. Under the Sun
08. Someone Else
09. Beauties of Life
10. Eyes on You
11. Grab It
12. Precious
Featured artists
Dennis Alcapone