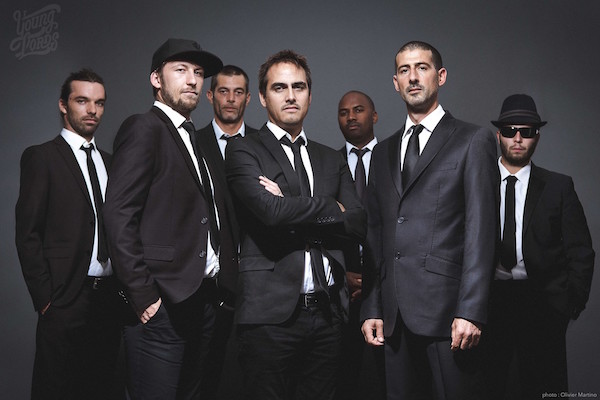 YOUNG LORDS is the result of the encounter between the Soulful and Groovy world of ALEX KEREN and the Roots / Reggae sound of the HANDCART.
Alex, of British / Peruvian parentage, was immersed in the world of music from a young age by his artistic parents. His interest in music was revealed at a young age when he discovered Soul, Funk, Jazz and Reggae music.
After his studies in London, where he spent his teens enriching his culture and musical formation, he frequented the clubs, from Brixton to Camden and Soho. He collaborated with other artists and labels in Bristol, London and more recently Paris.
As producer, composer and sound engineer he has taken part in numerous musical projects and in 2011, released his first album 'WALKIN'ON ' signed to a French independent label UNDERDOG RECORDS.
His many appearances the french media such as Le Lab O (France O television), France Inter, Le Fou du Roi, Sous les étoiles, Virgin Radio, Europe1, FIP as well as opening acts for MARIANNE FAITHFULL, BERTIGNAC, YAELL NAIM to name a few has given rise to much public interest.
The HANDCART, based in Marseille, has performed in the last 10 years on some of the biggest stages in Europe: Rototom, Spain, Reggae Sun Ska, Garance Reggae Festival, Reggae Geel (Belgium) Uppsala Reggae festival (Sweden), One Love Festival (Poland), backing legends such as THE ABYSSINIANS, MIGHTY DIAMONDS, PABLO MOSES, LINVAL THOMPSON, DENNIS ALCAPONE.
They also composed instrumentals and collaborate with many artists all over the world, in particular in Jamaica, (MORGAN HERITAGE, SIZZLA, SUGAR MINOTT, LINVAL THOMPSON).
Alex and Al (bass player) met at the summer festival of le Mas des Escavatiers. Al was captivated by the voice of Alex and suggested a joint composition venture, which rapidly came into shape after the first song « YOUTH » was finalised. The magic worked and everyone agreed: the harmony of instrumental and vocals is perfect and it was only 2 months after having started to work together that Alex and the HANDCART decided to create YOUNG LORDS.
After working many nights together in various studios, they managed to extract the essence of each note, each chord, and achieve a vibrant musical colour.
Their music is at the same time Old School and yet innovative: an impeccable blend. The choruses are efficient, the arrangement outstanding, the lyrics full of hope and the music, always live, is powerful and accomplished.
The YOUNG LORDS are going to bring a refreshing spirit to the French and International stage.