Review
Album Review: Uwe Banton - Free Your Mind
06/17/2021
by Steve Topple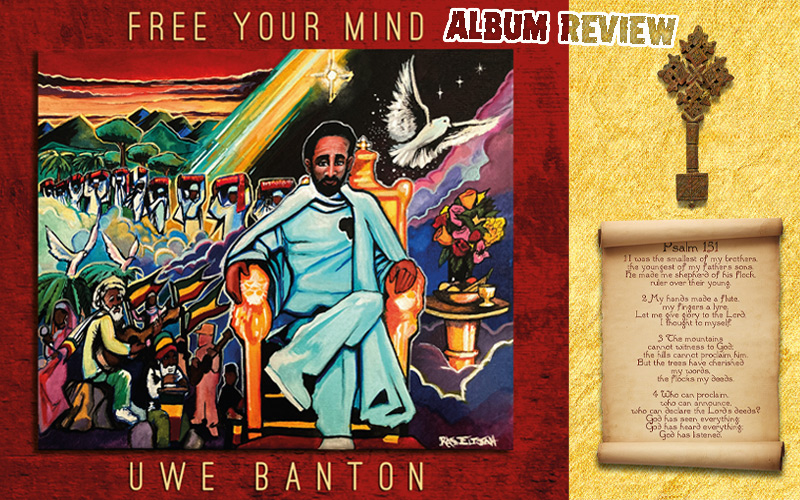 The return of Germany's Uwe Banton, nine years since his last album Mental War, is a highly anticipated moment. And with his new project, he certainly doesn't disappoint.
Free Your Mind, released via Banton's Rasta Yard Records, sees him cover 18 tracks, including three dubs. To say the album is slick would not do it justice. Banton's hand is all over it: from song writing, to performing many of the instruments via mixing. The quality of the record is top class. Of note is the mastering from Ganjaman: a sympathetic yet rich affair which gives Free Your Mind the feel of a live album; no mean feat as many of the recordings were done in different countries.
Musically, it's as detailed as it is long. The overriding feeling is that of Roots. But Free Your Mind is interspersed with flashes of other genres and styles. Its opener, Ark of the Covenant with Ras Yohannes, has flashes of Nyabinghi with its pattering drums; Speak the Truth drops in some Steppers towards the end, while What Kind of World has a brilliant Dancehall clave rhythm bridge. Do Good sees Banton embrace Jazz with a brilliantly executed Skat. Then, this thought is expanded upon via Stop the Talkin's blue notes across his vocal melody. My Smile feels like a slowly swaying, minor key Ska-Roots hybrid, and Birds Have to Fly is filled with musical nods to Funky Soul and a gorgeous, fluttering flute solo from Eliane Hobbing.
Straighter Roots also features. The title track is upbeat and bright. Then, This Train and Wir Weigern Uns are brooding and unnerving, while I'm Not Afraid with Ganjaman treads a traditional path. Deep Mess delivers a folksy guitar opening before settling into Roots – but the pattering djembe-style drums are back. And Keep Learning feels like a Roots-Soul amalgamation with Banton's highly melodic vocal line. Meanwhile, Banton provides two Lovers Rock tracks: Hurry Up and Come with the sublime Afrika Cele and No Special Reason. And the three Dub versions (Wir Weigern Uns, Deep Mess and Ark of the Covenant) are expertly executed.
But if the musical content was rich and varied, then Banton's lyrical creations are a positive smorgasbord of ideas. For example, Banton deals with the search for spirituality and faith under Babylon in Ark of the Covenant, before discussing how the system represses those who Speak the Truth, and delivering a diatribe on the state of society and the planet across What Kind of World with a cry for unity in the face of the former in Deep Mess.
This Train delivers a call to spiritual arms, while Birds Have to Fly reminds us that those of us who are conscious can break from Babylon's shackles and soar. The vulnerable yet resolute messages of My Smile and I Am Not Afraid are cleverly juxtaposed with contradictory musical backdrops and the title track encapsulates all this perfectly. The album serves as both a series of ideas and a broader narrative on finding your spiritual self amidst the chaos of the world we live in.
Free Your Mind is near-perfection. Banton has crafted a fulsome, interesting and evocative project which both moves you and makes you ponder – and is a very welcome return to form for this consummate artist.
---
Release details
Uwe Banton - Free Your Mind
DIGITAL RELEASE / CD [Rasta Yard Records]
Release date: 06/18/2021
Tracks
01. Ark Of The Covenant feat. Ras Yohannes
02. Speak The Truth
03. Keep On Learning
04. Free Your Mind
05. What Kind Of World
06. DO Good
07. Deep Mess
08. Hurry Up And Come feat. Afrika Cele
09. My Smile
10. Stop The Talkin
11. This Train
12. BirdsHave To Fly
13. No Special Reason
14. I Am Not Afraid feat. Ganjaman
15. Wir Weigern Uns
16. Wir Weigern Uns (Dub)
17. Deep Mess (Dub)
18. Ark Of The Covenant (Dub)
Featured artists
Ganjaman