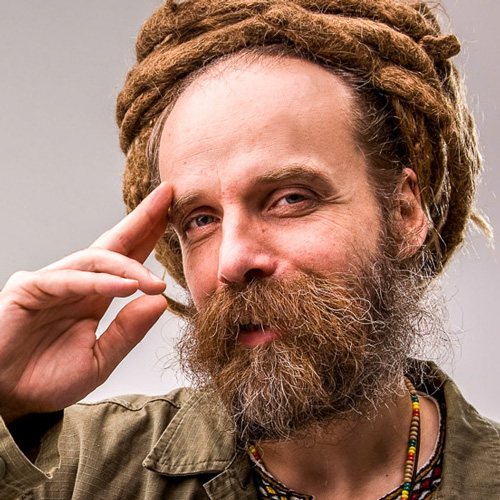 Uwe "Banton" Schäfer is from Lage/Lippe near Bielefeld.
In 1981 he travelled to Jamaica for the first time. He was 15 then and he obtained first hand experience through contact with the local people and the music scene which dominated life on the island and still does. But he had already been introduced to reggae music by a school friend who made him listen to a record of Bob Marley. And it was the "reggae king's" rhythm that decisively influenced Uwe's orientation as an artist later on.

But he started off with Dancehall and that's where he took his first steps towards live performance. In the well known "Neons"-club at Steinhagen near Bielefeld he held a microphone in his hand for the first time in 1984. On this occasion he sang his lyrics in Jamaican Patois to up-to-date riddims such as "Sleng-Teng" and "Get Flat" and was accompanied by friends of Jamaican origin who came to Germany with the British army. During that time his friends gave him the name "Banton" which is the Jamaican name for a DJ who's full of lyrics.

Over time he became more and more interested in playing instruments and writing songs and he digged up his old guitar which as a student he'd used to pack away right after lessons and had never given a second thought. In addition he felt more and more intrigued by Rastafari and came to understand that inspite of the mixture of various styles in the music there was a big difference between the Rasta and Roots culture on the one hand and the Dancehall culture with it's growing glorification of violence and sex on the other hand.

But it was not until 1992 that the Jamaican keyborder and singer Junior Mandingo, former student of the famous Augustus Pablo, asked him to join his newly set up reggae combo "One Vibe". This was followed by a summer of numerous performances and important experiences on stage. That band however did not last very long. The next summer some musicians got together in a different formation and the band MOVEMENTS was founded which made it's first apearance on stage in 1994. Though this band also has had constantly changing members from Germany, Jamaica, the United States and Africa it still is a warrant for real Roots Reggae otherwise only known from Jamaican acts. In 1996 the band released it's first album "One Earth" which was followed by an EP named "Rastaman" in 1998.

In 2000 Uwe Banton met soul singer Xavier Naidoo from Mannheim. As a result of this encounter Uwe Banton and MOVEMENTS singer Jah Meek took part in the oncoming "Zion"-tour of the Söhne Mannheims which introduced them to a broad public.
In 2003 the MOVEMENTS released their album "His Majesty's Works" which impressively stresses the band's position as authentic roots act within the German scene.

2005 eventually came the time for his first solo-release on 7". The Berlin-based label MKZWO issued the "Too Long"-Riddim, produced by Ganjaman and Uwe's track "Jah Roots" was one of the big hits. This caused his name also to become well-known within the soundsystem scene. In January 2006 followed "Kommt, Seht, Hört", a combination with Ganjaman. The release of his first solo-album is scheduled for November 24th 2006.