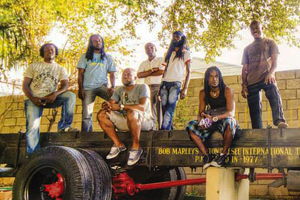 Six of the seven members that make up the group "Unit 3" originate from humble beginnings at the Alpha Boys School,which is famous for not only educating their students, but also the Alpha Boys Band, producing some of the best musicians in Jamaica and Jamaicans around the world. Some of them were touring with Jamaica All Star. Most of the musicians are still playing nowadays with legends like Bunny Wailer, Jimmy Cliff or The Gladiators.

Their first album "In the Fields" has been recorded at Tuff Gong Studio in Kingston. This album is actually a musical mixture of spirituality, and depicts the obvious everyday life we live in this modern age. There is a message in every song and a message from which each individual person can learn. The idea of spiritual consciousness and spiritual awareness is embedded in the Words, even in the music as the celestial pounding can be felt.

Their original sound cannot be duplicated and is reflective of the lives they shared growing up as orphans and the tribulations they faced as children. This has influenced their musical style, thus making them one of the most unique and innovative groups in Reggae music today.

Ras Khan of Hotbox Records describes Unit 3 as: "One of the newest groups from Jamaica.... eventually to produce the true sound of the authentic Reggae and Roots music since the absence of the great Bob Marley. There is no denying the fact that the roots of the sound can be heard through the celestial pounding of the rhythm."

Carron Mcgibbon - Singer, Trombone
Colin Smith - Drummer
Trevor Thompson - Bass
Anthony Williams - Organs, Synthesizer
Craige Henry - Trumpet
Tafane Buschaecab - Alto Sax, Soprano
Nicholas Laraque - Tenor Sax, Flute