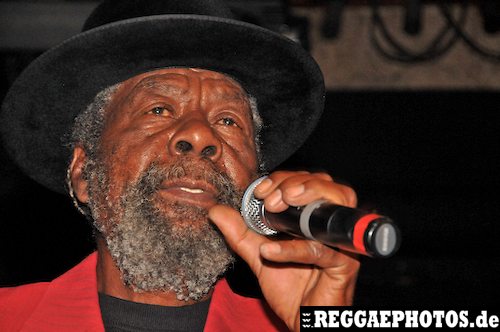 Dub, Reggae and Dancehall wouldn't exist as we know it without the tremendous contribution of this man: Ewart Beckford OD aka The Originator aka The Father of Deejaying, better known as U-Roy. Born in Jones Town, Kingston, in 1942, he was drawn to music early and started his career at Dickie Wong's Soundsystem Doctor Dickies at age 19. Honing his skills as DJ, he passed through Atomic Sound (Sir George), Coxsone Dodd and Sir Percy before finding permanent occupation at King Tubby's, who started dabbling with Dubplates in the late sixties. Influenced by artists such as Count Matchuki and King Stitt, U-Roy applied his unique vocal style to the instrumentals played on Tubby's Hometown Hi-Fi and popularized Toasting as a new art form that, exported to New York City, even spurred the development of HipHop and Rap.

U-Roy soon turned to recording as well, releasing his first two singles Wake The Town and Wear You To The Ball with John Holt on Duke Reid's Treasure Isle label in 1970 and subsequently working with Jamaica's major producers of the time. His 1975 album Dread In A Babylon was a big success in the UK and led to further recordings, all of which expressed his deep Rastafarian convictions. Starting his own Soundsystem Stur Gav in 1978, he helped to introduce a new generation of toasters and singers to the public, including Ranking Joe, Jah Screw, Charlie Chaplin, Super Cat and Josey Wales, who would in turn influence the emerging Dancehall genre.

In 2007, U-Roy was rightfully awarded the Order of Distinction (OD) for his impact on the Jamaican music scene, an impact that will be honoured in his legacy. A special acknowledgement of the artist's oeuvre is also this year's JaRIA Ceremony, where U-Roy will receive the Icon Award (Category 8, male artist) - a trophy he, alas, won't be able to claim.
Ewart Beckford has passed away on February 17th after a heart attack following a kidney surgery, as unconfirmed sources claim. Our condolences go out to his family, friends and fans around the world.