Toots Hibbert Petition - Rock & Roll Hall of Fame Induction
12/02/2020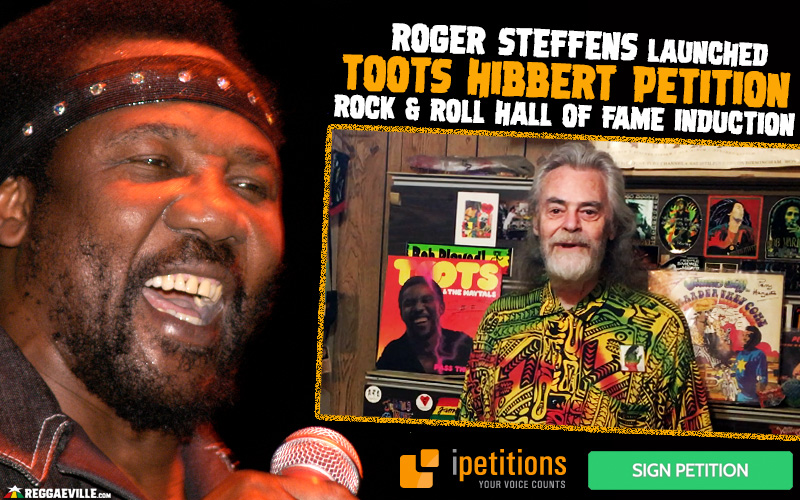 PETITION: TOOTS FOR THE ROCK & ROLL HALL OF FAME
Please join your voices to all of those petitioning the Rock and Roll Hall of Fame to induct the immortal Toots Hibbert (Dec. 8, 1942 - Sep. 11, 2020), and pass this information on to everyone you know who feels the same way!
This campaign is spearheaded by reggae aficionado Roger Steffens who is a world-renowned historian of Bob Marley and Reggae Music, and curator of his Reggae Archives, which includes over 300,000 titles on tape, record and CD, and the world's most extensive collection of Marley/Reggae memorabilia, plus hundreds of thousands of other Reggae-and Rasta-related items in seven rooms.

SIGN THE PETITION @ IPETITIONS.com
Frederick "Toots" Hibbert belongs in the Rock and Roll Hall of Fame and Museum. Not only did he create the word "Reggae" in his 1968 recording of Do The Reggay, but he also starred in the groundbreaking film The Harder They Come, alongside Hall of Fame legend Jimmy Cliff.
Toots' 60-year career went from one triumph to another, limning the day to day levity of the sufferers in all their bittersweet glory. As an English encyclopedia wrote: "No artist ever painted a broader and truer canvas of daily life in Jamaica than Toots."
The full-blooded celebrations of Sweet and Dandy' the screaming cry against injustice in 54-46; The harsh strains of ghetto life in Pressure Drop; the sheer exuberance of first love in It's You; the happy companionship of Never You Change; the ever-present threat of violence described in Bam Bam."
Called "The Otis Redding of Jamaica", Rolling Stone included him in their list of the Greatest Vocalists of All Time.
Recording greats jumped at his invitation to record with him: Keith Richards, Bonnie Raitt, Eric Clapton and Willie Nelson , up to the 2020 collaboration with Ringo Starr and others on his latest album Got To Be Tough, (Co-Produced with Zak Starkey) released days before his passing from a Covid19-related illness.
Asked if Toots' work bears comparison to others already in the Rock Hall, guitarist Warren Haynes says Toots "stands among the giants like Otis, Ray Charles, Solomon Burke, Jackie Wilson and Sam Cooke". Ziggy Marley calls him "a father figure". Trey Anastasio concurs: "Like so many people, I've loved his music my entire life. It was ubiquitious, playing at parties and gatherings. It felt like an element, like air."
SIGN THE PETITION @ IPETITIONS.com