The Legendary Toots Hibbert Has Passed Way
09/12/2020 by Reggaeville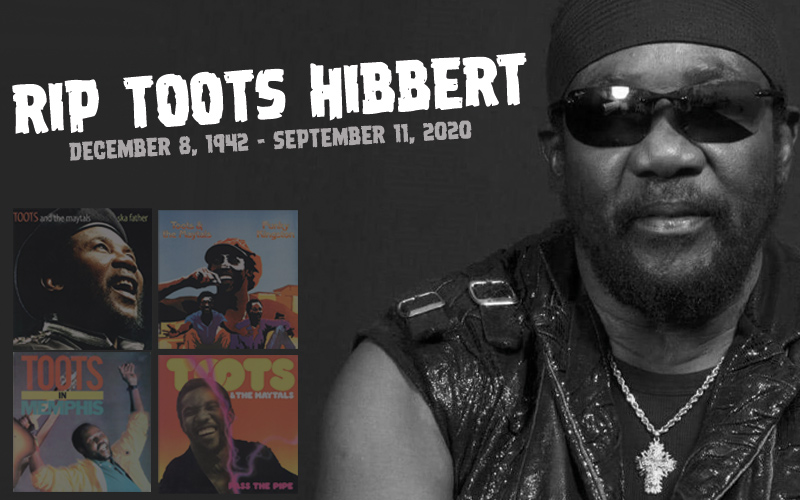 RIP TOOTS HIBBERT December 8, 1942 - September 11, 2020
The Legendary Toots Hibbert has passed way. It was officially confirmed by a statement on Facebook:

"It is with the heaviest of hearts to announce that Frederick Nathaniel "Toots" Hibbert passed away peacefully tonight, surrounded by his family at the University Hospital of the West Indies in Kingston, Jamaica.

The family and his management team would like to thank the medical teams and professionals for their care and diligence, and ask that you respect their privacy during their time of grief.

Mr. Hibbert is survived by his wife of 39 years, Miss D, and his seven of eight children."

Earlier this month, September 1, a statement informed about his health condition:
"While reports of Mr. Hibbert being in an intensive care unit at a private facility in the Corporate Area are true, the family would like to assure those concerned that he is making positive progress and is receiving the best possible treatment, while he awaits the results on his COVID-19 test. He is resting and in good spirits, and is showing signs of improvement by the hour. […]"

VOICES:
Ziggy Marley: "The Legendary Toots Hibbert has passed I spoke with him a few weeks ago told him how much I loved him and what he means to me, we laughed and shared our mutual respect. I am fully in sorrow tonight i will miss his smile and laughter his genuine nature. Toots was a father figure to me his spirit is with us his music fills us with his energy i will never forget him. #foundingfather RIP TO THE MIGHTY AND POWERFUL NYAH FYAH BALL. JAH RASTAFAR I"

Third World: "Walk Good Nyah! You are REGGAE
Your extraordinary LEGACY lives on and the world will continue to rock with you, Toots Hibbert. Your sweet music will continue to fill the soundtrack of our lives. It was an absolute joy to share many stages over the past 4 decades with you, and the last time we jammed together it was indeed an honor to present you with the ThirdWorld Lifetime Achievement Award Dec 2018 at Third World & Family in Kingston Jamaica. We love you very much RASTAFARI LIVES!"

Mick Jagger: "So sad to hear of Toots Hibbert's passing. When I first heard Pressure Drop that was a big moment - he had such a powerful voice and on stage he always gave the audience his total energy. A sad loss to the music world."