Reggae On The River 2019 Cancelled!
06/18/2019 by Reggaeville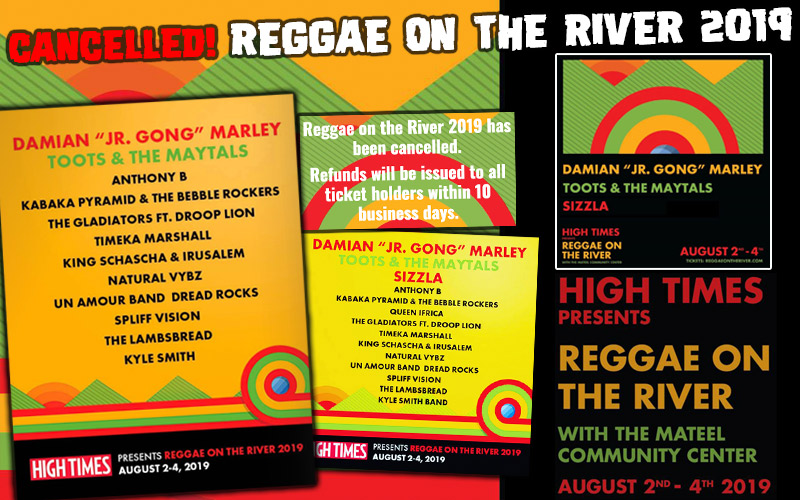 There will be no Reggae on the River in 2019!

After the first artist announcement last month, which was followed by a very quick cancellation of Sizzla's appearance, the official website informs today: Reggae on the River 2019 has been cancelled. Refunds will be issued to all ticket holders within 10 business days.
Official Statement by the Mateel Community Center [June 18, 2019]
"The Mateel Community Center is disappointed, shocked and saddened regarding the cancellation of Reggae on the River™ 2019. We are feeling the pain of the community for the loss of local income and much more, its annual tradition.
We will continue to pursue all avenues to restore the show. And will undoubtedly have a show at the Mateel the weekend of Reggae on the River™, August 2-4.
Mateel forever.... Mateel Board of Directors"

Overall it was a very confusing announcement strategy. The first three names were Damian Marley, Toots & The Maytals and Sizzla. But a few hours earlier - obviously by accident - an alternate list of artists appeared on the website, including Queen Ifrica, Anthony B, Kabaka Pyramid and eight other names.
Sizzla's appearance and removal from the line-up after two days ("A Sizzla performance scheduled at the Mateel was cancelled after outcry and a vote by the board of directors.") has angered many fans and resulted in a heavy backlash among fans and bloggers. Abstruse and misleading theories about the real reasons were posted on websites and social media.

In general it seems the fans, eagerly waiting for the full line-up, were irritated by the announcement strategy, and the ROTR Team was not able to bring clarity in the situation: till today the Sizzla announcement appears on the events Facebook page. And while the official website of Reggae On The River listed only Damian Marley and Toots & The Maytals, a full page advertisement with additional 10 artists (Kabaka Pyramid, Anthony B, etc..) appeared in the recent edition of the Reggae Festival Guide 2019, which was shared on Instagram by the Mateel Community Center.

No update on the official website about all these various line-ups circulating, surely made the confusion even bigger. In these days of alternate facts and fake news, many users and fans consider only the official website and Facebook page as legit source and without proper communication you don't give the fans a secure feeling to spend their money for a ticket.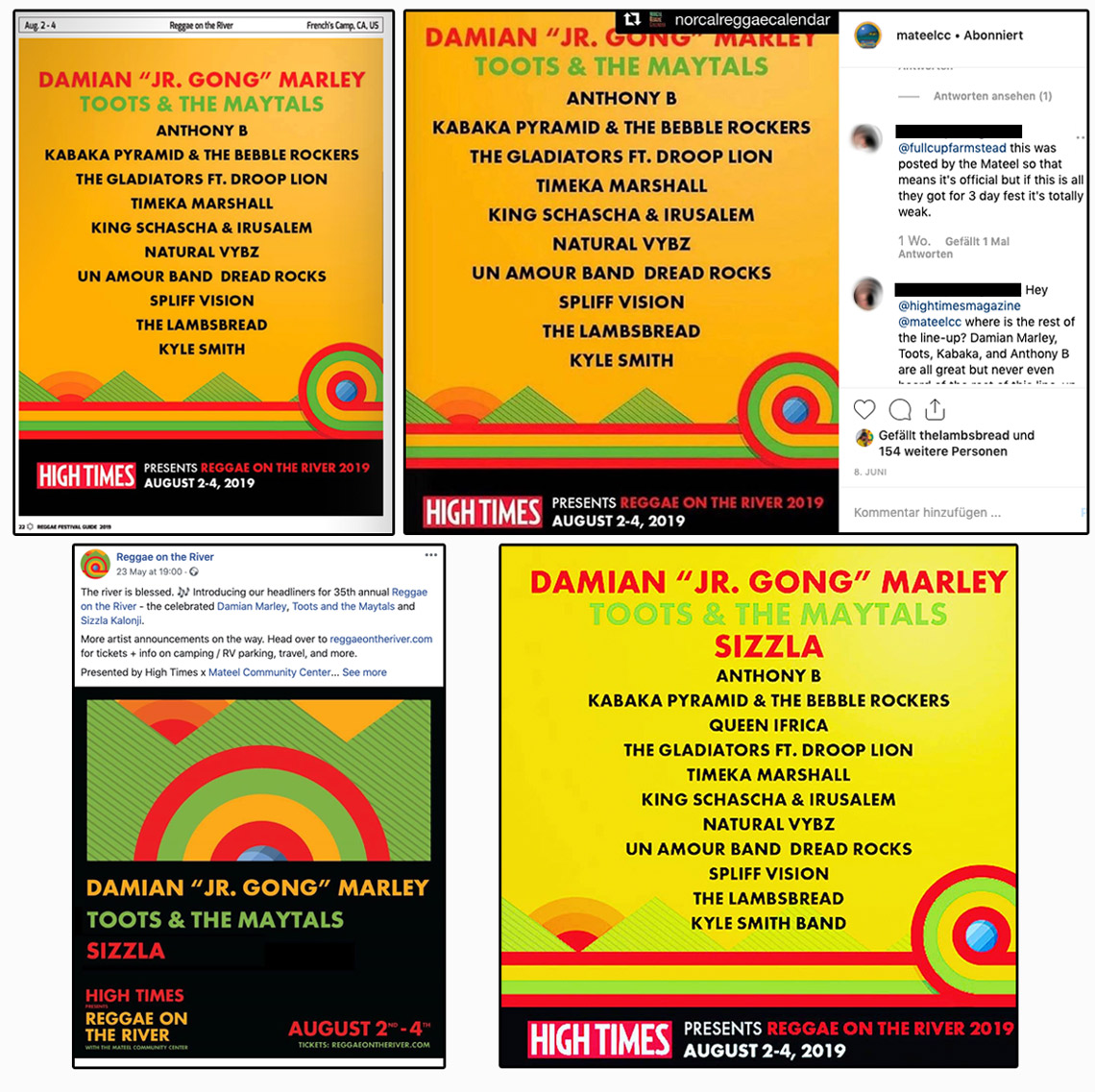 After the cancellation of Sierra Nevada World Music Festival 2019 earlier this year [read the news here!], this is another unfortunate situation for the Reggae scene in California.


Background information about the High Times & Mateel Community connection:
"After Reggae On The River 2017 failed to meet its budgetary expectations and the production sustained a significant loss, it was uncertain whether or not there would be 2018 edition.
Reggae On The River Festival Announces New Strategic Partnership with High Times High Times Productions, Mateel Community Center Pair to Grow Iconic Music and Culture Celebration
In March 2018 High Times Productions, the event-management team for High Times Media, announced an exclusive partnership with the Mateel Community Center to breathe new life into the iconic Reggae On The River festival." [full article here]