06/21 - 06/23 2019
Sierra Nevada World Music Festival 2019 Cancelled!
03/05/2019 by Reggaeville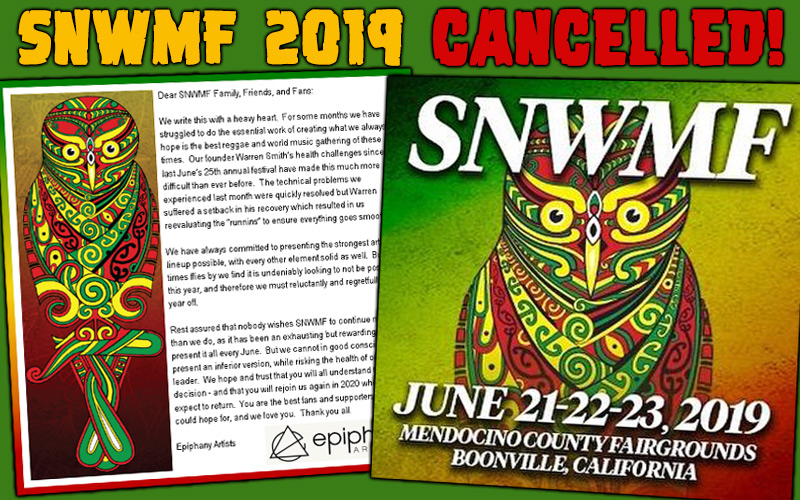 Bad news reached us out of the SNWMF camp. The 2019 edition has been cancelled, but they only take a year off to be back in full power in 2020. Check the official statement for all details below:

Dear SNWMF Family, Friends, and Fans,

We write this with a heavy heart. For some months we have struggled to do the essential work of creating what we always hope is the best reggae and world music gathering of these times. Our founder Warren Smith's health challenges since last June's 25th annual festival have made this much more difficult than ever before. The technical problems we experienced last month were quickly resolved but Warren suffered a setback in his recovery which resulted in us reevaluating the "runnins" to ensure everything goes smoothly.

We have always committed to presenting the strongest artistic lineup possible, with every other element solid as well. But as times flies by we find it is undeniably looking to not be possible this year, and therefore we must reluctantly and regretfully take a year off.

Rest assured that nobody wishes SNWMF to continue more than we do, as it has been an exhausting but rewarding joy to present it all every June. But we cannot in good conscience present an inferior version, while risking the health of our fearless leader. We hope and trust that you will all understand this difficult decision - and that you will rejoin us again in 2020 when we fully expect to return. You are the best fans and supporters any festival could hope for, and we love.

Thank you all. Epiphany Artists

Earlier this year the following statement was published and the Early Bird Ticket were supposed to go on sale in February.
Statement from January 24, 2019:
Peace. Love. Music in 2019 from all of us at SNWMF!

As many of you know, SNWMF Founder Warren Smith has experienced some extremely challenging health issues since SNWMF 2018. We put SNWMF on hold for awhile as we focused on Warren's recovery. The good news is he is slowly regaining his strength. As he says "Many Rivers to Cross" carefully.

We hoped to provide information about SNWMF 2019 prior to now. We strongly believe it is more important than ever that SNWMF continue to nurture a world family peacefully united in the universal spirit of music. Music transcends boundaries and cultural differences. Music has the power to change paradigms and shows us that we are more alike than different. Please be patient a bit longer…

Info about SNWMF 2019 Soon Come