Best Reggae Album! The GRAMMY goes to... TOOTS & THE MAYTALS
03/14/2021 by Reggaeville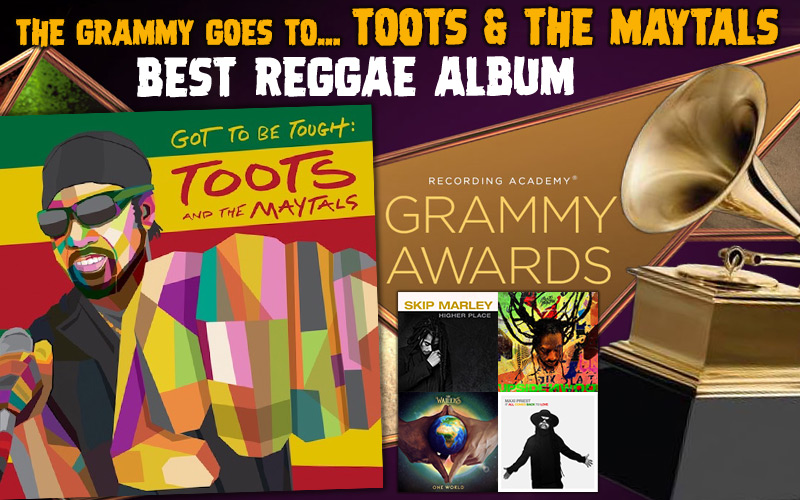 Just announced via the live stream Grammy Awards Premiere Ceremony:

The Grammy Award winner in the category BEST REGGAE ALBUM is TOOTS & THE MAYTALS with GOT TO BE TOUGH, released by Trojan Jamaica in August 2020. Congratulations!
It's the second Grammy Award for Toots & The Maytals after their first win for the 2004 release True Love.

Skip Marley tweeted: "Bless up Toots & The Maytals on di Grammy win! Di whole foundation of wah wi ah do now is thanks to dem man deh, dem pinnacles of reggae music...Nuh only reggae; blues, funk, soul, energy him bring, everything. Nobody nuh do di stage like Uncle Toots."

Buju Banton's reaction via IG: "Congratulations my brother Toots, today Reggae won."

Maxi Priest sent out this message: "A special and warm congratulations to Toots & The Maytals on your Grammy for Best Reggae Album! Well deserved! You won this for all of us!"
Toots Hibbert passed away September 11, 2020. For the second time in history a Grammy in the Reggae category was awarded posthumous. It happened before in March 1988 when the Peter Tosh's No Nuclear War (1987) won the Grammy. Tosh was murdered in September 1987.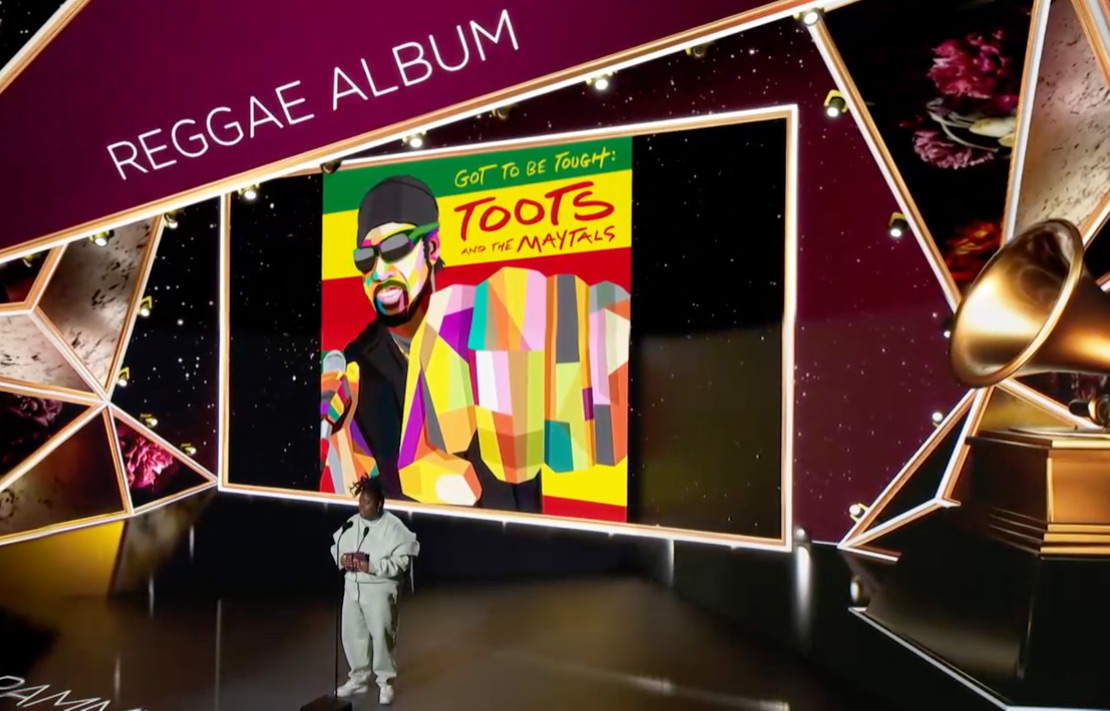 Also nominated in the BEST REGGAE ALBUM category were:
The Best Reggae Album category was presented during the Premiere Ceremony Show. The main Grammy Award show was aired later on CBS TV. It included a special IN MEMORIAM segment to salute the members of the music community who passed away 2020 - 2021.
The tribute had performances by Bruno Mars, Anderson .Paak, Lionel Richie and during Brittany Howard and Chris Martin's duet You'll Never Walk Alone one of the artists displayed was Bunny Wailer, who passed away on March 2, 2021. Click here to watch the performance!
Toots Hibbert appeared in the segment, too.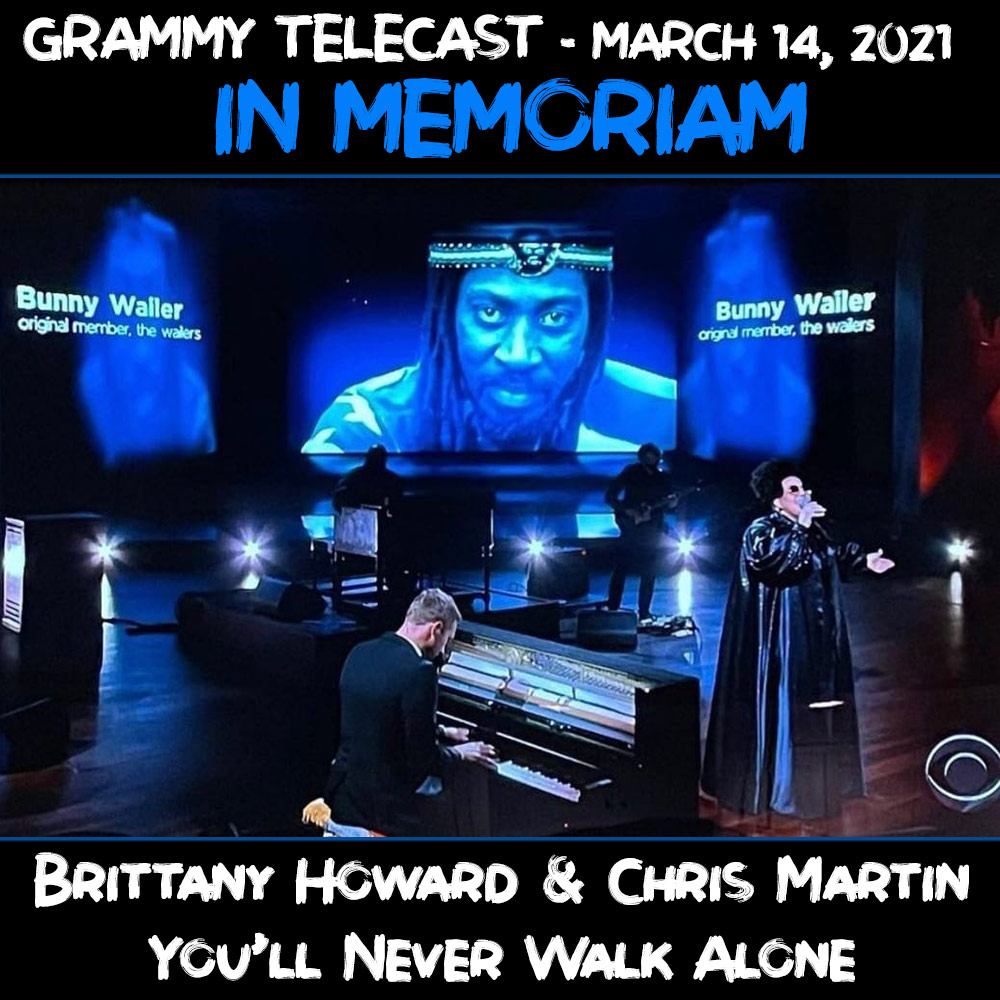 Below you find the complete REGGAE CATEGORY* winner list of from 1984 to 2020
1984 Black Uhuru - Anthem
1985 Jimmy Cliff - Cliff Hanger
1986 Steel Pulse - Babylon the Bandit
1987 Peter Tosh - No Nuclear War
1988 Ziggy Marley & The Melody Makers - Conscious Party
1989 Ziggy Marley & The Melody Makers - One Bright Day
1990 Bunny Wailer - Time Will Tell: A Tribute to Bob Marley
1991 Shabba Ranks - As Raw As Ever
1992 Shabba Ranks - X-tra Naked
1993 Inner Circle - Bad Boys
1994 Bunny Wailer - Crucial! Roots Classics
1995 Shaggy - Boombastic
1996 Bunny Wailer - Hall of Frame: A Tribute to Bob Marley's 50th Anniversary
1997 Ziggy Marley & The Melody Makers - Fallen Is Babylon
1998 Sly and Robbie - Friends
1999 Burning Spear - Calling Rastafari
2000 Beenie Man - Art and Life
2001 Damian Marley - Halfway Tree
2002 Lee Perry - Jamaican E.T.
2003 Sean Paul - Dutty Rock
2004 Toots & the Maytals - True Love
2005 Damian Marley - Welcome to Jamrock
2006 Ziggy Marley - Love Is My Religion
2007 Stephen Marley – Mind Control
2008 Burning Spear - Jah Is Real
2009 Stephen Marley - Mind Control Acoustic
2010 Buju Banton - Before the Dawn
2011 Stephen Marley - Revelation Pt. 1 – The Root of Life
2012 Jimmy Cliff - Rebirth
2013 Ziggy Marley - In Concert
2014 Ziggy Marley - Fly Rasta
2015 Morgan Heritage - Strictly Roots
2016 Ziggy Marley - Ziggy Marley
2017 Damian Marley - Stony Hill
2018 Sting & Shaggy - 44/876
2019 Koffee - Rapture
2020 Toots & The Maytals - It Got To Be Tough

*CATEGORY NAME CHANGE:
BEST REGGAE RECORDING (1984 - 1990)
BEST REGGAE ALBUM (1991 - 2020)