Review
Album Review: Maxi Priest - It All Comes Back To Love
08/23/2019
by Gardy Stein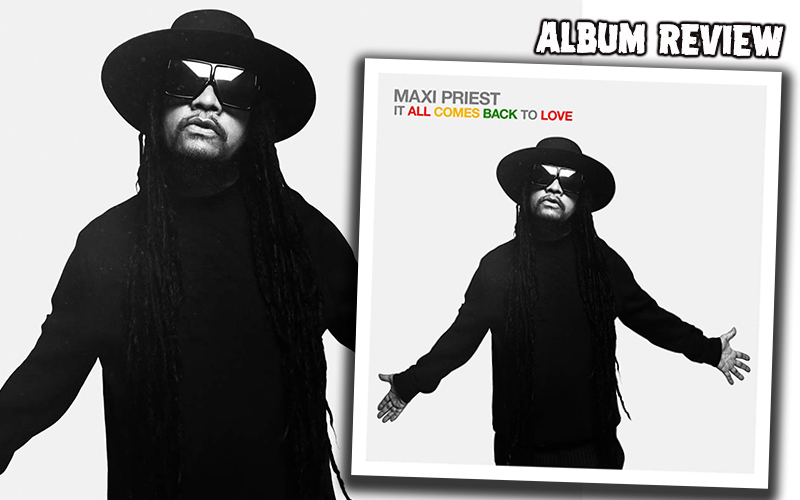 Remember Wild World in 1988? Remember Close To You in 1990? It was these two songs which, more than any others before or after, established Max Alfred Elliott aka Maxi Priest as one of the hottest British Reggae singers of Jamaican descent. He has released a considerable body of work since, a lot of collaborations among it, and he doesn't seem at all inclined to stop.
With It All Comes Back To Love, Maxi Priest now presents his first full-length album in five years (its predecessor Easy To Love dating back to July 2014), recorded under the executive production of Orville Richard Burrell, better known as Shaggy. All but five tracks have been produced by the like-minded trio of Shaggy, Shane Hoosong and Dwayne Shippy, and the resulting release is a contribution to the popular niche commonly called Reggae Fusion, a sub-genre artists like Maxi Priest, Shaggy and Inner Circle have hewn out for themselves, combining Reggae elements with Pop, R&B and Rock.
Taking up the success of their 1996 hit That Girl, Maxi Priest and Shaggy can be heard jointly on three songs: I'm Alright, Cool Nuh and My Pillow. While the first of these is an up-tempo piece accompanied by a dance-celebrating video, Cool Nuh is an instant favourite with its groovy, infectious beat and sexy vocals. The laid-back love song My Pillow includes the signature sounds of Sly & Robbie and can be considered the most "Reggae" of the 14 tracks on the album.
Wait, let's reconsider that - actually, the title track might claim that trophy. It All Comes Back To Love produced by UK mastermind Carlton "Bubblers" Ogilvie (one of the key contributors to Adrian Sherwood's crucial London label On-U Sound) is reminiscent of the great Beres Hammond, both in sound and vocal melody. Riding on a less traditional sound-wave, songs like Free Falling, If I Could Change It, Hateful Celebration or Hard As Me featuring Noah Powa cater for a young, urban audience. If I Was Your Man and Bridge You Burn bring a touch of Modern Roots, singing about a yearning love-promise and real-life teachings respectively, highlighting Maxi's smooth and on-point vocals. Rather shallow in comparison, both in lyrics and in music, are the tracks Baby Can You Love Me Slow or Out In The Rain, even though the latter features Inner Circle (whose deceased singer Jacob Miller was a cousin of Maxi, by the way).
While Shaggy, American Soul- and R&B-bard Anthony Hamilton and UK's HipHop-singer Estelle are a fine addition to Anything You Want, the features in It's A Summer Vibe are a real surprise. None less than Bounty Killer contributes his low rumbling vocals, and Maxi Priest's son Ché $AV, who is currently working on his first EP, gives us a taste of his craft. Another example of talent handed down from father to son!
It All Comes Back To Love is a welcome return of a singer who has always managed to translate Reggae's fascination to an international audience by incorporationg Pop, R&B and other modern elements into his music. If you belong to those who enjoy such a marriage, the crystal clear sound and an array of talented singers and producers make this release a special treat for you!
---
Release details
Maxi Priest - It All Comes Back To Love
CD / DIGITAL RELEASE [S-Curve Records]
Release date: 09/20/2019
Tracks
01. I'm Alright feat. Shaggy
02. Free Falling
03. Cool Nuh feat. Shaggy
04. If I Was Your Man
05. It All Comes Back To Love
06. If I Could Change It
07. It's A Summer Vibe feat. Bounty Killer & Che Sav
08. Anything You Want feat. Estelle, Anthony Hamilton, Shaggy
09. Out In The Rain feat. Inner Circle
10. My Pillow feat. Shaggy
11. Baby Can You Love Me Slow
12. Hateful Celebration
13. Bridge You Burn
14. Hard As Me feat. Noah Powa
Featured artists
Shaggy
/
Bounty Killer
/
Inner Circle