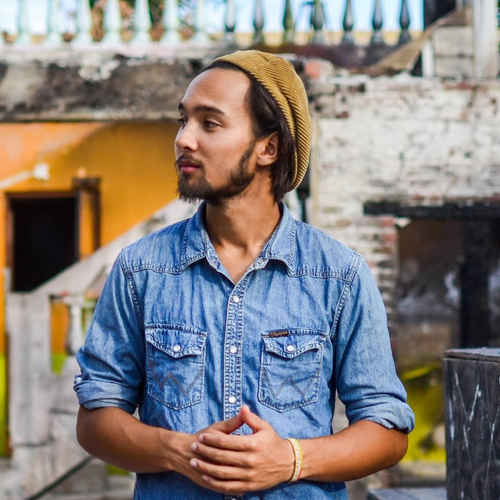 Tóke is an Indonesian-German Reggae Singer- & Songwriter born in Jakarta, Indonesia and raised in the suburbs of Hamburg, Germany.
Following his roots to Southeast Asia, Tóke is named after an Indonesian gecko who's sound "Tokeeeeeeh! Tokeeeeeeeh!" naturally surrounded him in his early childhood years and influenced his acoustic perception from the day he was born.

Tóke is an artist who is constantly in search of the ideal translation of the inexplicable into sound, groove and words, exposing his thoughts and offering his perspectives on various topics to the world. Tóke's music is a deeply intense, rebellious and questioning mixture of Reggae, Singer- Songwriter and Soul. Paying homage to the motherland of his beloved Reggae Music, he uses Jamaican Patois besides English to transmit messages of self-reflection, positivity and spirituality.

"I have a vision in my eyes, see mi deya pon stage, bringing di riddim and sound!" - from the song "Troddin' With A Vision"

After seeing uprising Jamaican Reggae artist "Chronixx" elaborating on his personal motivation to be an artist in an Interview, Tóke felt the itch and decided to put all his strength into his first solo production.

"You get to the point that your dreams become your nightmares if you don't fulfill them…" - Chronixx, OnStage Interview with Winford Williams

Accordingly, the 22 year old artist is bringing out his Debut EP called "Troddin' With A Vision" this July 13th 2014, which will reveal many facets of Tóke's talents, exposing his versatility and multiinstrumentality in a solid, completely self-produced 6-Track acoustic Reggae/ Singer- Songwriter EP.

Every song was written, composed and arranged by Tóke, every instrument was played and recorded live by Tóke, except of the Drums, Percussions and the memorable Saxophone in the title track "Troddin' With A Vision". Understanding that one has to be versatile as an independent artist, Tóke got involved in various fields exceeding the realms of simply making music, including mixing the EP and Video-editing.

Next Sunday, July 6th is the premier date of the official video for the single "Troddin' With A Vision", which was filmed and edited by Tim Seckerdieck and co-edited by Tóke. (youtube.com/tokemusicofficial).


"I have a vision now and so I plant di seeds dem and let music prosper and spread out to every region" - from the song "Troddin' With A Vision"

Tóke is ready for the game and this EP is just the first milestone for a bright musical future. Now the seeds have been sown, his music is ready to prosper and spread out to the world.