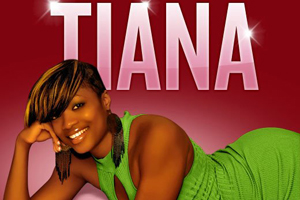 Young, female Dancehall-Reggae artist, Danielle Shand, better known as Tiana has emerged on the Jamaican music scene; is stating her case as the industry's newest diva.

The St. Mary based singer first burst onto the scene in 2009 with her single "I Won't" which was produced by her manager, Carlington Wilmot from popular Jamaican media house, OutARoad.com. The single addressed issues of domestic violence & was recorded following the notorious incident involving R&B/pop superstars, Chris Brown & Rihanna.

Tiana first gained recognition through her collaboration with Dancehall artist & dancer, Chi Ching Ching for the hit single "Skippin' Feelin," in 2009. The dance song, inspired by the Black Eyed Peas hit song "I Got a Feeling," helped launch the singjay to stardom; showcasing her vocal abilities with her curvaceous & enticing figure.
With the amazing spotlight Tiana got from Skippin Feelin got it earns her a spot to perform on the biggest one night Reggae/Dancehall show on earth Sting.

However, her most thought-provoking single was a 2010 song entitled "No Man Can Talk Bad Bout Mi." The song, considered a rebuttal to Konshens' track "Talk Bout Me" was co-produced by Konshens' label, SubKonshus Records & D&H Records. The song received noteworthy buzz & earned a myriad of #1s regionally and the video for the single debuted at #1 on the popular CVM Hit List Video Countdown Chart. Furthermore, Tiana also released the hit song "Dat Mi Want" on the Flirtation Riddim (Media House Productions) which featured Konshens as well Portmore Empire leader, Vybz Kartel.

In that same year (2010) Tiana got the chance to entertain over 3,000 Spring Breakers…An event that is known to host several international Reggae/Dancehall acts such as Shaggy, Beenie Man Tanto Metro & Devonte, and the energetic Elephant Man along with a host of other artistes. In that same year Tiana also appeared on the annual Gt Taylors Christmas Extravaganza Concert.

Turn the calendar to 2011 & Tiana built on her growing recognition; collaborating with Konshens for the popular single, "Gyal Mi Love Yuh" on the Buss Out Riddim (Fams House Production). The video for "Gyal Mi Love Yuh" shows off Tiana's sultry looks & lyrical ingenuity and received constant airplay on local TV stations. From there, Tiana never looked back as she garnered mass attention from the underground Dancehall with the release of her sexually charged single, Pum Pum Phat as well as the mainstream audience with Bruk Out and Wine on the internationally-acclaimed Overproof Riddim. Other notable hits such as Haffi Mek It (Love My Life), The Highest Grade Song and Better Love Tell sparked Female Deejay of the Year talk amongst her peers as her 11 videos unveiled during 2011 showed her dedication and persistence throughout Dancehall.

Additionally, Tiana became a spokesperson for her female compatriots; calling out what she felt was a "sexist" music industry as she strived to see females earn similar recognition to their male counterparts. Her profound statement garnered mass media attention and support from her female colleagues within the industry.
Tiana's star continues to rise in 2012 amongst a flurry of young, multitalented female artistes that are creating a bright future for females in the industry. With local & international popularity gaining steam, Tiana is earning her ranking as the "Princess of Dancehall."

Hailing from the same parish (St. Mary) as the Queen of Dancehall Lady Saw it is safe to say that Tiana is indeed the Princess of Dancehall.

With Tiana being one of the fastest rising female artistes…she believes the key to being successful in the male dominated arena is to work twice as hard, stay focus, believe in what you are doing and most importantly having a good manager is the #1 ingredient.

Quote from Tiana: I see myself being one of or if not the first female artiste(s) to close Sting or Sumfest.

More About Tiana
*) Her musical inspirations include Rihanna, Beenie Man, Lady Saw and Lady Gaga.

*) Attended Mary Mount High located in the Beautiful Parish of St. Mary. She then went on to the University Of West Indies…(Language & Linguistics).

*) Tiana was heavily involved in school activities.

TIANA HITS MTV

The 'Dancehall Duchess', Tiana, has earned international recognition with her hit song,' Dem A Bawl'. The popular song has hit MTV Base Africa's Top 10 Charts.

This is a significant stride for the up-and-coming female performer. She has been enjoying success with the track that has been riding local charts since early summer.

Tiana's global reputation has been enhanced now that she has a MTV Top 10 spot to boast.

The video is also occupying the No.1 spot on Kenya's Rebel Liberation Sounds Top 10 Video Countdown.

"I got two IRAWMA nominations earlier this year. Dem A Bawl has hit all the top charts in Jamaica, plus MTV, now. I've been getting bookings for a number of events, I am very grateful," said Tiana.

Loyal fan
She has built a loyal fan base in the Motherland. Her collaboration with Gambian recording artiste G-Faal has assisted in blazing her trail.

She has been receiving significant airplay in Africa and has acquired a vast amount of her 1.8 million youtube views from that territory. The music video for Dem A Bawl stands out with cameos by popular dancehall artistes, Konshens, Gyptian, Elephant Man, ZJ Liquid, DeMarco, KipRich, Flexxx and Delus, all endorsing the budding entertainer.

The track, produced on the Aurora Skies (Sounique Records) infiltrated the airwaves this summer, along with a number of other tracks such as Watch Dem a Watch Me, One Stuck Whine and Don't Stop. A video for Don't Stop is in post production and will be released soon.

"This year has been a great one," said Tiana, as 2012 marked the release of her debut EP, Princess of The Dancehall, as well as her debut mixtape, Real Bad Gyal. Real Bad Gyal features prominent acts like Tommy Lee Sparta, Vybz Kartel, Popcaan, Mr Vegas and Konshens.

Her breakout single, Dem A Bawl, is currently climbing the charts: CVM TV's Top 10 Hit List, at the No.6 position; on TVJ's Video Alley, No. 7; on Tempo's Pree Dis, No.12; on Richie B Top 25 Dancehall Chart, No.13; on the Hype TV Chart, No.15; on OutAroad Hot Singles Chart (MDTV Flow Channel 393) and on Stampede's Street Chart her single is bubbling in the No.2 position.