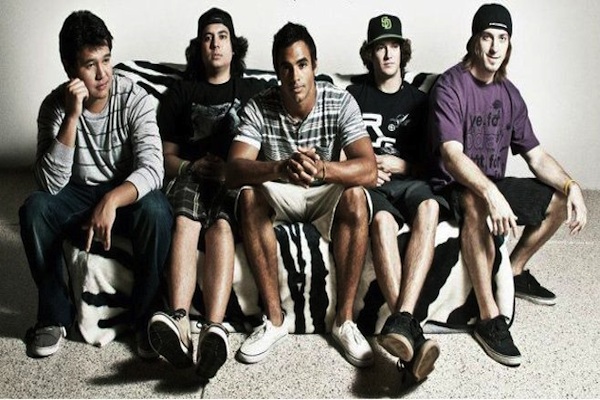 This young San Diego, California group's easy-listening music with positive Cali-Reggae vibes and inspiring messages has captured music fans' attention all over the West Coast since the band started in 2008. TTR's quick rise in popularity and a must-see show was fueled by sharing the stage with many high profile groups like Rebelution, Iration, Pepper, CollieBuddz, SOJA, Tribal Seeds, Natural Vibrations, Israel Vibrations, Ooklah the Moc, Talib Kwelli, Gorilla Zoe, Zion I, Barrington Levy and Alborosie, to mention a few, in various venues across eleven states of the United States.

TTR released a six-song EP in 2008 with "Best Friends," "Stay Positive" and "Man Down" receiving solid air play in the group's hometown of laid back, music-conscious San Diego as well as Santa Barbara and other West Coast radio stations. TTR is currently working on its first CD, entitled "Here To Stay," and it reveals the band's developing style and maturity in its popular genre. The band's new CD will include "Zombies," "Here to stay," "Paradise," and "Fed Up" as well as a remixed/remastered version of the popular "Best Friends" from its ground-breaking EP.

TTR, led by lead vocalist Evan Hawkins, one of the rising young stars in Cali-Reggae music, and a talented supporting cast in Bryan Jackson (Bass), Brady O'Rear (Keys), Chris Cruz (Guitar/Keys), and Taylor Boatwright (Drums, Vocals) plans to tour throughout 2011, spreading the love with their inspiring music. Hawkins, Jackson, and Boatwright, all from San Diego, and O'Rear, from Hilo, Hawaii, became friends in college and they quickly melted into a musical chemistry that fueled TTR's rise to a highly sought after touring group, playing before appreciative crowds all over the West Coast.

TTR's smooth, catchy tunes and engaging style has been enjoyed by thousands of fans the past three years, including 8,000 fans when the group hooked up with Pepper at San Diego State University in 2009, 5,000 fans when TTR played in the 2009 and 2010 West Beach Musical Festival in Santa Barbara, and one of the
group's favorite shows, the Jesuit Fire Benefit along with Rebelution and Iration at the sold out Granada Theater in Santa Barbara in 2009. TTR has also performed at the legendary Roxy Theatre and Key Club in Hollywood, the World Beat Center in San Diego, the Hard Rock Hotel in Las Vegas, and a growing number of other
popular music venues.

TTR toured with Iration in the Spring of 2010 on The Time Bomb Tour, performing 20 shows in 25 days in ten Western states, adding to the group's growing fan base.

TTR kicked off 2011 with a three-show Hawaii tour, with two concerts on Oahu with The Green and Pressure Drop and one in Hilo with SOJA before 1,400 rocking fans at Hilo Civic Auditorium.

TTR plans to hit the road hard in 2011, joining three top-flight bands on three scheduled tours, performing shows across the United States and even spreading its music in Canada.

TTR was also working hard on releasing new music to its growing legion of fans, with a planned five-song EP release in early 2011.

TTR has a bright future, following the successful paths that other highly-acclaimed artists have blazed in their growing genre. And like TTR's first CD says, this young Southern Cali group is "Here To Stay."