RIP William 'Bunny Rugs' Clarke
02/03/2014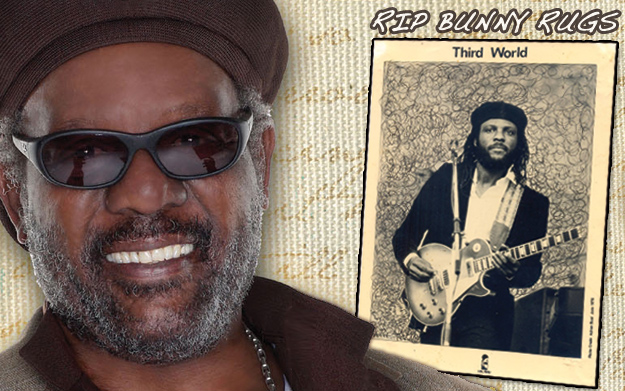 William 'Bunny Rugs' Clarke, lead singer of Third World, has died on February 2nd, 2014!

Reggaeville expresses deepest condolences to Bunny Rugs' family and the Third World family!

REST IN PEACE BUNNY!


Third World posted the sad news on their facebook page in the early morning of February 3rd:

"the Spirit Lives......." William "BUNNY RUGS" Clarke
February 6, 1948 - February 2, 2014
Rest In Peace our dear brother.


PRESS REACTIONS
Third World Lead Singer Bunny Rugs Is Dead [Jamaica Gleaner]
Lead singer of the iconic reggae band, Third World, William 'Bunny Rugs' Clarke is dead. Clarke, who would have turned 66 this Thursday, February 6, passed away last night in a hospital in Orlando, Florida.
He had been diagnosed with cancer and had been battling the disease in intensive care.
It is reported that because of health problems, he missed some of the shows in Third World's 40th anniversary tour in 2013. […] read the full article @ JAMAICA-GLEANER.com

'Bunny Rugs' of Third World is dead [Jamaica Observer]
William 'Bunny Rugs' Clarke former lead singer of the popular band Third World has died in a Miami hospital. Clarke who would have turned 66 on Thursday, February 6, had been in intensive care for some time.[…] full article @ JAMAICAOBSERVER.com


---

It was a few days ago, January 30th, when the Jamaica Observer reported about Bunny Rugs' illness.

Bunny Rugs, lead vocalist of Third World, was recently released from the Intensive Care Unit of a Florida hospital.
A statement from the band's publicist, Heather Cameron, confirmed his hospitalisation but did not state the extent of Rugs' illness.
"We can report that he is comfortable and anxious to come back home to Jamaica for some good food and rest. Rugs sends his love and we ask you to send your prayers," said band leader and guitarist Stephen 'Cat' Coore.
[...] full article @ JAMAICAOBSERVER.com