Reggaeville Riddim Corner #14
07/05/2016 by Dan Dabber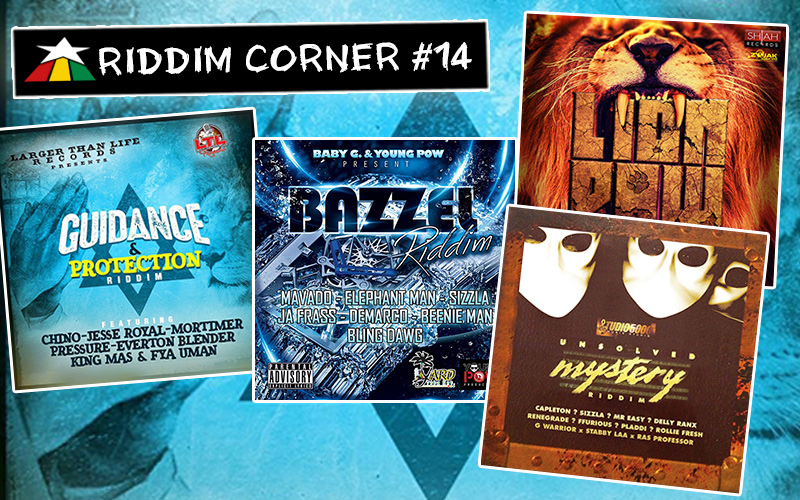 LION PAW RIDDIM - SHIAH RECORDS

As the son of Third World guitarist Cat Coore, Shiah Coore has been behind-the-scenes in the Jamaican music industry since he was a young boy. His first band was called The Shepherds, and the group also featured a youthful Damian Marley. Shiah has come a long way since The Shepherds, attending Jamaica School Of Music and Berklee College Of Music and working with top level artists from Mick Jagger to Vybz Kartel. His most notable credits as a producer include Wayne Wonder's No Letting Go and his childhood friend Damian Marley's seminal tune, Welcome To Jamrock. Shiah recently launched his own label, Shiah Records, and the first juggling from his new imprint, Lion Paw, has the kind of vibe and artist lineup that will make a significant impact on reggae music this summer.

Despite its slow tempo, Lion Paw is a riddim with ample energy derived from a mean bass line and dubwise effects that distort and echo across the soundscape. Sporadic use of percussion, atmospheric effects, and horn accents add a level of surprise throughout the project. Shiah also consistently uses interesting arrangements, often culminating in psychedelic, dub-inspired movements that strip the riddim down to its bare essentials.
With unique production accentuating a traditional one drop format, Lion Paw is the kind of project that screams for the talent and experience of reggae's stars and veterans. Shiah dug deep and did not disappoint, conjuring contributions from Voicemail, Zagga, Tifa, Lutan Fyah, and Chronixx.

Chronixx's song, Out Deh, is the baddest tune from the juggling and is also the song most likely to make waves in the months to come. Never Ever, from Lutan Fyah, is also an exceptional track and some of the best work from one of reggae's steadiest artists. Zagga's selection, In The Ghetto, is a study in the grim reality of slum life but possesses a unique flare and an unshakable hook. It may seem an odd choice to record a dancehall act like Voicemail on a dubbed out riddim like Lion Paw, but their homage to reggae, This Music, works well and gives the juggling a dancefloor vibe it may have otherwise been without. Dancehall diva, Tifa, is another unlikely pick to voice Lion Paw, yet her talents do not translate with the same impact as Voicemail's. However, rising reggae artist Kelissa provides more than her share of talent and feminine vibes with her rebellious tune, Stick Up.


GUIDANCE & PROTECTION RIDDIM - LARGER THAN LIFE RECORDS

In 2012, Larger Than Life Records was formed by J-Trees and Tosheba, two members of the New England-based selector collective, Itation Sound. The label showed promise from the start with jugglings like Queen of Queens, Broke Life, and Going Home, and their releases all featured contributions from major artists like Chronixx and Gappy Ranks. With nearly four years and over half a dozen jugglings under its belt, Larger Than Life has stayed remarkably consistent, putting out well-built one drop riddims - which appears to be their preferred medium - with versions from an impressive lineup of artists. Their newest release, an EP called Guidance & Protection, may represent their best work to date.


Despite its deep roots sensibilities, Guidance & Protection is a riddim with a happy bounce and an uplifting pace. The horn section is foregrounded for both the intros and the hooks, and a subtle, syncopated rim click generates anticipation as it guides the riddim into new movements. The track is grounded firmly by nyabinghi drums, but echoes, filters, and phasing effects pull the listener skyward with an airy, atmospheric quality. The EP only contains six versions plus the instrumental, proof that Larger Than Life made very measured decisions about which artists to record. Even the instrumental version features legendary saxophonist, Dean Fraser, who adds some subtle rhythmic licks to the parts of the track typically reserved for verses.

Jesse Royal stands out as the premier contributor to the Guidance & Protection project and his tune, Blowing In The Wind, is a typical piece for an artist with an uncanny ability to elevate simple lyrics to higher levels with skilled singing. Freddie Mcgregor's son, Chino, provides the titular track, a powerful, spiritual tune delivered in the singjay's unmistakable, dancehall-centric style. Pressure Busspipe rounds out the three biggest artists involved in the release, though Everton Blender, a conscious singer with several decades of well known recordings, may rival their combined notoriety among certain demographics. Up-and-coming singer, Mortimer, is another notable contributor and his song Real Medz is a good example of why he is considered one of the young artists who will shape the future of reggae.


BAZZLE RIDDIM - YARD VYBZ ENTERTAINMENT/YOUNG POW

Two producers, Trevor "Baby G" James of Yard Vybz Entertainment and Sean "Young Pow" Diedrick, teamed up to create Bazzle Riddim, a juggling with the kind of heat it takes to bun up the summer. Baby G knows exactly what makes a killer dancehall riddim. He grew up watching his father, King Jammy, the founding father of digital dancehall, ply his trade in the studio. Baby G produced riddims like 2001's Scare Crow for the Jammys label, but he decided to branch out over a decade ago to pursue his own endeavors on imprints like Cashley and Baby G. Young Pow does not have the production experience of Baby G, but the young producer has more than proven himself as a musician, having played keys for Damian and Stephen Marley and netting three Grammy's and several gold records for work he did with them.


Bazzle is remarkably simple in terms of the minimalist instrumentation and the basic one-bar loop that pushes the larger composition along, but there are subtleties like the staccato strings, the synth-vocal pads, and various atmospheric effects that add depth and complexity to the riddim. Drums are used in sparse, yet effective ways and listeners will probably not even notice that the kit does not include a snare. A quirky distorted bass is used in a similar fashion, hitting repetitively with unusual and mesmerizing timing. The spaces and distortion in Bazzle's instrumental give it an overwhelming coldness, assisted by an icy lead synth that has been bitcrushed to Commodore 64-like levels. Along with Bazzle's deep freeze comes a brutal edge that gives this riddim a mean, cold-blooded feel.

This downtempo, meaner style of dancehall riddim is the perfect backdrop for Mavado's rich baritone, and his tune, So Bazzle, establishes the juggling both in terms of theme and in regard to the level of quality expected from the vocalists. Veteran deejay, Bling Dawg, does not disappoint with his song, Money Fi Mi Team, which has an excellent and engaging hook that superbly fits the riddim and instantly raises the energy of the release. Demarco has a similarly effective tune called Straight, an aggressive track that is as much about his sexual preference as it is about his character. Sizzla and Beenie Man both make solid contributions as well, and Elephant Man, who offers the song Think It Over, presents one of his best recordings in quite some time, though it still pales in comparison to almost all of the other Bazzle versions.


UNSOLVED MYSTERY RIDDIM - STUDIO 5000

The producer behind the Studio 5000 label is Jah T Jr, a selector and producer who has remained a fixture in the Philadelphia reggae/dancehall scene for more than two decades. Jah T Jr's first juggling with Studio 5000 was 2013's First Hour Riddim, a heartfelt one drop project that featured big tunes from Capleton, Lutan Fyah, and Tony Curtis & Louie Culture. Since the release of First Hour, Studio 5000 has been steadily building a catalogue, releasing one riddim each year. The last two projects, Triple X from 2014 and Pinnacle from 2015, are high-energy dancehall riddims, and although neither brought breakout success for the label, both showcased Studio 5000's musical prowess and ability to be an impactful addition to the global dancehall scene. 2016 has brought about the release of Unsolved Mystery, another Jah T Jr creation with an exciting, futuristic vibe and with the potential to give Studio 5000 the hit riddim they have been working toward.


Built from staccato strings, organs, synths, and a thunderous drum kit, Unsolved Mystery is a work that is both intensely serious and irresistibly danceable. The serious part is found in the minor key signature, the somber strings, and the eerie synths; much of what inspires movement is derived from expertly programmed snare drums. Extensive customization is the greatest strength of the juggling and every version is arranged specifically for each artists' performance. This unpredictability gives Unsolved Mystery a sense of spontaneity, a feeling equally fueled by Jah T Jr's innovative use of filters and by his use of sampling techniques. He used similar methods on the Pinnacle project, but where that application felt more experimental, his approach in Unsolved Mystery is more purposeful and calculated. This juggling could be a benchmark for Jah T Jr as a producer, as he may have perfected what could be his signature sound.

With so much attention paid to production, Studio 5000 had no trouble attracting premium dancehall artists to contribute to the Unsolved Mystery project. Mr. Easy is undoubtedly one of the most popular artists on the release, and his song, Certain Friends, shows that the veteran singer still has what it takes to make a killer dancehall tune. Wine & Dilly, from Delly Ranx, stands out as the token gyal tune, and both the producer and artist use it as a golden opportunity to explore the danceable nature of Unsolved Mystery. Sizzla and Capleton both offer top selections, taking the energy level of the juggling through the roof. In Sizzla's Get Dem, the artist is in vintage form, intensely barking gun lyrics, calling for a judgment day presided over by gangsters. Capleton's tune, Lock Dem Off, has a similar vibe, and his delivery is an excellent fit for both the riddim and Jah T Jr's distinctive production style.



LISTEN TO THE MIX: