Festival Report: Rototom Sunsplash 2013
08/25/2013 by Valentin Zill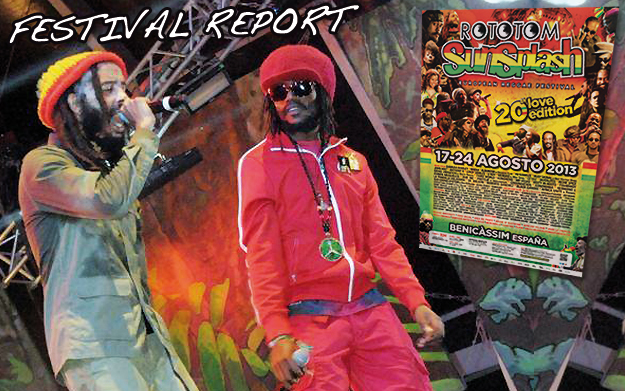 BIG UP to Rototom Sunsplash. 2013 marks their 20th anniversary. Reggaeville is on spot and provides you with fresh reviews, photos and videos straight from the festival in Spain:
CLICK HERE FOR LIVE VIDEOS FROM PROTOJE, THIRD WORLD and many more...


AND HERE TO VIEW THE SELECTION OF PHOTOS: LIVE & VIBES!



REVIEW - DAY EIGHT 8/24/2013

15:10h
I'm heading to the festival site early today. On the way to the shuttle bus that connects the beaches with the festival site, I meet Chantelle Ernandez. The Jamaican singer had performed at the Showcase Club the second night of Rototom Sunsplash 2013. Now she returns from the Sunbeach, where she had recorded a music video.

21:22h
Misty in Roots perform their hits. Their set list isn't a surprise to anyone who's seen them before, but the show is solid, and they haven't toured Europe too heavily lately. And they need to be here - they played at the original Rototom club in 1992, which was years before the festival was born. They were the first international artists to do so!

22:07h
The MC gets the crowd waiting in front of the main stage for Gondwana to sing a couple of Marley songs: One Love; Get Up, Stand Up; and Buffalo Soldier are amongst them. Somehow this kitsch doesn't feel anywhere near as awkward as it would elsewhere. Almost everyone joins in. Rototom Sunsplash is a special festival, after all.

22:29h
Another band older than this festival is on stage now. Founded in 1987, Gondwana from Santiago, Chile are maybe what Seeed are in Germany: mainstream. The turnout is rather moderate, but this band of eight musicians (drums, bass, percussion, guitar, saxophone, trumpet, keyboards, and a lead singer) pleases with its heavy wind section and rub-a-dub bass lines. The sound is fast, sometimes rocky, and always as earthed as the group's name might imply. The lyrics are in Spanish, but I enjoy watching their performance much without understanding a word.

23:07h
While Gondwana are still performing, Damian Marley gives a press conference. The whole media area had been rearranged this morning. For him. No one gets fawned over as much as Damian here.

23:18h
Sophia Brown joins Gondwana on stage to sing her Give Me That Good Love. When does she get a full slot on the major festivals in Europe? Together with Gondwana's lead singer Quique Neira, she sings Could You Be Loved. It's the best version of it today. So far at least.

00:21h
This is the moment Rototom Sunsplash 2013 seems to have been waiting for from day one. Well, almost. Before Damian Marley walks on stage, he's got two special guests that open for him: Black Am I and Wayne Marshall. The frontstage area is much more cramped now than even the backstage area was an hour ago. The massive PA at the main stage isn't enough anymore to let the sound percolate the crowd. Damian proves worthy to headline the festival immediately. His set list doesn't stress who's son he is as much as the ones from most of his sibblings. If he sings tributes to his father (No More Trouble, Exodus), they sound like contemporary tunes. He focuses on his own material, and he's got more than enough big tunes to choose from. THe Mission/Shoot Out stands out. Damian comes back for an encore to an audience that simply can't get enough. With Road To Zion and Welcome To Jamrock, he says goodbye to the audience. And all of a sudden, Rototom Sunsplash 2013 is almost over. It's always hard to adjust to everyday life again after a good festival, but after eight days - no matter how demanding they were! -, it's all the more difficult. My advice: stay in Spain for a couple of days after the festival and do some sightseeing, sports, shopping, or whatever activity you favor when on vacation. The pleasant anticipation will cushion your fall somewhat. And enjoy the festival to its very last minute. Otherwise you might miss out on specials like Damian Marley briefly entertaining the dancehall arena...
REVIEW - DAY SEVEN 8/23/2013
18:34h
The kids of Bob Marley have, as far as they were interested in a musical career, firmly established themselves in the music business. It's the third generation of the Marley's that is taking over now. Donisha Prendergast is the grandchild of Rita and Bob Marley. She's here to talk about Rasta: A Soul's Journey, a film directed by Stuart Samuels that has just been premiered in Spain here. Even Donisha's uncle Damian showed up, much to her delight and to that of the audience. Rasta: A Soul's Journey follows Donisha on her journey to Rasta communities in Israel, India, Jamaica, South Africa, Ethiopia, Canada, and the UK. Prendergast talks very open about her own journey. "Who would want to be sane in a crazy world? I am crazy," she says.

18:40h
Damian Marley walks around the festival site now, with a huge entourage of more or less important people and dozens of fans. Not even Rita Marley was trailed by such a big crowd when she was here in 2011.

18:42h
Donisha Prendergast criticizes that people use Rastafari to exclude others, and calls for unity. Someone in the audience asks her about homophobic lyrics in reggae. Prendergast answers that dancehall should be distinguished from reggae, and that reggae doesn't discriminate against anyone. It would take a while until things will change in Jamaica, she added. Asked by Ellen Köhlings about the reggae revival so present at Rototom, Prendergast, who went to the same High School as Dutty Bookman, mentioned how important the movement was. "We all needed the reggae revival." She points out that the socio-economic background of the new generation differs much from that of the foundation aritsts. The youngsters come from middle income homes, she argues, whereas their predecessors were from the inner cities. The new generation has thus more resources to realize their ideas. Especially important to Prendergast was that the reggae revival would empower women. The subsequent discussion though is laughable at best, with white dreadlocked people arguing in ways that the generation of their parents must have rejected as conservative already.

20:02h
The last session of the Reggae University is coming to an end. The panel takes us back to the foundation again, with Lloyd Parks and Herbie Miller as guests, plus Horace Andy. He replaces Leroy Sibbles. Lloyd Parks tells about the twenty years he worked together with Dennis Brown.

21:37h
Horace Andy opens the main stage today, replacing Anthony B. It is the perfect show for this time of the day at this seventh day of the festival. Horace Andy really isn't the only one to be sleepy at Rototom. Fatigue is engraved deeply in many people's faces. Skylarking is about the best thing one can do in that situation, and what better way to do it than with background music of Horace Andy and We The People Band?

23:05h
It might as well be called the We The People Day of Rototom - three out of four shows today are backed by them. The one that isn't is the one that is going on now. Nigerian soul singer Nneka brought her own band. It's a sudden and thorough change in style. In an interview I had done earlier this year with Sabrina Trovant, the Artistic Director of Rototom, she had stressed that unlike other reggae festivals of comparable size, Rototom never chose to attract more visitors by booking mainstream artists or so-called "world music" acts. Fortunately they made an exception for Nneka. Her music hasn't much to do with reggae, but the quality of it is so outstanding she wins the crowd's favor in no time. And her message is close to what reggae lovers are used to, anyway.

00:39h
We The People are back on stage again, and this time they brought Leroy Sibbles. The audience is familiar especially with the Heptones' classics he sings. The long-time Studio One bassist plays the bass himself on Full Up.

01:11h
The band stays, the lead vocalist changes: John Holt takes over from Leroy Sibbles. He leads the audience through decades of eternal classics - mostly, but not exclusively, his own. A Love That Is Real, Ali Baba, Fancy Make Up, The Tide Is High, Stick By Me, One Love, Stealing...

02:03h
Not long ago, John Holt had announced the Paragons' Wear You To The Ball, which was followed suit by their On The Beach. By The Rivers Of Babylon is an easy crowd pleaser here, but his Police In Helicopter turns out to be the strongest moment of his concert, and one of these golden festival moments that stick.



REVIEW - DAY SIX 8/22/2013
17:32h
It's slighty raining again! It's been a grayish day, which is again almost a relief after yesterday's sun and heat. The temperatures are more agreeable. And it's gonna be hot anyway when Busy Signal takes it to the stage tonight.

19:50h
Fernando García-Guereta, the producer of the film Songs Of Redemption, tells stories and anecdotes from Jamaican prisons. He gives a balanced view on that rough world, having experienced it second-hand when filming the movie. There's a serious reason for that: parts of the revenues from the film (that just premiered in Spain here at Rototom) will go to prison inmates, their families, and the families of their victims. Voilà, the Rototom spirit again. Busy Signal was announced to be on the panel - it would have been interesting to get a first-hand account from a former inmate -, but couldn't make it due to a delayed flight. García-Guereta's next documentary will be on why Jamaica loves Clarks shoes so much. It might well premier at Rototom. When it's ready, that is. "I'm a lazy guy," said the film producer that lives in Jamaica now. He had discovered reggae music at the age of fifteen, when it was illegal under the Spanish military junta.

20:45h
Richie Spice starts on the main stage right on time. People skank easy as darkness sets in slowly. The refreshing breeze that blowes from the Mediterranean Sea is a nice feature of Rototom. Richie cruises through his hits, combines newer material such as Soothing Sound and Black Woman with older stuff including Groovin My Girl (a clear favorite for the crowd!), Gideon Boot (gets a pulled-up, of course), and a decent cover of Johnny Too Bad.

21:30h
Spice speeds up things now, the rootsier part of his show is over for now. The massive follows him as he moves to dancehall material, but it doesn't take long until the main stage gets emptied a bit. Well, the Africa Unite fans maybe!

23:47h
They are headcornerstones of the reggae movement in Italy: Africa Unite. The band was formed in 1981, when Bob Marley died, and took it from there. They have released at least thirteen albums so far. At some point in their career, in 1995, they even signed a contract with Universal Music. As I said yesterday, Rototom Sunsplash still wears Italian colors (among all others), and Africa Unite is, by the crowd's response, well at home here.

00:59h
Busy Signal's show kicks off a minute before it's scheduled. The Hi-Voltage Band he brought from Jamaica starts with a ruminant version of Peter Tosh's King Of Kings as an intro, before the guitars turn up and the party is on.

01:29h
It seems as if the whole festival had been waiting for this one: it's Reggae Music Again! His album of the same name seems to have triggered an interest in conscious roots within the dancehall-oriented community. Busy still knows how to please both. Nightshift, One More Night, and Come Over (Missing You) please the female majority of his fans.

01:48h
Lighters are out everywhere before Busy gets to close his show with Jamaica Love. Do I have to mention this is one of the culminations of the festival?
REVIEW - DAY FIVE 8/21/2013

14:33h
It's quite a bit warmer today than yesterday, and the sun is back. You better bring enough sunscreen when you're heading to Rototom Sunbeach. It's at Playa Almadrava today. Unlike previous editions, this time Sunbeach takes place at various beaches around Benicàssim. An attempt to enable more local businesses to profit from the festival, I guess. And a chance for festivalgoers to see more of Benicàssim. The latter doesn't really count, though - Benicàssim looks pretty much the same anywhere along the beaches.

17:15h
The Rototom Film Festival sees a world premiere today: Brad Klein presents his documentary Legends Of Ska. The movie features a two-day festival of the same name that took place on July 12 and 13 at the Palais Royale Ballroom in Toronto, Canada that reunited a stunning number of Ska legends. Lester Sterling (founding member of the Skatalites), Herbie Miller (director and curator of the Jamaican Music in Kingston), and director Brad Klein himself participate in the adjacent discussion.

21:18h
Doreen Shaffer sings with the Skatalites. It's a travel back in time, back to the very foundation of ska, rocksteady and reggae music. It's amazing how Lester Sterling is still standing and delivering. The Skatalites' first show dates back to June 27, 1964. Rototom Sunsplash is one of the most beautiful manifestations of the sheer power, the global influence Jamaican music has reached. And Lester Sterling is one of way too few people who still live to tell the story, and the fire's still burning. A few Marley tributes, including the Lee-Perry-written Nice Time and Simmer Down (recorded by what would later be known as the Skatalites together with Bob Marley, released in 1963), add to a relaxed concert experience. Nothing beats the Tommy McCook-recorded stuff like Freedom Sounds, though. And Val Douglas, despite sitting in a chair through the show, could teach some of the youngsters quite a lot when it comes to groove.

21:55h
The Skatalites have just left the stage, but the audience doesn't stop singing along. Who knows if we will get to see them perform again...

23:23h
Ce'Cile dances to a different beat provided by Soul Fire Band from Germany. The line-up is predominantly roots at Rototom, but there's definitely a dancehall-appreciating crowd as well. Ce'Cile warms up for one of the festival's headliners: Alborosie plays after her. With the political and social claim of the festival, one wonders why there aren't more women performing on stage this year.

00:54h
Alborosie is on! And back home, I'm tempted to add. He easily drew the biggest crowd the festival has seen so far, the area in front of the main stage is packed entirely. He is in Italy what Dub Inc are in France. When Rototom moved from Italy to Spain in 2010, the organizing team and many fans moved with the festival. Rototom is as much Italian as it is Spanish (and more than that, it is a truly international festival attracting people from all over the planet). It's a home match for Alborosie, who owns the festival. Herbalist is a sure crowd pleaser. The obligatory aria is Albo's contemplative lighter moment. Then the guitars squak again. Albo comes back for an encore.

02:37h
Lloyd Parks and his We The People Band entertain the Showcase Club with Studio One classics like Ken Boothe's Don't Want To See You Cry or his own material like the 1983 Reservation For Two. It's a solid show, perfectly suited to conclude another tiring festival day.


REVIEW - DAY FOUR 8/20/2013

15:54h
It has been cloudy all morning and it still is. What a relief - the temperature has dropped by a few degrees. The waves are much higher today. A nice opportunity to check out the Sunbeach today - it's less crowded than usually.

18.21h
Carolyn Cooper introduced Global Reggae, a collection of papers from the 2008 Global Reggae Conference at the University of the West Indies in Mona. Most of the documentation of reggae has been done by non-Jamaicans, Cooper mentions. A quick glance into the list of contributors to that volume supports that. The book is available through The University of The West Indies Press.

18:35h
In part II of today's Reggae University session, Sonjah Stanley Niaah from the University of the West Indies in Mona, Kingston, Jamaica introduces her forthcoming book A Politics Of Pilgrimage: Reggae Music And The Movement Of Jah People. She looked at reggae festivals worldwide after she stumbled over The Reggae Festival Guide (published in the USA). The Reggae Sunsplash in Jamaica was, according to her, the mother of all reggae festivals, even if it wasn't the oldest one. She had to develop a typology of festivals to categorize those she found. Her research is based on quantitative data. She used a mixed methodology that included Internet research, elite interviews, a survey, and data mining. Her book should offer some very interesting insights to festival pilgrims.

Italian music journalist Pier Tosi asked Cooper and Stanley Niaah why reggae was so interesting to an international audience. Cooper mentioned the social movements of the 1960s and 70s, the revolutionary character of reggae, and Bob Marley as a rock star. Reggae was both spiritual and sensual enjoyment, she closed. Sonjah Stanley Niaah suggested reggae's infectious riddims with soul would attract an international audience. She moved on to say that all-inclusive tourism destroys the entertainment sector in Jamaica. Cooper seconded her, saying she would refer to 'all-inclusive' as 'all-exclusive'. Kingston is bypassed, as the all-inclusive resorts are located on the North coast of Jamaica. Poor people are thus deprived of opportunities to participate in the tourism sector. For Cooper, it breaks down to a question of class.

19:17h
Jubba White, drummer of Dubtonic Kru, ChaCha, a reggae singer from Shanghai, People's Republic of China, Mark Iration and Dan Man of Iration Steppers join Cooper and Stanley Niaah now on the panel at the Reggae University. Jubba White argued that while Jamaica was definitely the originator of reggae music, it was a matter of personal opinion if it was still the capital. In his own opinion, the world is the capital, as people from various contexts can connect to reggae music. Stanley Niaah agrees. Marc Iration suggests that dub took on because musicians and studios were too expensive.

19:32h
ChaCha reports that reggae was still very underground in China. It was difficult to find information on it there, she says. Reggae would still be reduced to Bob Marley. Chinese musicians would love to mix Chinese elements with music they like. David Katz played a combination ChaCha did with Ranking Joe.

Jubba White went on to say that Jamaica didn't have a music industry, it was just hustling instead. He demands political initiatives to turn this hustling into a real music industry. Small people in Jamaica, he says, are responsible for the richness of the island's culture. Cooper seconds and reminds that those who could actually invest into music in Jamaica are those the music speaks out against.

23:38h
Mr. Vegas' DJ warms up the crowd! The first two slots on the main stage today were of limited interest to non-Spanish-speakers: Iberica All Stars showcased eleven Spanish artists, of which only Roberto Sánchez is known outside of the Iberian peninsula. Reggae Contra La Intolerancia, a project presented by Rototom Sunsplash together with Movimiento Contra La Intolerancia (a Spanish NGO) and the Spanish government. Spanish skills would help much to profit from it, I guess.

00:04h
The heat is on! Mr. Vegas draws the biggest crowd I've seen at Rototom this year. As if Rototom had only been waiting to see him. The crowd responses well, and Vegas is a natural entertainer. He interacts much closer with the audience than most others have on this gigantic stage. Dub Akom does a great job again. Rototom forgets its fatigue completely for the entire length of the show.

00:12h
Israelites provokes a sea of lighters. Beautiful! If Desmond Dekker could see this...

00:35h
There were quieter and almost contemplative moments during Mr. Vegas' energetic show, but it ends as it began: with fast, massive dancehall. He leaves a lasting impression.

02:08h
Groundation after Mr. Vegas, that's a hefty transition in style. The Californians are too experienced though to loose that battle. Harrison "Professor" Stafford takes the Rototom massive on a journey through the depths of spirituality. The sound is massive, and the light show impressive. The band is mostly left out of the limelight, as if they wanted to say: listen to us, don't watch us.

02:27h
It has gotten a bit colder by now, but the crowd in front of the stage is still present. They aren't tired at all. Minutes of applause and screaming get Groundation back on stage for an encore.

02:58h
Sebastian Sturm & Exile Airline fascinate the people at the Showcase Club. It's an intense show of the kind where you feel how important it is to the singer and musicians to turn it into a moment that counts. Grand solos set highlights that rank high on today's list. Protoje and Dutty Bookman enjoy it front row. Tonight, the deep convincibility of Sebastian and his band's effort is up on a par with that of groups like Dubtonic Kru, Raging Fyah and Pentateuch. It hasn't always been like that. Songs like Life Is A Journey, Burn The Money, and especially Sebastian's and Moses' (the percussionist and guitar player of Exile Airline) interpretation of Police & Thieves stick long after the show's over.

04:20h
Dubtonic Kru are on stage again for the third time at this edition, and again it's undeservedly the Showcase Club instead of the main stage. They're backing Lion D now, a fresh singer from Italy that is high in demand now in Europe and North America. Bring Back The Vibes is his latest album release, and that's just what he does now. Jah Sun succeeds him, and, so am I told by REGGAEVILLE's photographers Eljer and HoRo, shines at least as much. Everyone I meet here at Rototom criticizes the line-up as not worthy of a twentieth anniversary edition. The shows on the Showcase Club lately prove that outstanding festival moments don't have to come from the big names. 


REVIEW - DAY THREE 8/19/2013

18:11h
The first thing I see today upon entering the festival site is a nasty police stop-and-search operation. Several people have told me already that the police is much tougher than last year. It's the figuratively cloud over Rototom this year. The one I witness looks as if it was motivated by racism. The message of love and unity spread by the Rototom massive hasn't reached everybody yet...

19:07h
The first session at the Reggae University is running already. On the panel: Tony Matterhorn, Ricky Trooper, and Carolyn Cooper and Sonjah Stanley Niaah from the University of the West Indies in Mona, Kingston, Jamaica. The lively debate is on - Tony and Ricky really know how to entertain people, even in this setting. Trooper says he hates Jamaica, and repeats it a few times before he specifies that it's the island's music business he so explicitly dislikes.

19:37h
Part two of today's session at the University goes even deeper down memory lane. U-Roy tells the well-disposed audience how he got to toast for Doctor Dickie's Dynamite Sound System in 1961, and how he took it from there. Working with King Tubby was the best thing for him, states the Originator. David Katz asks very detailed questions, helping U-Roy focussing on points that tend to get overseen. It's a pleasure to listen to Daddy U-Roy, who says it's the young people that come to his shows that motivate him until today. It's a pity though that Flabba Holt didn't show up, he was announced to be on the panel, too, originally.

20:47h
Dub Inc get a frenetic welcome by the biggest audience Rototom Sunsplash has seen so far this year. Unemployed people from the Castellón region are eligible for reduced day tickets today, and these tickets are just 5€ each. But Dub Inc clearly has its following in Spain. They neither have to rely on the French visitors, nor on people who are forced to rely on social welfare. The Rototom massive knows the lyrics.

21:50h
Dub Inc say goodbye with Jump Up Again. Rototom 2013 is as alive as never before on this edition. Dub Inc own the crowd, as always. Why do they have to play so early?


23:21h
Silly Walks Discotheque entertain on the main stage today during change overs. They play an exquisite reggae revival set that includes Raging Fyah, Jah9, Protoje, Chronixx, and others. The masses of people that gather in front of the main stage for this intermezzo speaks volumes. The reggae revival catches on in Europe. Hopefully the promoters will do more to reflect that on the line-ups of next year's festival season.

23.54h
Gyptian is on stage now, wearing a pink suit. He starts out promising with an energetic dancehall part. Things slow down soon, though. Gregory Isaacs' My Number One has the Ladies screaming.

00:12h
Gyptian interprets Cindy Lauper's True Colors. Wearing pink pants, remember? And he isn't even on pitch. This is easily the most awkward moment of the festival so far. What a letdown. I decide to leave before it gets worse.

00:55h
Things get better the moment Gyptian leaves the stage. Silly Walks prepare the crowd for Israel Vibration with a classical roots set. Burning Spear, Max Romeo, and Peter Tosh are as safe a bet here as are Lucky Dube and Alpha Blondy. Cocody Rock gets pulled by demand of the audience. Only Buju Banton's Hills And Valleys gets embraced even more. Several hundreds of lighters are out, and neither Oliver nor Joscha have asked to do so.

01:11h
The Roots Radics don't need more than a few bars to prove that they are still one of the most massive band in the reggae world. Israel Vibration play a very predictable set - classics like Get Up And Go, Ball Of Fire, Greedy Dog, Pay The Piper, Cool And Calm. It's a highly enjoyable show nevertheless

02:15h
Clash time! Rory from Stone Love hosts a clash between Ricky Trooper and Tony Matterhorn. I'm just passing by the Dancehall Area, though. Exco Levi's in the Showcase Club, after all...

02:38h
The Dubby Conquerors are backing Exco Levi. As yesterday with Kabaka, it's a solid effort, but nothing extraordinary. Exco knows how to please his crowd, although few seem to be familiar with his tunes. His version of Busy Signal's Reggae Music Again builds a bridge to the music lovers frontstage.

03:15h
Exco says goodbye with Storms Of Life, the tune produced by Silly Walks. This time again, Rototom knows the lyrics and joins in cheerfully. Exco Levi is another one from the latest generation of the reggae revival that has deserved better stages and better slots. He could teach Gyptian quite something.

03:48h
The "Best Band of the World 2011" has its second gig on the Showcase Club stage of Rototom 2013. They excelled with Iba Mahr yesterday, but tonight they're on their own. Mostly, as they brought Kool Johnny Kool, who has two features on Dubtonic Kru's last album Evolution. Again, Dubtonic Kru prove with ease why they won the Global Battle of the Bands in 2011 in Malaysia. Again, way too few people witness it. It's a shame - everyone who sees them perform rhapsodizes. Everyone.

REVIEW - DAY TWO 8/18/2013

18:23h
Not starting the day too early is key at Rototom, as the nights are long here. Especially today - with Kabaka Pyramid and Iba Mahr, two of Jamaica's most promising uprising artists are scheduled to perform at the Showcase Club at 02:15h. Now they are sitting next to each other at the panel of the Reggae University, framed by Protoje and Dutty Bookman. The latter is the author of Tried And True: Confession Of A Rebellios Youth, and a chronicler of the reggae revival.

Bookman considers dancehall messages in Jamaica unhealthy for the youths, and hopes that the reggae revival might help to solve the social crisis on the island. Protoje, obviously the one on the panel with the biggest following, mentioned that he had always wished he had been born in the 1960s, as he wanted to be part of a movement. Now he is, and a quick glance through the Reggae University Camp is enough to realize that this movement is gaining momentum in Europe.

Collective consciousness is what the movement is all about, specifies Kabaka, and adds that the ego factor was absent from it. I am surprised by the level of education, reflection, and intellectuality displayed by all artists on the panel. And, once again, by the professionalism this young generation takes to the reggae business. As Kabaka put it, it's not just being on time for interviews that is mandatory for a successfull career.

18:34h
It's not much more than ten minutes into the session, but the discussion is on. Live music, Protoje stresses, is key. He could have performed at Rototom Sunsplash last year, but turned that opportunity down, because it would have been a track show. He criticizes the promoters that don't invest in the young generation. "They won't have anyone in ten years if they continue like this," he stresses. Bookman sees reggae aesthetics coming back, and a growing interest in Rasta livity. Rototom Sunsplash was a good example for that, he said. He underlined that everybody could be a part of the reggae revival movement, whether they would use the term or not. "The nation is everywhere over the world." Iba Mahr seconds Bookman, and adds that he had started to meditate to Rasta through his interest in ital food.

Music journalist David Katz marvelled about how inspiring it was to see how aware the audience here was about the movement. He asks Protoje about his Kingston Be Wise. He started to write the song on Jah9's birthday in 2010, Protoje answers, when he saw Kingston burn. Anyone could disagree with the song, but it was important to him to get people think critically. Katz' next question is about Protoje's family involvement in the music scene. Protoje mentions his mother, singer Lorna Bennett, who happens to be present. She had always told him not to think he would be better than anyone else just because of his profession.

While Kabaka Pyramid grew up on HipHop and rates clever lyrics, Iba Mahr was enculturalized in foundation roots reggae. Max Romeo was a crucial name to him, he states and sings: "I'm gonna put on an iron shirt/and chase Satan out of earth/..." The audience joyfully joins him immediately. The sessions at the Reggae University can be long and informative, but entertaining they often are nevertheless.

19:27h
Italian music journalist Pier Tosi asks Protoje about his video to I&I. It was a manifestation of the movement's unity, says Protoje, as it took him less than 24 hours to organize all the participants coming together. Credits were due especially to Rootz Underground and Dubtonic Kru, who "did it long before it was cool," refering to the reggae revival. His head was blown when he first saw Dubtonic Kru perform live, "just like Sly & Robbie," adds the fan of the Riddim Twins. Bookman seconds, saying that the Bands Incorporated event organized by Rootz Underground and Dubtonic Kru was very influential on many people who are a part of the movement now. Protoje stresses the importance of connecting with one's audience through Internet and encourages his fans to share his music through SoundCloud and YouTube. Iba Mahr closed by saying how important for the international success of the movement it was to have a firm base in Jamaica. And that is lacking, according to Protoje.

22:44h
I've missed out on La Pandilla Voladora, a Spanish project that presents a variety of local voices on the main stage. It doesn't matter, as it is Protoje who's playing now. It is the third time this year I'm seeing him on stage with his Indiggnation band, and they seem to sound better every time. I dive right into this powerful musical storm. It's an amazing show. Protoje had said earlier on in the Reggae University how much he loved Sly & Robbie, and had likened Dubtonic's creativity and presence on stage to them. The Indiggnation band keeps up with them. This creativity, this freshness - there are many bigger names on this year's line-up at Rototom, but in terms of musical quality and ingenuity, very few are en par with Protoje & Indiggnation. Very few.

23:27h
Once more I realize how easy-going the Rototom massive celebrates. They rate the music and they show it, but this is no hype festival. It gets a bit closer in that direction though when Protoje calls Kabaka Pyramid on stage. They perform their combination Warrior together.

23:46h
Indiggnation goes dubwise now. What a vibe! These guys are in it for the music, not for anything else. Crowd pleaser Kingston Be Wise gets a huge forward.

00:42h
Wake the town and tell the people! Daddy U-Roy's on stage. Rototom enjoys the deep groove.

00:54h
Protoje and Iba Mahr edutain a packed press conference. They seem to have a protestant work ethic.

01:10h
He has claimed already to be a True Born African, now U-Roy sings about Just Another Girl. It's probably not the one he will wear to the ball later. He's seventy years old, but the energy U-Roy takes to the stage is still amazing.

01:32h
Protoje is still talking to people in the media tent. You have to plant the corn today if you want to eat tomorrow - those aren't empty words to him.

01:44h
U-Roy says bye to his audience with a decent version of Soul Rebel.

02:38h
Kabaka Pyramid burns down the Showcase Club! It's packed. Lucky are those who came early enough to sneak their way to the front of the mixing. The sounds from the neighboring stages distract too much - they are located too closely together. The Dubby Conquerors from Switzerland do a solid job backing Kabaka and fighting to get heard in that sound mess.

02:48h
Protoje watches Kabaka's show from the left corner of the stage and enjoys it as much as anyone else. Kabaka owns the place - why didn't he play on the main stage?

03:20h
Iba Mahr just took over the stage from Kabaka. He was announced to also be backed by the Dubby Conquerors, but profits from Dubtonic Kru being at the festival already. Outstanding talent that meets hard work and discipline, plus the energy and will to excel - Dubtonic Kru takes it to higher levels. It's mind-blowing music ready for prime time. They work perfectly together with Iba. Their version of I Chase The Devil sums it up nicely: Iba Mahr rates Max Romeo and has worked with him, and Dubtonic's Jubba White (drums) and Stone (bass) have backed Romeo on tours through Europe. The result now is a golden moment of the festival. One that most Rototomites miss: Iba Mahr gets just half of Kabaka's crowd. If they only knew...

REVIEW - DAY ONE 8/17/2013

11:35h
It feels good to be back in Benicàssim. I'm heading to a supermarket to stock up on food for the next days and take a walk along the promenade. In town, the festivalgoers peacefully coexist with the other tourists that flood Benicàssim. The supermarket is about one kilometer away from the apartment I'm staying in, but it takes me longer than an hour to get there. I meet several friends from last year's edition and stop to chat with them. This year's trend seems to be to rent a bike. A smart choice that gets you around the town as well as to the festival site in style, tranquility, and, most important, whenever you want to go.

17:57h
It rains! A rarity at Rototom Sunsplash. A welcome one, though. So far, temperatures have been more agreeable - less sweltering, that is - than last year, but it's still hot. I'm on my way to Reggae University, but I'm running late. Had to take a swim in the pool to cool down. The shuttle bus that connects the beaches with the festival site is as crowded as ever, but I enjoy the ride. And the air conditioning. I arrive at the Reggae University Camp just in time to see Cat Coore from Third World leave. Together with Richard "Bassie" Daley, he had talked about the forty years Third World have been in business already.

19:44h
The festival site has been slightly rearranged this year. The Dancehall, Juanita Club, Showcase Club, and Ska Club stages are neatly lined up along the way from the main stage to the exit. The transition zone from the chill-out areas to the main stage is much more open now. The festival site seems larger now, although it has exactly the same dimensions as last year. And it has all the grandeur the concrete jungle of Benicàssim lacks.

20:54h
Third World have just opened the main stage. Why they open the festival instead of closing it remains a secret to the organizers. Yes, this is the 20th anniversary edition of Rototom. But the rest of the line-up today isn't exactly stunning, especially not for an anniversary edition of a festival as important in Europe as Rototom is. Bunny Rugs isn't here, he had to cancel this tour for health issues. According to his facebook page, he is feeling much better now. A. J. Brown replaces him on this 40th anniversary tour of Third World through Europe. He does a good job mostly. Third World don't manage to fully convince tonight. A synthesizer solo sounds so terrible I'm left wondering why no one pulls the plug. The next moment, an energetic version of Spirit Lives makes up for it. The crowd grows now, and increasingly shows appreciation. Cat Coore's Redemption Song solo on the cello is exactly what the massive demands now: nice, simpler sounds to groove in. A pop interlude with a cover of Eurythmics' 1983 smash hit Sweet Dreams (Are Made Of This) adds rather questionable variety, but a fast and convincing version of Now That We Found Love makes up for a show that had a few too many lows. And it shows that Third World are still capable to stun, and that after 40 years on the road they still love their work.

22:38h
Royal Rudes, this years winner of the Rototom Sunsplash Reggae Contest Latino, bring a lengthy tribute to Lucky Dube that includes Different Colours/One People, I've Got You Babe, and The Hand That Giveth. Too bad they're off-key sometimes.

23:34h
Morodo & Mad Sensi Band from Madrid are on, and they raise the standard again. It's a nice mix of dancehall and modern roots.

00:41h
Cornadoor sings an a cappella song while the main stage is getting rearranged for Chaka Demus & Pliers. The German singer promotes his show later in the Showcase Club. So much better than those commercials televised on some other festivals in between two shows!

01:20h
Chaka Demus & Pliers deliver a show that is finally worthy of an anniversary edition of a festival this size. It's nice roots vibrations now, with a decent Bob Marley tribute set and classics like Bert Berns' and Phil Medley's 1960 song Twist And Shout. The mixing engineer spoils it sometimes with inattentiveness, but few people seem to care. Needless to mention that Chaka Demus & Pliers' Murder She Wrote on the Bam Bam Riddim got the biggest forward - longside the other versions on it they treated the crowd to.


Make sure to watch the video live stream each evening from the main stage: