Review
Album Review: The No-Maddz - Heaven On Earth
08/30/2019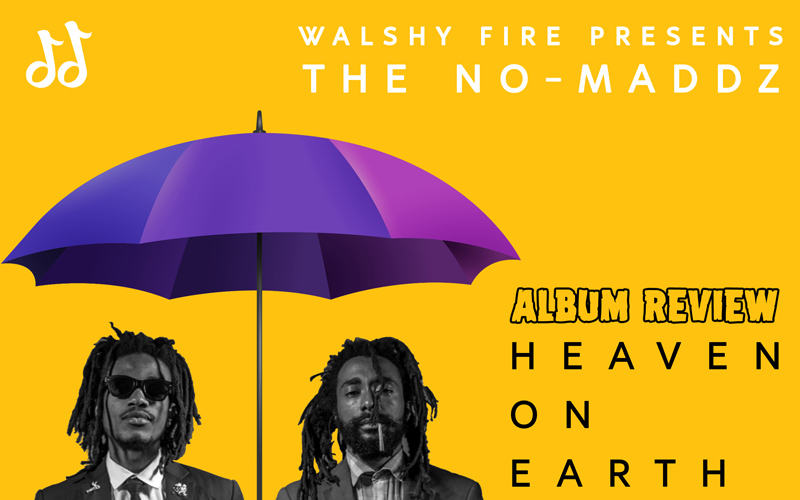 Out Of Many One Sound
On the north coast of Jamaica, about a 15 minute car ride east of Port Antonio, lies the beautiful town of San San, where among beautiful resorts, the Geejam Hotel is the one most close to paradise. Attached to this complex are the Geejam Studios, where The No-Maddz have just recorded their brand-new album.
A number of people have played key roles for this album, while the number of band members has decreased from five to two. Apart from co-productions by Major Lazer MC Walshy Fire, The Wizard, and Mountain Lion Music, fans can expect features with former Raging Fyah vocalist Kumar (Wretched), actor-director Idris Elba (Beat Dem Down), and close friend Atiba (Babylon Paper). With their second album, the remaining No-Maddz members Sheppie & Evie are top of the line among 21st-century Jamaican avant-garde and expressionist sound design and music composition. Although their music is generally hard to identify as Reggae at first glance, H.O.E. is quintessentially a Rasta album. Ideas of de-colonisation, repatriation and reparation penetrate this LP. That heaven is not a place in the sky, but an on-earth condition is a notion as old as Rastafarian philosophy itself. The Christian doctrine promising after-death heaven for the enslaved has been rejected by Rastas ever since.
Like a mission statement, the first song gives the album its name and pretty much represents the above-mentioned train of thought. Having worked with female back vocalists for the first time, No-Maddz sounds more complete, balanced, and powerful than ever. The African centeredness of this album is substantiated by frequent recitations of Psalms and speeches, for example on The Trod (Psalm 86), or The Chant, where both Psalm 126 and Haile Selassie's 1963 Call to African Leaders are recited, accompanied by a Nyabinghi drumbeat.
Such traditional folk music forms, however, are an exception. They more or less set the foundation for all the different styles of music that are put together. Dub Poetry continues to dominate the art of No-Maddz. Backed by a variety of styles, their lyrics reflect socio-cultural and historical situations in and around Jamaica. Among all these traditional topics, pop culture has found its place on the tune Clarkz Like This. The popularity of the shoe is put to music with autotune on a dancehall beat à la Major Lazer. The musical versatility on this album is just amazing. Listening to Wha Dis, you may ask yourself the very question from its title. Songs like Babylon Paper carry an unmistakable 90s Hip Hop flair, The Wretched is basically House-Funk, Hold It pays tribute to "the sound of Dub", and one of the few songs that have a definite Reggae feel is The No-Maddz In Town, a homage to Barrington Levi's Murderer. A mind-boggling album, full of inspiration, positive stories, positive views, historical discourse and, unimaginable creativity.
---
Release details
The No-Maddz - Heaven On Earth
DIGITAL RELEASE
Release date: 08/30/2019
Tracks
01. The Chant
02. Hold It
03. Babylon Paper feat. Atiba
04. Clarkz Like Dis feat. Eriq Sterling
05. The No-Maddz In Town feat. The Wixard
06. Interlude
07. Heaven On Earth
08. Mountain Lion
09. Beat Dem Down feat. Idris Elba & Shadow
10. Wretched feat. Kumar
11. Wha Dis (Pukupoo)
12. The Trod
Produced by
Walshy Fire
Featured artists
Kumar