Review
Album Review: Sly & Robbie presents No-Maddz
01/27/2015
by Gardy Stein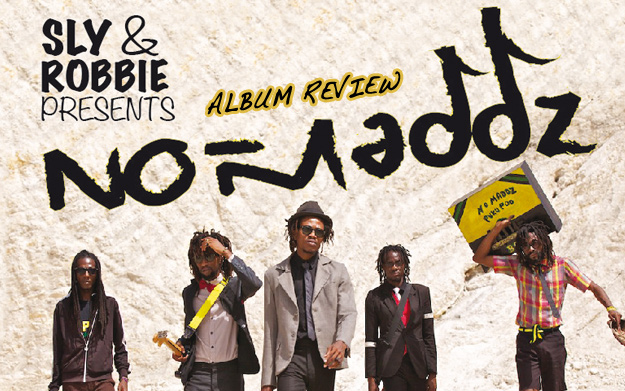 Oooh the sweetness of discovering new music! Ever since I've experienced these amazing young men at 2014's Reggaejam in Bersenbrück (especially their off-stage-performance in front of Da Sandwichmaker), I've been anxiously awaiting their album. And now it's here!


Sheldon "Shepie" Shepherd, Everaldo "Evie" Creary, Christopher "Birdheye" Gordon, O'Neil "O'Nie" Peart and latest addition Christopher "Krispercs Upner" Downer teamed up with Sly and Robbie to deliver the world a taste of their "Bongo Music", as they call it. "Dub Poetry" describes their work well, too (actually that's the genre they started out with), but the designation doesn't really matter - it's the content that counts. And that's what you'll get loads of!

Have you seen the latest visual extraction of the album, the inventive video to the track Shotta? In case you have, you'll know that No-Maddz isn't just another ordinary Reggae Band. From the way they let their unique voices merge into each other to the casual effortlessness they convince with both in front of the camera and on stage, these five award-winning talents make up a phenomenon hard to put in words. Take the cotton-candyish Romance, opening track of the current album (which, by the way, was supposed to be an EP at first): the accompanying video, coming in a bare-chested official version and a fully dressed US-version, testifies to their well-deserved self-confidence. A confidence they built, next to the music, with their own clothing-line Manalion, their own theatrical production Breadfruit Is the New Bread, Baby as well as their acting roles in the 2010 movie Better Mus Come, which might well have inspired the conscious and urgent song by the same name.

Their masterpiece Rise Above (better known as Poo Puku Poo) might be the one song most characteristic of them and the new ways they find to deliver fresh and dynamic messages to the world. This dynamism and the amount of excitement their live-shows generate make tracks like Modern Love Affair, Some Kinda Way and Sun Comes Up seem almost bland – at least I have been a bit disappointed by the softening effect these croonings have on the entire album. Like all songs, they are perfectly sung and recorded, that's not the point, but apart from a few amusing raps in between, there is just not enough No-Maddzness in them. Maybe their inclusion is a tribute to the upcoming valentine's season (for which they are indeed predestined), or a general way of leering at the US-market. Whatever the reason, for me the real fun starts again after Let's Dance with the Rocksteady-infused Life Of The Party. "One and a two and a three and a four…" Boom!

Ganja Stain is a great mood-lifter as well - not only in covering Now That We Found Love, but also in its hilarious lyrics: "I was spraying on my Marihuana Cologne when it miss and caught in my eye. That was my reply to the officer that asked about the redness of my eye." Laugh attack!

My personal highlight (after the above mentioned Rise Above, of course) is Order My Steps. On an old-school dancehall-riddim-remake, they deliver a lyrical Raggamuffin explosion in their inimitable vocal style. Boom again!

No-Maddz have come a long way from the drama club of Kingston College to the worldwide attention they are receiving now. And their ability to make any stage their home within seconds will broaden their fan-base with every show they perform. Yes, Maddz!


---
Release details
Sly and Robbie Presents No-Maddz
DIGITAL RELEASE [Taxi Records | Nomaddic Movement Ltd.]
Release date: 01/27/2015
Tracks
01. Romance
02. Shotta
03. Better Must Come
04. Modern Love Affair
05. Love Story
06. Some Kind a Way
07. Sun Comes Up
08. Let's Dance
09. Life of the Party
10. Ganja Stain
11. Puku Poo
12. Order My Steps
Produced by
Sly & Robbie