Interview with No-Maddz - PART II
02/04/2015 by Angus Taylor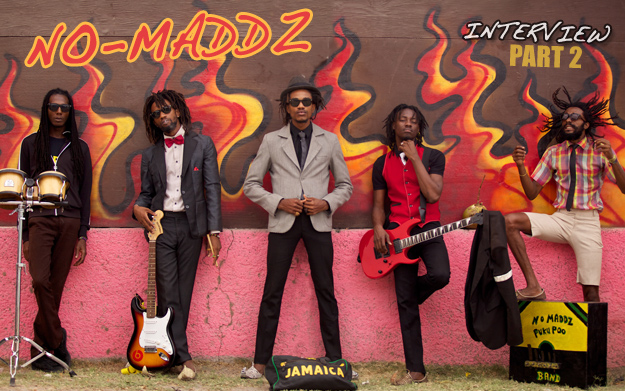 CLICK HERE TO READ PART I

In the second part of our interview with No-Maddz they tell us about why it took them so long to record a studio album, working with Sly and Robbie, and why they don't like to explain what they do…



You were ok with getting involved with a big international corporation like Puma but you seemed to avoid the Jamaican recording business for a while. You did an interview with Munchy where you described the recording business as "slimy".
(laughter)

You did one live album and two EPs but you are only making a studio album after 15 years. Did you feel more comfortable with Puma than with Jamaican producers? Or is it that studio recording isn't spontaneous enough?
Sheldon Shepherd: We weren't avoiding the recording business. We just wanted to record live. So we were doing live one takes at Tuff Gong Studio and recording albums of live shows. The emphasis was on live because we realised the music being played on the airwaves was not necessarily the best music and we learned later that this was the influence of payola money. It didn't matter how good you were, if you didn't have some money or some good producers behind you who are willing to take a chance with you as an artist. And we were a group of seven people so it was going to be difficult to tour or record this group, so you had to factor all this into consideration. So we were recording ourselves and touring ourselves so that someone with the insight and the budget could see us and invest in the product.
So we were not necessarily directly avoiding the recording studio industry. We were charting our own path within the whole music fraternity so we could get noticed by interested and interesting people who could allow us to create so they can distribute. So it's been a tough trek and for us Puma is an endorsement. As an artist you should know that it is important to use your eyes, your nose, your face your body, everything as something you can garner income from. So we don't take ourselves so seriously as to say "I no wear no Puma shirt because Puma a Babylon and Puma come from Germany" – No. The fact that I am a positive human being wearing a Puma shirt kills everything negative that you can conjure up.

So that is the precedent that No-Maddz stand firm with. We are performers, musicians, actors, all of the above, providing entertainment for everyone. Our primary objective is to provide everyone with a good fun environment for children coming up and for adults alike. It's never to judge. It's never to push a religion. It's never to reinvent the wheel. Bob Marley sang One Love and there is no way I'm going to sing One Love. I have to sing something else – probably Give Thanks. You have to improve upon the wheel that you are given. We don't judge. We love every music. It's just that we wanted to make ourselves known.

Sheldon, you and Everaldo acted in the film Better Mus Come. There is a long tradition of Jamaican musicians acting including Jimmy Cliff, Bob Andy, Horsemouth. But you come from acting already – you're not a musician trying a thing.
Sheldon Shepherd: It's not necessarily a musician who is famous for music trying to act. I am more famous in Jamaica for acting and I am only now being more famous for music in Jamaica. I was introduced to Better Mus Come by Everaldo from No-Maddz. He came to my house and knocked me up very early and said "Listen, I know this brethren named Storm and he's doing this audition right now and he asked me to bring my friends along". I said "Yeah, I can't badda go right now – is it serious?" and he said "Yeah man, it's serious".


I jumped in a taxi, reached up there, and I was sitting in a corner watching everybody being busy. Then the producer Paul Bucknor saw me and said "Who are you? Where are you from? What are doing here?" I explained that I was actor so he said "Do something for the camera" and I recited a poem that was written by Errol from high school called the Politically Raw. They gave me a gun and a vest and put me in the next scene.
The next scene made the film – it was the opening scene where they throw the Molotov cocktail at the political parade. That was the very first scene shot on the very first day when I went there minding my own business. The film saw me win Best Actor at the American Black Film Festival in Miami and a lot acclamation so I have to give thanks to the producers and the directors who saw the light in me because if it was up to me I would have just sat there at the side watching everyone. I am from a Jamaican school where they say that children must be seen and not heard, that "Humble calves suck the most milk" and you should mind your own business. But I have grown to learn that this is kind of rubbish and that you should assert yourself to your rightful position in life.
O'Neil Peart: Front of the line.
Sheldon Shepherd: So I am glad that my angels encamped around me and always direct me and I trust them so there are many more films to come. And in No-Maddz, O'Neil is an actor, Everaldo is an actor, Birdeye is an actor. We write film scripts. We have about four ready film scripts waiting for the right opportunity for us to star in them.

You work in many different mediums – music, poetry, acting, Everaldo studied marketing and Chris studied broadcasting – that all make up the whole. Which new mediums would you like to go into?
O'Neil Peart: I think pretty soon we are going to go into producing artists – I think that's the only thing left for us to do because we write, we perform, we act…
Sheldon Shepherd: Fashion!
O'Neil Peart: Fashion is there already. We're not going to dance. I danced long ago but that's what it is!
Sheldon Shepherd: We won't be a dancing group? (laughing)
O'Neil Peart: We won't be a dancing group but we do dance on stage! So I think the next medium is producing and in fact we have actually started that already. We did two tracks called Getting To Zero and Nuh Go Deh last year that were produced by No-Maddz.
Sheldon Shepherd: We did these two tracks for our charity Eve For Life, an NGO which enhances the lives of young women and children living with HIV and AIDS. We're about to shoot the video for Nuh Go Deh. Nuh Go Deh is a slang that we want to make popular. It's really an anti-paedophilia campaign so it goes against all the big men who are preying on young girls. So we're going to shoot this video on Febraury 13th-25th and launch it locally. UNICEF, UNAIDS, USAID , UNFPA, they have all decided to support this mission with us and our charity – so we give thanks to them as well.

How did you meet Sly and Robbie who produce your first studio album?
O'Neil Peart: We were talking to Chris Blackwell at the time and trying to get some sort of deal from him. But he said he didn't like the music and thought it wasn't where it should have been. Chris is a wise man. If Chris Blackwell says the thing isn't up to standard you have to think about it. Things did look a bit grim for a couple of days but you know me, I'm always l thinking how to find ways of making it work just like every other member but in different ways.
So I met with June Heslop to get some shows to forget everything because No-Maddz is a good performing group. June was like "You can get some shows but you want a song man, no one knows you for a song. You need a producer". So she called some names like Handel Tucker, Clive Hunt and I said "I know Clive from a long time he likes the way I sing" but Clive was probably busy or something so she said "You know who I have? Sly 'pon speed dial". I said "Sly and Robbie? Call him man!" Sly said "Yeah, I know the group but they don't have singers" so she said "Some of them can hold their own and do their little thing".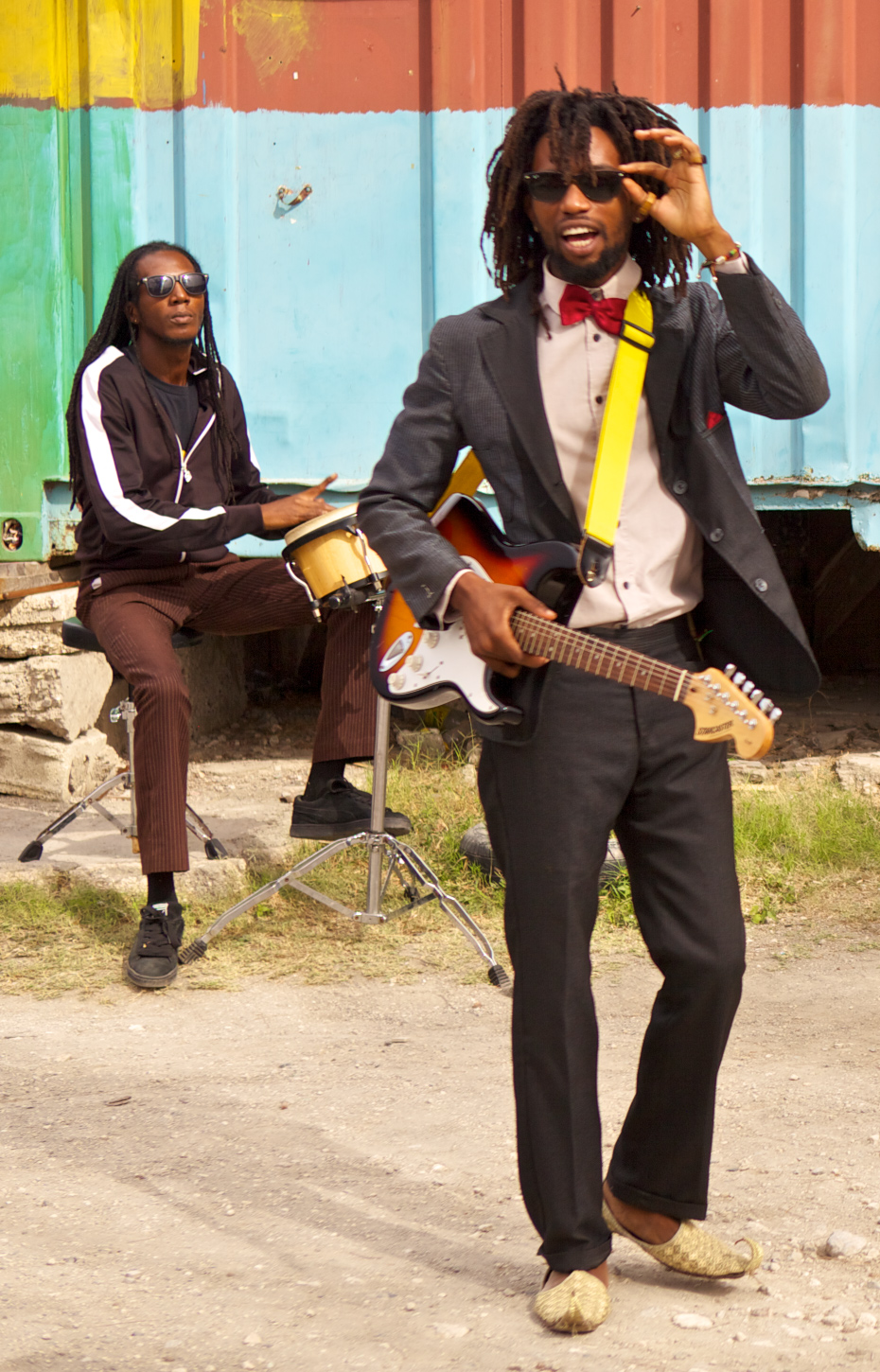 So the next day I went with the percussionist and my box guitar and I never told the Sheldon, Everaldo or Chris what I was going to do. I just walked out of the house, got in my car, drove to the studio, met June and went up there. Sly said "June told me about you guys, saying you have song. I see your guitar, play something" and right away the first song I did was Romance. He couldn't believe it "No man! I never knew that No-Maddz could sing at all! Gimme a next song" and did the next song and he said "No man! Gimme a next song. This can't work more than twice!" So I sang the next song and the next song and he said "Bwoy, I love all four of them. Let's just choose one for a single for now. How will the guys take it if it's just you that sing?" and I said "Don't worry about that for now. Music is music. I just want to hear you say you will record the group".
So I went back and explained "Look we are going to Sly and Robbie and we are going to show them and we have to sing." We went up there to do one single but when we did the song he liked the vibe and we decided we were going to do an EP of four songs. And when four songs had come and gone he gave me some more stuff and we played him some other things and we decided to go to a showcase of about eight songs. And when we got to eight songs he said "We might as well release an album and done!" (laughs)

What's Sly like to work with?
O'Neil Peart: Sly really is a great person. He will listen to your thing and have great input. And one thing I really like about him also, as I was saying before, is he has great adaptability - the way he adapted to the situation. No-Maddz is nothing like what he normally has – a full singer or a man who comes to deejay. When No-Maddz come you are going to have the poetry and how he managed to capture all of that on this album was something. Now we are the best of brethren and we talk all the time.

One of the things that really comes across when you talk to Sly is his emphasis on originality – which makes you a good fit with him.
O'Neil Peart: That's why I think the relationship with us and Sly & Robbie works. It just has a certain level of chemistry. We just click. This is pretty much the first producer that we can say we are full-fledged working with. So imagine you get the first producer you ever worked with and you just click like that? We talk on the same sphere and we vibrate on the same place. But then it was Chris Blackwell that saw their thing and made it what it was, so I guess we should be vibrating! (laughs)

So did Sly and Robbie make these rhythms from scratch, use old rhythms or loop samples of their old rhythms as new?
Sheldon Shepherd: All of the above. We went in with our music, guitar, percussions and drums, our particular ear and our melodies. Then Sly made music around it from scratch as well as providing some of his older stuff and asking if we heard anything in it.
O'Neil Peart: Which we made things around as well.
Sheldon Shepherd: So it was all of the above. It was more of a blend where we came in playing and he was on his drum finding things and saying "You know? I'm going to go for that. I'm going to put some popcorn on it" and he would grab his percussions and play on that.
O'Neil Peart: But the main thing about this album is – as far as the music is concerned – we brought in a lot of the ideas and then he would have fiddled. We bounced ideas off him and he bounced them back off us.

Romance is almost like a modern rocksteady song – you could imagine it being sung by Slim Smith and the Uniques or Pat Kelly and the Techniques.
O'Neil Peart: Who?
Sheldon Shepherd: The Uniques!
O'Neil Peart: Well the guys will tell you I'm not so good with the musical history so I'm going to have to learn the singers as I go along. I'm pretty much fresh. I'm wet behind the ears. But Romance had an R&B feel when I played it to Sly. I never gave that song a strict chop at all – I just played it like an R&B song. So when I saw he found reggae out of Romance it was a big deal because I never saw that before! (laughs) That's how I know he is great. He is very good at making, not just reggae music, but music in general. He can hear some things that you can't hear.

Sly and Robbie have been involved in a large number of Grammy winning albums. They won the first Reggae Grammy with Black Uhuru in 1985, since then they have won it for their own albums but also other winning albums have sampled their productions – such as Damian and Stephen Marley. You have all won many awards since childhood. Are you bored with awards now – or would you like to win some more?
(laughter)
O'Neil Peart: No, no – the Grammys are definitely on our list! We love competition.
Sheldon Shepherd: When your peers can give you that tap on your shoulder to say "We acknowledge your work and we see the job well done. Here is something to hang on your wall" – it's all the better. It's an added asset. It doesn't take away from anything.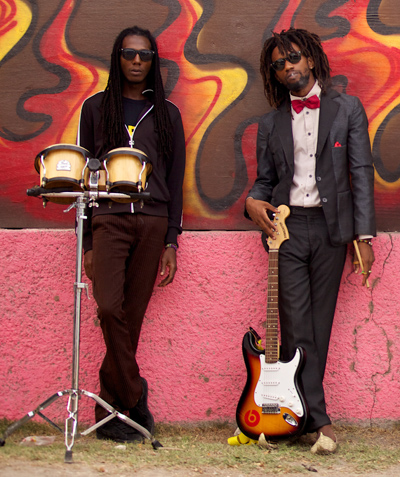 You are frequently categorised as a dub poetry band in the Jamaican press. With this more singy new album is it time to call you something else?
Sheldon Shepherd: I don't care what they call us – they just need to call us! (laughs)
O'Neil Peart: We are still going to turn up and put in some harmonies and we're still going to frighten some people. They can call us what they want to call us. Listen, Angus, I'm that type of guy – I'm always ready for it. Any time. Any day of the week.


Who are your number one poets and who are your number one singers and players of influence?
Sheldon Shepherd: My number one poet of influence is my father, Keith Shepherd. Second to my father is the great Miss Lou, Louise Bennett-Coverley and I also love the works of Mikey Smith.

He's my number one.
Sheldon Shepherd: I love Mikey Smith a lot. And for my top four – Linton Kwesi Johnson. I have to seal it off with Linton. Musically, I love the works of Bob Marley and the Wailers. The original Wailers – I get all crazy when I hear them. I love Morgan Heritage. I love the Black Eyed Peas out of America. I also love Twinkle Brothers – that's just a few.
O'Neil Peart: I really respect all poets and don't have a favourite because I just listen to poetry for what it is. I think Sheldon Shepherd is a really good poet.
Sheldon Shepherd: (laughing)
O'Neil Peart: Sheppy is one of my favourite poets because he has a really good way of putting words together. Louise Bennett-Coverley is one that I also respect. For music, yes, I definitely like the Wailers. Curtis Mayfield, because he has this groove about the guitar that vibrates on a different space. I like D'Angelo and Anthony Hamilton. I've always liked soul music. I think when you sing people have to feel chills.

In previous interviews you don't seem to like to explain what you do. Can you explain why you don't like to explain what do you?
(laughter)
O'Neil Peart: Sheppy – you are the one that doesn't like to explain!
Sheldon Shepherd: I consider myself to be constantly a student so my work is growing constantly. So when you ask me to explain something it is like it is packaged and finished and it is a product. But what you see is a packaged finished product where in our heads we are still at the chisel. You ask us to explain the piece of art and I am saying "Hold on one minute, I am still chiselling my way through this part here!" I could give you a typical stereotype explanation of what a poem is or what a song is – but that does not mirror the work we present.
O'Neil Peart: Put it this way, Angus. If you were to listen to the CD we have now and if you were to listen to No-Maddz three years ago – you are going to understand where we are coming from and why it's hard to explain. It grows a whole heap and it jumps every year so you can't really follow it. By the time it passes and is gone then it will be finished, then you can say "Oh, well it's this or it's that" just like they did to Bob Marley. No-Maddz are going to keep going because No-Maddz wander. They never settle in one place.

 
CLICK HERE TO READ PART I