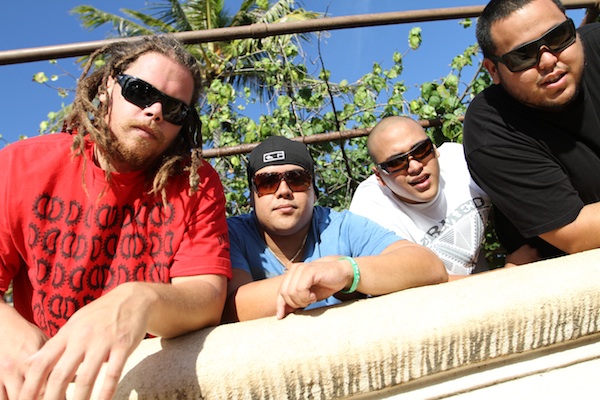 Four extraordinary talents, one scene-shaking reggae band.

That's The Green, four boys hailing from Hawaii who burst out last year with their self-titled debut album. Amazingly for a new band, the disc rocketed onto Billboard's 2010 Year-End Top 10 Reggae Chart, was honored as iTunes' Reggae Album of the Year, won Best Reggae Album at Hawaii's 2011 Na Hoku Hanohano Awards, and has sold over 20,000 copies. Now the promise of The Green's youth-infused roots reggae revival is set to be fulfilled with their sophomore disc, Ways & Means, scheduled for an October 25, 2011 release on Easy Star Records, the pioneering indie reggae label. The startling speed with which the band has built up its strong and loyal following can only accelerate from here.

The four members of The Green take pride in the pop-burnished roots reggae style they've cooked up—edgy enough to make tastemakers sit up and take notice, yet accessible to all ages "from little tiny kids, to people who just want to rock, to grandmas and grandpas who just love music," says guitarist-singer Zion Thompson. Four distinct voices, four sharp songwriting talents, masterful musicianship, and monster grooves add up to one exceptional band with an unforgettable sound and a powerful story.

Each of The Green's four core singer-songwriters could be a solo artist in his own right, yet they're a tight, down-to-earth unit. Caleb Keolanui and JP Kennedy are first cousins who played together in a band called Next Generation. Caleb, The Green's soulful, golden-voiced singer and charismatic front man, had already performed on Hawaii's biggest stages by the time he was 16, with hit songs on heavy rotation on Hawaii radio. His pop/dancehall sensibilities show up strongly on the new album, to which he contributes songs like the sophisticated yet irresistibly catchy "Decisions" and the perpetual-motion "Love & Affection" with its warm but unexpectedly sly lyrics.

Meanwhile singer-guitarist JP Kennedy was honing his own writing skills and blues-and-soul-inspired musical chops while studying engineering and putting together a home recording studio, which remains invaluable to the band as its pre-production headquarters. His songwriting pushes the boundaries of reggae, while still resonating closely with reggae traditions. The contemplative and intensely emotional "That's The Way" and the soul-suffused "Good Vibration" are both forward-thinking, introspective pop songs, while "Jah Love" and "Travlah" evoke the classic sounds of Third World and Steel Pulse respectively.

The other two core members, singer-keyboardist Ikaika Antone and Zion Thompson, had worked together in the band Stir Crazy. When that group split up, the four musical brethren of The Green knew the time had come to make the new band truly flower. Ikaika, with a strong Hawaiian music background, feels a special connection to the land—when the band gigs locally, his whole clan comes out, bringing a real sense of ohana (family) to the shows; his anthemic "Gotta Be" perfectly expresses this side of The Green. Zion, who had previously spent time touring with other bands, recalls that "I missed home, missed my music" when on the road with other musicians; "All I could think about was I want to be [touring] with the boys!" His song "Ways & Means" strongly demonstrates Zion's ability to play with form – jumping from a slower reggae groove to a sped-up ska chorus and back – while still serving up a poignant love song with a soulful delivery.

Righteousness—pono in Hawaiian—is everywhere in The Green's music and its message, and has been since the beginning, when they released the hit single "Love I" from their debut album. The Pier called it "a brilliantly constructed gem of modern reggae music, combining heavy drum and bass with smooth vocal melodies and enchanting lyricism," while Maui Time said the disc "shines like the Honolulu city lights that decorate it."

Why the name "The Green?" As JP explains, "We wanted a name that didn't really point you in any direction. It's just a color, it makes you figure out what you want it to mean." The same can go for the music, according to Zion: "It's OK if it just makes you move, or maybe it's something new for the ear—it's a good challenge to try and get people to open their minds a little."

The band's dominant modern reggae sound has a distinct Hawaiian undercurrent, especially in the lyrics, says Zion. "Even people who don't know Hawaii will realize that we're taking about a beautiful place you can relate to." At the same time, the band reflects a more realistic and modern vision of the Islands, not just the usual Island paradise vibe. The band proudly pushes broader themes of Hawaiian culture and history, while still writing about the day-to-day life they know. They are not afraid to shine a light on reality, as in "That's The Way": "Honolulu, it makes me sick / I never thought that I would say it…"

With songs contributed by all four core members, a strong shot of assistance from touring bassist/producer Brad Watanabe and touring drummer/producer Leslie Ludiazo, and the mixing skills of Danny Kalb (Ben Harper), Michael Goldwasser (Easy Star All-Stars), Jim Fox (Rebelution, SOJA, Israel Vibration), and Matthew Honda, the message of Ways & Means boils down to bringing people together and respecting all people for who they are, whether it's through a love song like the title track, a spiritual like "Jah Love," or a paean to perseverance like "Keep On" on which all four songwriters collaborated.

On Ways & Means the band also interjects doses of R&B, Soul, and Pop, making them an accessible listen to fans outside of reggae circles without diluting their roots. Though The Green is an important player in the new wave of homegrown reggae artists, they stand out with their ability to play both classic roots and modern dancehall, their vocal harmonies recalling reggae's golden age, and their four distinct songwriting and singing voices. With their upcoming extensive US tour kicking off around release date, The Green is poised to break out on a national level.