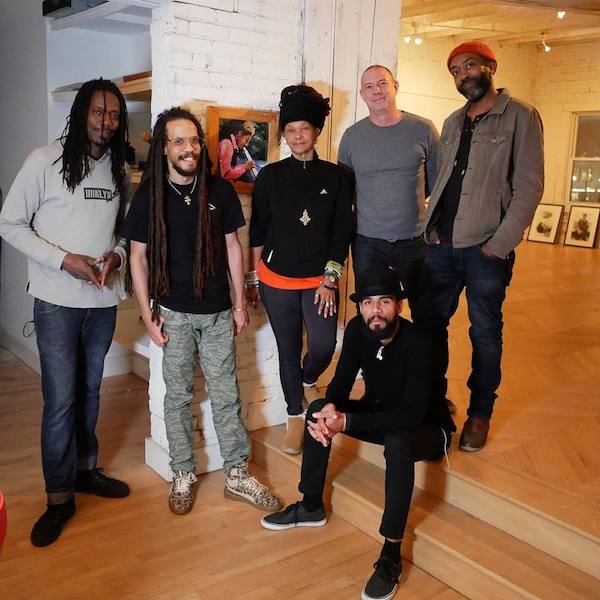 The Archives began when Thievery Corporation's Eric Hilton began a quest to explore the roots of reggae music.
He asked keyboard ace Darryl "D-Trane" Burke to put together a cover band that would introduce club goers to the rock steady hits and obscurities of the pre-reggae era. When the group began writing original material, Burke contacted players he knew that could bring a progressive vibe to the music.
"Everyone in the band has recorded and toured internationally with acts like Eek-A-Mouse, Culture, Gregory Isaacs and The Abyssinians," Burke explains. "We weave together the best of foundation roots, rock steady, early dub and dancehall influences with arrangements that use funky throwbacks such as jazz flute, melodica and organ to create a classic, yet fresh and conscious sound."
The band landed a two-year residency at the DC club Patty Boom Boom. Nightlong sets that often saw them playing 60 tunes or more allowed them to hone their sound and win an audience of dedicated fans. "It takes time to create new flavors," Burke explains. "Playing weekly allowed us to simmer this stew and unify our sound. Now we're comfortable in any situation and confident that we can step up and take it to the next level." The Archives feature vocalists Ras Puma, the charismatic singer on Thievery Corporation's Culture of Fear, and Lenny Kurlou (S.T.O.R.M.). Mateo Monk (Sankofa Blackstar) plays guitar, flute and melodica; Burke (Moja Nya, Eek- A-Mouse, Gregory Isaacs) is on keyboards and drummer Leslie "Black Seed" James Jr. (Culture, Eek-A-Mouse) and bass player Justin "Relentless" Parrott (Claudius Linton) round out the lineup. The songs were composed collectively and all band members contributed to the arrangements. With Eric Hilton behind the board and Thievery Corporation's head engineer, Chris "Stone" Garrett, adding his magic to the mix, the band laid down 13 tracks full of smoking soul and sufferation. Burke's funky clavinet and James's one drop drumming introduce "Ghetto Gone Uptown."
Puma and Kurlou alternate lead vocals and add smooth harmonies to the chorus of this lover's rock jam. The vibe is mellow, but the lyrics are a serious examination of the country's economic woes. Legendary dance hall DJ, producer and Thievery Corporation vocalist Sleepy Wonder sings lead on "Music Is My Prayer," an ode to the healing powers ofmusic. His scat-infused vocal on this sweet, laid-back track owes a debt to the work of Black Uhuru's Michael Rose. Desi Hyson, singer and main songwriter of Al Anderson's Original Wailers takes lead vocals on "Crime," a melodic romp that calls for the legalization of ganja with a ska-like bounce in its rhythm.
"More To Life" is a Black Uhuru style roots rocker with inventive drumming from James and a passionate vocal from Puma, calling for worldwide responsibility and compassion as an antidote for the planet's anguish. Subtle dub effects set off Monk's wicked guitar solo. The band shows off its diversity on the song "Melodica Funk," a rock steady instrumental that blends melodica, Monk's Latin-flavored jazz flute and Burke's Jackie Mittoo-style organ solos and the track "Why Can't We Live Together," a funky disco/reggae cover of the Timmy Thomas standard. They also shine on "Who's Correct," a bubbly rock steady groove featuring Parrott's militant Augustus Pablo-style bass line and a serious message of religious tolerance and a dub heavy take on the Clash/Mikey Dread tune "One More Time."
"Dali once said he learned to paint like the masters before embarking on his visionary quest," Monk says. "We strive to play like the masters in our field, but we're part of our generation. Modern sensibilities have developed since the golden era of reggae: better gear, more awareness of studio techniques, new approaches to improvisation, new paradigms for the concert experience and greater social consciousness. We are not a retro band. We're a 21st century band with really deep roots and we want to contribute to reggae's evolution. Same tree, new leaves."