Review: Silly Walks – 25 Years Anniversary in Hamburg (September 10th 2016)
09/15/2016 by Gardy Stein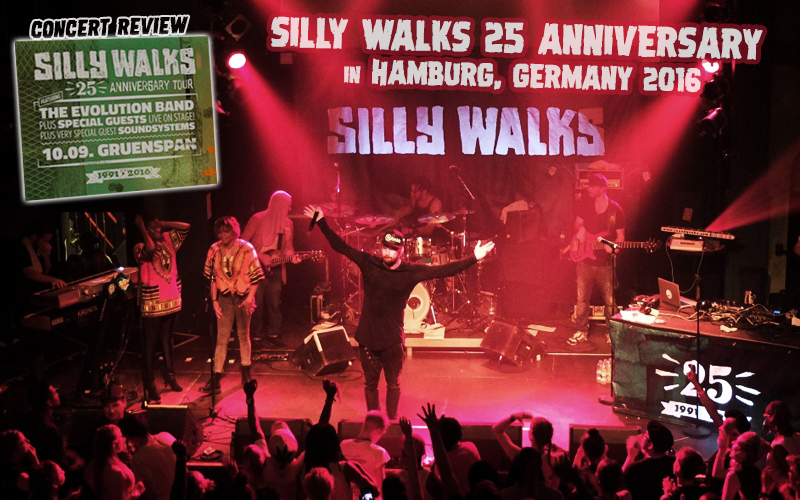 Silly Walks – we salute!
25 years of Good Reggae Music. 25 years of Brighter Days. 25 years of making us Smile, not only in Jamaica. German Soundsystem-pioneers Silly Walks celebrated their quarter century anniversary with a tour that culminated in a bacchanal party-weekend in their hometown Hamburg, drawing at least 25 times 25 guests. After a hot-up on Friday with their new regular High Voltage and a host of local Soundsystems to party along with (including Massaya, Crucial Vibes, Remedy and others), it was going down in Gruenspan on Saturday. Curiosity was high as to who the surprise guests might be (Rebellion Da Recaller was revealed already, and since the Evolution Band was announced as well, an appearance by Gentleman was more than likely - but who was the man behind the silhouette that Silly Walks had posted a few days earlier?), and the massive made sure they entered the location as soon as doors opened at 11pm.

Soundsystem guests who joined in the celebration during warm-up and aftershow were Boss Hifi, Soundquake, Supersonic and Barney Millah, all of them in high spirits. Their selection of contemporary Reggae and Dancehall, Soca and Afrobeats smoothly supplemented the musical program that the jubilees themselves had prepared: early Dancehall and, of course, their own productions which provide Silly Walks with quite an extensive catalogue to choose from.

Heat was rising, sweat running, and right before the live shows were about to start, everybody's attention was directed to the balcony balustrade on the first floor. A group of devoted friends had lit a dozen torches, waved flags like crazy, blew horns and unrolled a huge banner saying "Silly Walks - we salute!". The surprise on the faces of Oli and Joscha was priceless, and I'm sure they had to blink away a tear or two.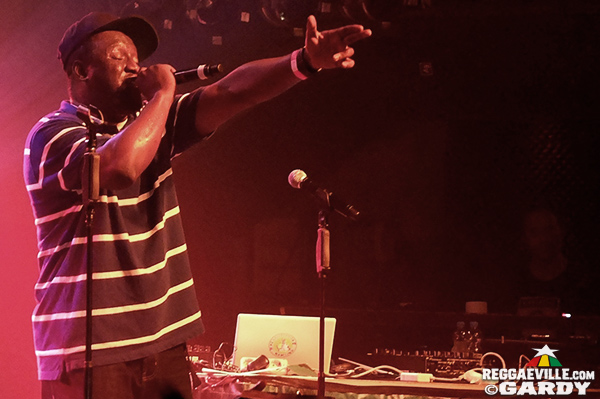 The Evolution Band then took their place on stage and played a few tracks live while the voices of Torch, Jesse Royal and Assassin joined them from record. Rebellion The Recaller did a short but powerful set, including his biggest hit so far, We Must Rebel (which, according to Oli, was the most forwarded song ever during their shows in Astrastube). Tamika and Treesha came on right after him, beautifully clad in African-inspired shirts and their touching voices, and none less than Gentleman appeared after they had started with a few well-received songs. I'm not sure if anyone was surprised at all, but that everyone enjoined his show to the max, including the singer himself, was quite obvious. Goosebump-moments when he made everyone kneel down during Superior or jumped off stage and into the crowd, sharing the mic with the audience, shaking hands and patting shoulders. In fact, this was a nicer and more intimate show than the big stadium-performances I've been to lately, word!

Thus showered with blessings, nobody did mind that the last act didn't appear (rumour has it that Jan Delay was the man behind the silhouette, but he cancelled on short notice). Instead, the party mood was kept up by above mentioned DJs and MCs, so that the sun was almost up when the last guests left.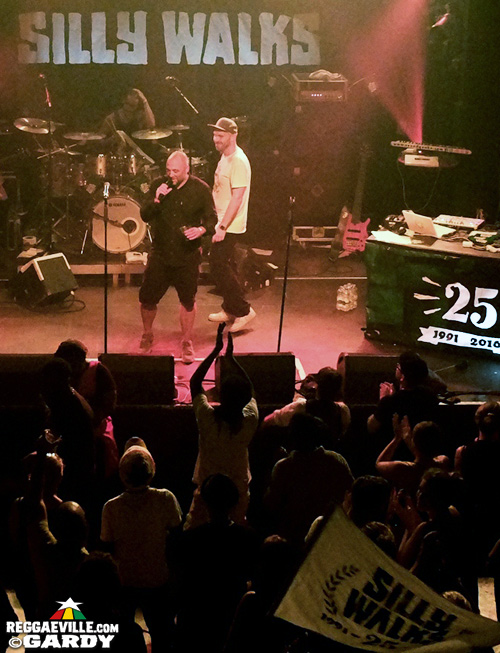 Yes, we salute. And we are looking forward to the next 25 years of excellent productions, of discovering new talents and most of all of feeling the vibes. That Silly Walks has always kept a perfect balance between stardom-status and down-to-earth familiarity is shown by statements such as the following, statements that warmly illustrate the heart-felt appreciation of fans and family alike:

"I've been to all sort of reggae jams and parties this year, but there is one I know is going to top them all and quench my longing thirst... and that is the 25 years of Silly Walks anniversary. I am so anticipating!"

"Silly Walks, you know it already, but you are my real bonafide sound from day one, that was 2001. Nuff ratingzzz and never-ending blessings for your musical and personal journeys. I thought you always stood out more than anyone. Thank you for every beautiful song at the right moment, for believing in real good graphic design, for introducing me to so many young artists and new music, for unforgettable Astrastube nights, for taking it to an international level with your productions, for every hug and for every shout-out. It is well received and very well appreciated.

LET'S CELEBRATE! SILLY WALKS - ONE IN A MILLION!"


CHECK SOME MORE PHOTOS HERE!