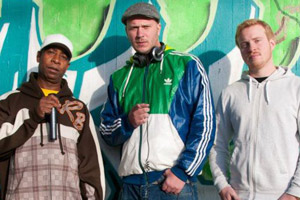 Supertuff Sound was founded in Summer 2006 by U-Tek (Selector, Owner, Bookings) and MC Jah T. In summer 2010 DJ Junior joined the crew to be the young blood on the sound. We play a versatile and powerful selection of all styles of Reggae & Dancehall Music blended with some Rap & Soca – from smooth to fast, from the earliest to the latest bigtunes- with a focus on tight juggling and a good presentation. Our very aim is to entertain & please the people.

In the last years we played all over Germany, Belgium and the Netherlands in Cities/Clubs/Locations like:

U-Club (Wuppertal), Yaam (Berlin), Wagenbau (Hamburg), Rude 7 (Mannheim), Triptychon (Münster), Gleis 22 (Mübster), Club Favela (Münster), Le Grand (Dortmund), FZW (Dortmund), Faust (Hannover), Ruhr Reggae Summer (Mühlheim), Eve Bar (Bochum), Projekt 42 (M'gladbach), Erfurt, Bayreuth, Karlsruhe, Hamburg, Het Parlament (Groningen), Kavka (Antwerpen) and many more.

Since 2006 we promote the biggest Dancehall-Promotion in the area called LION PAW (every 2nd saturday/Triptychon) with guests like: ROMAIN VIRGO, GAPPY RANKS, FANTAN MOJAH, LOUIE CULTURE, ELIJAH PROPHET, SKARRA MUCCI, ANTHONY LOCKS, SILLY WALKS, SUPERSONIC, LP INTERNATIONAL, HERB-A-LIZE IT, CIVALIZEE, FOUNDATION, WARRIOR SOUND, MASSAYA, SOUNDVIBRATION and many more.

Since 2011 U-Tek is playing a monthly Selector's Night in Hot Jazz Club Münster called "FEEL LIKE JUMPING".

SUPERTUFF SOUND is known as one as the wickedest and most uprising juggling sounds in Germany. Ready to nice up every lawn with a quality party-selection, heavyweight dubplates, authentic yard vibes and an outstanding versatility.