Damian Junior Gong Marley - The Early Singles
07/21/2018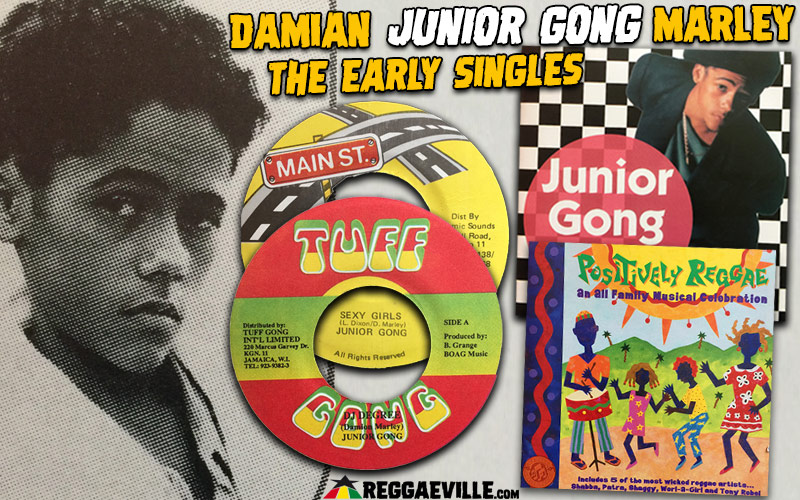 Blessed Earthstrong GongZilla! Today marks Damian Junior Gong Marley's 40th birthday - July 21, 1978.

At age 13, Junior Gong formed the group The Shepherds together with Shiah Coore and Yeshemabeth McGregor. In 1992 they opened Reggae Sunsplash in Jamaica. 26 years later Damian Marley headlines the final night of Reggae Sumfest 2018, which takes place tonight in Montego Bay, Jamaica.

Damian's debut album Mr. Marley was released in 1996. But even before that, he released several songs. We have compiled these rare early singles for you, which bring some interesting details to light.

1993 Junior Gong - DJ Degree [7" Vinyl - Tuff Gong]
produced by Olivia Babsy Grange CLICK HERE TO LISTEN!

1994 Junior Gong - Sexy Girls [7" Vinyl - Main St.]
produced by Danny Brownie CLICK HERE TO LISTEN!

1994 Damian Marley aka Junior Gong - School Controversy
produced by C. Specialist Dillon CLICK HERE TO LISTEN!
Taken from the Positively Reggae Compilation Album]

1996 Damian Junior Gong Marley - Rain A Go Fall feat. Dillinger
produced by Stephen Marley & Ghetto Youths Crew CLICK HERE TO LISTEN!
Taken from a Japan only album release. Click here for more details.



Watch below a very young Damian Marley performing DJ Degree in Miami, Florida 1993: