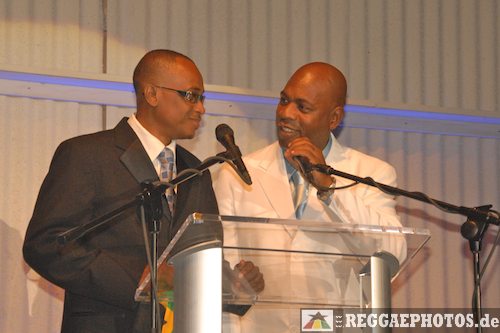 The rhythm battery of keyboardist Wycliffe "Steely" Johnson and drummer Cleveland "Clevie" Browne emerged as the dominant production team of the contemporary dancehall reggae era, lending their skills to records from acts including Shabba Ranks, Maxi Priest and Gregory Isaacs. Steely first attracted attention during his tenure with Sugar Minott's Youth Promotion collective, playing keyboards on the 1978 classic Ghetto-ology before joining the ranks of the Roots Radics, the quintessential band of the early 1980s dancehall boom.
At the time, Clevie -- a veteran of Studio One sessions as well as an alumnus of his family group the Browne Bunch -- was beginning to explore the possibilities of drum machine technology, a subject of much derision from other drummers in the reggae community; he and Steely first played together at Lee "Scratch" Perry's legendary Black Ark Studios during the late 1970s, and the two men immediately clicked, frequently teaming in the years to follow.
By 1986 Steely and Clevie were established as the house band at King Jammy's Studio; by now the concept of electronic production was beginning to catch on among other artists, and the duo, whose experiments with computer technology went back several years, was well ahead of the pack. King Jammy's became the hub of the reggae scene in the latter half of the 1980s, and Steely and Clevie maintained a relentless pace, cutting upwards of ten sides a week behind artists including Cocoa Tea and Dennis Brown.
In 1988 they formed their own label, named simply Steely and Clevie, and soon scored major hits with singles from Foxy Brown, Tiger, Johnny P and Dillinger; the duo also issued a string of their own "one rhythm" records, among them 1988's Busting Out, 1989's At the Top and 1990's Lion Attack. Subsequent work with Maxi Priest, Shabba Ranks, Aswad and Caron Wheeler helped win Steely and Clevie even greater mass attention and solidified their dominance of the era.
by Jason Ankeny, All Music Guide