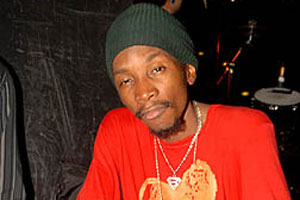 Squidly Cole's debut album, Babylon Days, is full of twelve wonderful songs about every day life with Roots Reggae, Dancehall, and Hip Hop flavors. Wilburn "Squidly" Cole is a world renowned reggae musician hailing from the Trenchtown section of Kingston, Jamaica. In 1980, Squidly made his debut in the reggae music business at the young age of 13 when he played his first hit song 'Black Black Roses' with Barrington Levy for Channel One Studio. By age 14, Earl "Chinna" Smith arranged an audition between Squidly and famed reggae Artist, Jimmy Cliff, resulting in a world tour with Jimmy Cliff and the Oneness band to Europe and Africa. Squidly credits his mother, Pauline Shaw and father, StrangeJah Cole for helping to shape his musical career at such an early age. Musical talent runs deep in Squidly's family. His father, StrangeJah Cole is a living legend from the Ska and Rocksteady Era of the 1960/70s, who is credited with writing the first reggae song, 'Bangarang' as well as several other greatest hits including: "When you call my name', "'Ruff & Tuff'', and "Give Me The Right"'. Squidly's uncle is none other than Donald "Tabby Diamond" Shaw, lead singer of the super harmony trio, The Mighty Diamonds. Their classic hits, "Pass the Coche", "I Need A Roof" and "When The Right Time Come" continue to be Jamaica's dancehall anthems. Squidly has had a successful career as a singer, songwriter, producer, and drummer. For many years, Squidly has been well known for his musical association with the Marley family.
In 1987 he recorded the demo for Ziggy Marley's Conscious Party, which reached platinum sales while also winning a Grammy that year for Best reggae recording. Squidly also recorded on the successful follow up album, One Bright Day, a gold album. After touring for several years with Dub Poet Mutabaruka, Squidly joined Ziggy's backing band, The Grammy award winning Melody Makers consisting of several of reggae's most talented musicians: Sticky Thompson, Franklyn "Bubbler" Waul, Earl "Chinna" Smith, Christopher Meredith, and the Ethiopian reggae band Dallol. Over a ten year period of recording and touring with Ziggy Marley and the Melody Makers, Squidly also played and produced on numerous collector items, including many Grammy winning albums. In 1992, Squidly proved his early producing skills on Damian Marley's first hit track 'Me Name Jr. Gong" on Damian's debut album Mr. Marley. "Me name Jr. Gong" was a smash hit, selling more than 100,000 copies in Hawaii alone. Squidly also recorded "Arm your Soul" and "Lion in the Morning" on Julian Marley's album , Lion in the Morning in 1996. Another important milestone in Squidly's producing credits came in 1998 when at the request of Stephen Marley, he co-produced with Christopher Meredith on Lauryn Hill and Rebel Music's remixed duet with Bob Marley on "Turn Your Lights Down Low" for Chant Down Babylon, an album in which famous Marley songs were remixed with contemporary artists. The album achieved platinum sales and the track, "Turn Your Lights Down Low", was released as the most successful single and music video on that album. Squidly then went on to record on Lauryn Hill's solo debut, The Miseducation Of Lauryn Hill , "When it Hurts so Bad", a favorite hit off the Grammy award winning album.
Throughout his extensive career, Squidly has continued to collaborate with many of the finest musicians from Jamaica and abroad. Most recently, Squidly has been performing with Stephen Marley and has just wrapped up an extensive 2007 US tour in support of Stephen's solo debut and Grammy winning album, Mind Control. In 2005, Squidly established his own recording studio, 100 Studio. 100 Studio features the best blend of roots reggae culture and dancehall music from both seasoned musicians and the best of Jamaica's up and coming talent. 100 Studio has access to many of the most talented reggae veterans from Jamaica, including: Squidly Cole, Bongo Herman, Dia Ferran, Christopher Meredith, AxeMan, Beezy Coleman, Lamar Brown (aka Riff Raff) Carol "Bowie" McClaughlin, Dean Fraser, Andrew Mr. Bassman, Andrew Manning, Sticky Thompson, Obeah, Phanso, Dalton Browne, Fire House Crew, Everroll Wray, Andrew Manninig, Freddy Fatstring, and Sidney Mills.