Interview - Sly Dunbar's History of Drumming (Part I)
04/12/2017 by Angus Taylor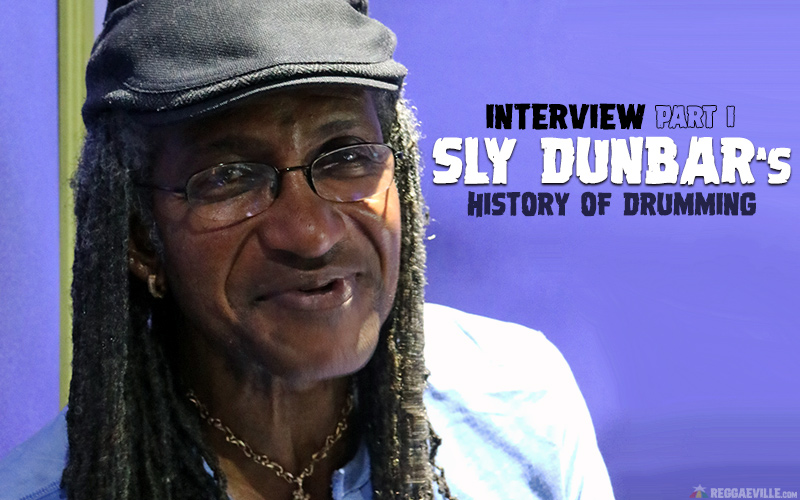 Lowell 'Sly' Dunbar is Jamaica's most high profile living drummer.
Sly rose to prominence during the 1970s when reggae drummers occupied a similar role to guitarists in rock - virtuosos who every producer or artist wanted for their band. In the 80s, as part of production duo Sly & Robbie, he would revolutionise reggae, dancehall and wider popular music.
Aside from making rhythms, there's nothing Sly likes more than reasoning about the people who influenced and played with him over the years. But he rarely gets the chance to speak about reggae drumming specifically.
Angus Taylor called in on Sly at his studio on Red Hills Road - the same Kingston thoroughfare where he first decided to play with bassist Robbie Shakespeare. Naturally, he was busy at his drum machine, working on projects with Anthony Redrose and Bunny Brown, and mixing for Michael Franti.
Their discussion - conducted without pre-prepared questions - traces Sly's personal history of drumming in Jamaica and the drummers that inspired him along the way.
Who was the first Jamaican drummer to make a big impact on you? Was it Lloyd Knibbs?
Lloyd Knibbs, yeah. Then there were people like Joe Isaacs, Fil Callendar, Mikey Boo and Bunny Williams, he died the other day. Then there was Carly Barrett and Winston Grennan. There were a lot of them but those are the main recording drummers I was listening to.
Lloyd Knibbs had a reputation for hitting the drums hard. Is that deserved?
I don't think he played hard because if he played hard he couldn't have made those rolls. And they sound so sweet. Because he was strictly like a wrist roll, you know? If he was playing hard the roll would be stiff. He played the roll flowing with the rhythm. But I notice with Lloyd Knibbs he never played a roll if it was not necessary. When he locked the rhythm he really locked it.
Which of his tunes really made an impact on you? Addis Ababa?
That was one. Because he was playing a pattern right through the song. He wasn't playing a regular ska. I said "Boy, this is wicked. This must be the wickedest drummer that God sent". He was playing an African beat in it. The headspace was just focused on a certain thing to come up with that beat. He couldn't think of playing something else different because it wouldn't make any sense. He came up with the perfect beat for the perfect song.
When did you first play the drums?
When I was going to school I never really played the drums. Myself and Willie Williams used to bang on the desk and sing some songs. But I never started playing the drums until maybe around 13 or 14. Mikey Boo used to play in this band called the Yard Brooms. Me and my friends used to go up there and watch him. Then when Mikey Boo left I started playing up there, learning to play at the same time.
When was the first time you played on a drum set?
I played on a drum set one night when a band was rehearsing. Me and my friend passed through. I remember I sat down at it and a man shouted that it looked like I was trying fishing!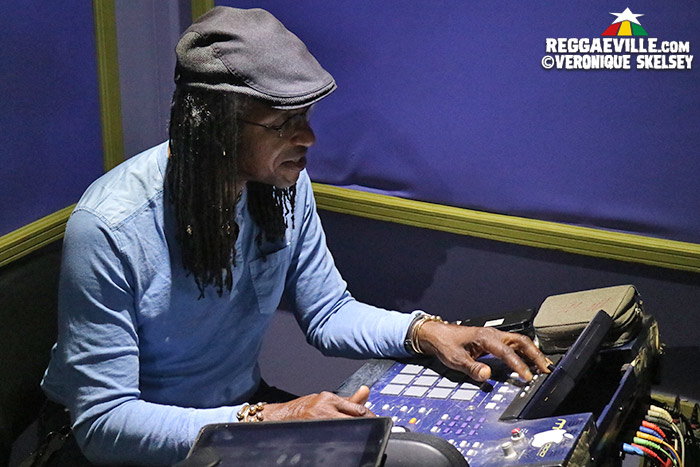 How did you meet Ansel Collins and start recording?
Ansel Collins was living in the area. Olympic Way. Ansel Collins was one of the musicians who used to be around Bobby Aitken and did a lot of sessions when he was young. I went down to a rehearsal with Ansel and Ranchie. Tin Leg was playing the drums, a wicked drummer. I think he left and went somewhere and Ansel said "Sit and play man". So I played and Ansel said he liked how I played.
I think a couple of weeks after that Ansel said "I want you to play a session for me" and I said "Really? Big time recording?" So I went down to Federal and we recorded a song called Night Doctor. That came out as the Upsetters. But it was Ansel who produced it and wrote it - him and Ranchie. It came out to be a hit. At that time I was learning some refrigeration work down by Kelvinator's. Most of the men down there knew that I played music, so on Fridays we used to go down to where the band was rehearsing and visit and play.
Then Ansel called me one day and said "Come listen to this thing" and he was playing this piano piece with his mouth. I said "Wow!" Then he started playing the bass-line and I said "It sounds good". He said "We're going to go to rehearsal and work it out". So that was when we were coming up to Double Barrel now. Me and Ansel stayed back every night after the rehearsal and worked it out. After about one week straight we worked it out and told Lloyd Parks and told Bobby Aitken the parts they must play and said "This is how it's going to sound". Ansel booked the time and we went down to cut it. On the session Winston Grennan was also playing because we had to borrow his drum set. I didn't have a drum set. So he played two songs and I played two songs. I went to bat first. I was playing this flying cymbal thing that Lloyd Knibbs created.
On Moonlight Lover.
Yeah. And Bobby Aitken, I don't think he'd heard it before. He said "What's that you play?" And Ansel said "Leave him man. That's a rehearsal song." So when he played it back he said "What? The little youth heavy man! Him heavier than Winston!" Bobby Aitken was a man who just up and drew card, you know? So Winston went on the road to go and buy cigarettes and then came back Bobby said "Winston, the little youth is heavier than you". (Laughs) Winston got vexed and went round to the drums and started to beat it! So that's when I sat and learned "I'm not going to just beat the drum hard. Just have a different tone." I thought "That's the trick. Just play easy".
When I did Double Barrel that night I said "Ansel - this is a million seller". Everybody laughed at me but Ansel never laughed because Ansel was always in my corner. I was his little right-hand man. The next day me and Ansel went back to studio and we put on the lead. I said "Ansel, you can't use the organ and play the lead. You have to use the piano, then use the organ for the rundown to give it some colour and people are going to believe it's Jackie Mittoo." So we cut a dubplate and walked down to Waterhouse and put it upon a sound and told them "This is Jackie Mittoo on the dubplate". And when they played in the dance everybody said "Here comes the brand-new Jackie Mittoo for you" and Ansel laughed.
You mentioned Winston Grennan.He has claimed that he created the one drop. Is that your memory?
No. I don't think so. Because ska was one drop, you know? Just it was a faster thing. So it was either Drumbago or Lloyd Knibbs or one of them. Winston Grennan was coming from the era that they were playing. So I couldn't say. It's like straight four.
What people call steppers.
I couldn't say I created straight four. I think Fil Callender was the one who played it on Mr Fix It. He said he just did an experiment and played it and Coxsone came and said "It's wicked". So I could say Fil did it and I heard it and liked it but he never followed through and kept on doing it. I saw it and realised it was a riff and a groove but Fil Callender really played it.
Both Lloyd Parks and Inner Circle told me about a drummer called Johnny Pretty. He died recently. What are your memories of him?
(Laughs) Johnny Pretty! He was my friend. He wasn't really, really a drummer but he just had a talent because he used to play the trombone and he could sing and he could play a little drum still. Lloyd Parks used to use him on some of his sessions but Ansel Collins always liked what I was doing so Ansel always used me. So after a while me and Lloyd started playing in bands and when I got the opportunity and broke out it was a different side of Lloyd Parks like you've never seen! But Johnny Pretty was a friend. Johnny Pretty was more a friend than all of them. We grew up on the same compound. He used to ride a little bike. He used to work at the German Embassy, so I used to go on the bike back and he'd drop me at Kelvinator and then go down so I could learn refrigeration.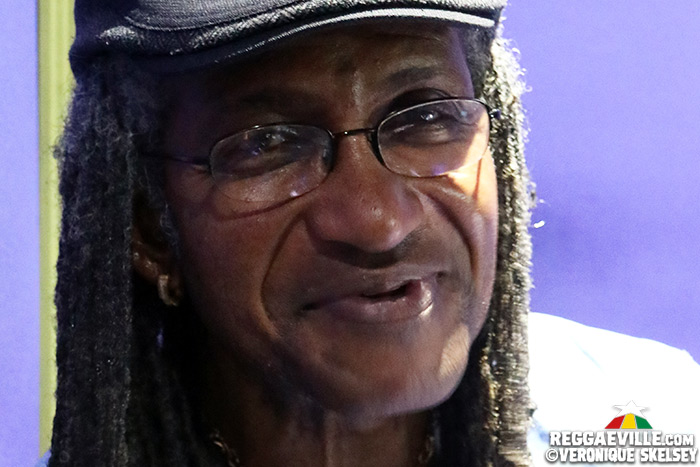 Can you talk a little bit about Joe Isaacs, because you've mentioned him already?
Personally, and here we come back to the thing, if you talk about one drop, I think Joe Isaacs created rocksteady. Me and him were reasoning and he said what happened was when Lloyd Knibbs left the Skatalites and Coxsone and Joe started to play he couldn't hold the tempo so fast. Jackie and them used to quarrel and Coxsone said "Boy, the drummer drop the tempo". Jackie went to Coxsone and said "Skipper, the drummer can't hold it, you know?" So Jackie came back to him and said "Alright, you know what you're going to do? Hold it where you can hold it and we will come to you".
And this is where tunes like "The train is coming baby" went down a bit slower then. This was when the whole Bob Andy stuff would come in and Fatty Fatty and all of those tunes there. If you listen carefully he's playing the cymbal. A lot of drummers were playing it closed but he was not closed when I heard him play.
And then after Joe Isaacs there was Bunny Williams. The one with the famous roll - Bang! Signature roll. I think Bunny Williams was the wickedest rocksteady drummer. He never really got fancy but his drums had a sound. He was one who played I'm Just A Guy, he played Moving Away, he played No No No. He played a portion of tunes when you hear it you will hear his signature. He was a man who is steady – he'd not drop tempo. He was not an up-tempo man.
I'm sure you've been asked this before but who do you think played the prototypes of the reggae beat?
(Inhales and exhales) Well, Bunny Lee says "Muma no want Bangarang" was the first reggae song. I think it was Nanny Goat. I don't know if I'm wrong. It was the first with (sings doubled guitar chop).
Because of the Sound Dimension delay on the guitar?
That's right, the guitar. But the drum style, now I don't know if it was Hugh Malcolm or Winston Grennan or Drumbago. I don't know if Malcolm played on Bangarang? I don't know who played the drums on that. Bunny Lee could tell you. I think it was Fil who played Nanny Goat. And Fil played on Real Rock, Drifter, Queen of the Minstrel and Satta.
There is one more drummer we left out. Paul Douglas. He played a lot for Treasure Isle. He played with Lloyd Charmers on Everything I Own by Ken Boothe. He played on Everybody Bawling and a whole heap of tunes. He played for the Maytals too. And he played on some Beverley's songs too like Freedom Street by Ken Boothe. Paul Douglas. Wicked drummer. Bad bad drummer.
Again I'm sure you've been asked this before but can you talk a little more about the flying cymbals? Because there was some confusion where people thought that it was started by Santa Davis on None Shall Escape The Judgement but he has said he just popularised it.
Well, I remember I checked the great Jackie Jackson, the bass player. I said that there was a song called Moonlight Lover where I heard it first when I was a kid. I said "Boy, this nice". And Jackie said "I know who played it, you know?" I said "Who's that?" And he said "Lloyd Knibbs". And I said to Jackie "What? You know I've been asking all the while who play that you know?" That's when I heard it first and then he probably played it in another song, I don't remember the name but it was one of those old songs. When I heard it I said "It's nice" so when I got a chance I used to practise it.
So when we were cutting Double Barrel I said "Ansel, I am going to play this thing like Lloyd Knibbs played in Moonlight Lover". And he said "Yeah man, we're gonna work it out and it will really fit the tune". I played it there and it became a big hit. And then I played it again in a song called Here I Am Baby for Al Brown and then I played in a song called It's A Shame for Delroy Wilson. I think Bunny Lee heard it on Here I Am Baby and in a smart move, a really intelligent move he took it and he just flew the thing! It's just music business you know? He created the sound and it worked.
Santa told me that because King Tubby put the hi hat through his high-pass filter that made that sound so prominent that it sounded like a new thing.
Yeah, it was probably just how it was recorded and it came up loud. But when it was on Here I Am Baby it was loud and Bunny Lee heard it then. Dennis Sampson was the one who did that recording for Dickie Wong.
You mentioned Mikey Boo earlier. At this point he was playing for In Crowd and Now Generation.
Yeah man. Mikey Boo is one of the most creative drummers. Really. Even in the days when I was not playing yet and used to go and see him play - the way he played his drums and approached it was a special way and you could hear it in the recording. He was one of the neatest drummers - he made his fills accurate. He would bring over that kind of R&B thing to reggae and he would have some standalone rolls that only him alone could do. A tune like Breakfast In Bed - that's a wicked way that he played it and he is very creative. So I really admire him and I learned a lot from him too. I couldn't play like him. I had to find some other way to play because he is very unorthodox. I had to find something! (Laughs)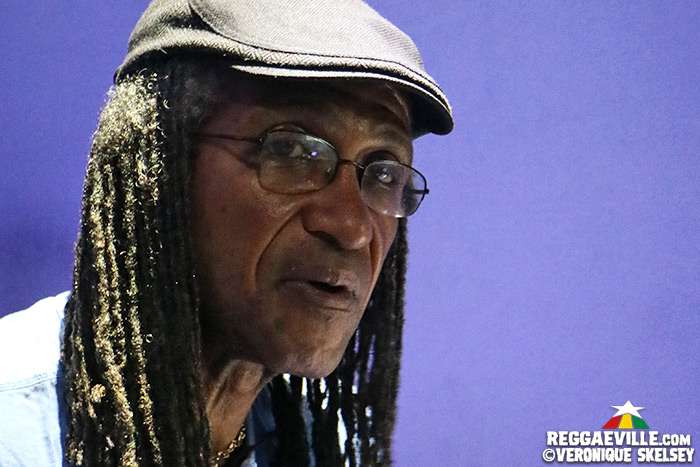 Red Hills Road where we are now had the strip of clubs where you used to play in the early 70s. And it was when playing in one of those clubs that you heard Robbie playing in the club next door.
Yeah, up top. Clubs all along. A lot of clubs. But actually, we used to check one another out by Randy's. On the corner. All musicians used to meet up there. Everybody would come and punch the clock. It was like an office.
Idler's Rest.
Yeah, Idler's Rest. Then when I was playing at Tit-For-Tat, Robbie started playing at Evil People. We already knew one another from downtown and we started talking. Me and Touter had done some recording sessions like Money In My Pocket with Dennis Brown - the original version. I think Touter told him about me. He said "I think you should go to Tit-For-Tat and check out this drummer". He came over and started checking and then we just used to meet and talk. We'd go to Idler's Rest sometimes or Robbie would drop by Channel One because I was always around there - because he used to play for Aggravators.
Then Robbie came and started to play. First he would come in and start to play the piano because Ranchie was playing bass and then Robbie took on the guitar. Because Ranchie used to play guitar and then bass at Channel One on a lot of songs in the beginning. Lloyd Parks didn't turn up on a Sunday session and we had rice and peas and chicken so Ranchie played the bass and Frater played the guitar. That song was It's A Shame. Ranchie played on a couple of those early Channel One hits. He played most of them. So Ranchie was still playing bass until Ernest [Hookim] said Robbie should go on bass and Ranchie went back to the guitar.
How important the sound of the snare in reggae drumming in the 70s?
The tuning of the snare was very important but every drummer used to have their own sound. Because Tin Leg had a sound like "ratatatatatat" and then Carly came with almost the same copy, a little bit different, Malcolm used to have the same thing "Brrrrrrrram". Winston Grennan wasn't like that. He rolled with I think snare and tom. I never liked the pan snare. I like it but I never liked playing it because it just gave you one option. I was an R&B person. I listened to a lot of R&B. I liked Earl Young and Al Jackson and how the snare sounded. So I told Ernest "If you can get the snare sounding like Philadelphia International I think we can do a lot of great work with it because it won't have that pan sound. A snare that sounded like the Channel One snare could take us anywhere".
So the Flying Cymbals went out of business when I came back with a song called When The Right Time Come for Channel One. I made that rhythm for Ernest. We never had any money so we begged them some time. Four musicians played and each of them did one song. I said to Ernest "I have a rhythm for you" and I told Ranchie the bass-line and we cut that and I said "This is your song Ernest". He said "Really?" So when JoJo [Hookim] came he told him.
But I had the drum pattern in my head because at night I used to sing the bass-line how I'd play it if I got a chance to record it - but I didn't get a chance. Before that a lot of people used to come and say I should play the drums like Santa and I said "I can't play like everybody. I have to play like myself". For When The Right Time Come, JoJo said "Just go through. Just deal with it so". So I just started doing what I had in my head to do and ever since then me and Ernest worked the drum and got a great drum sound at Channel One.