Interview - Sly Dunbar's History of Drumming (Part II)
04/20/2017 by Angus Taylor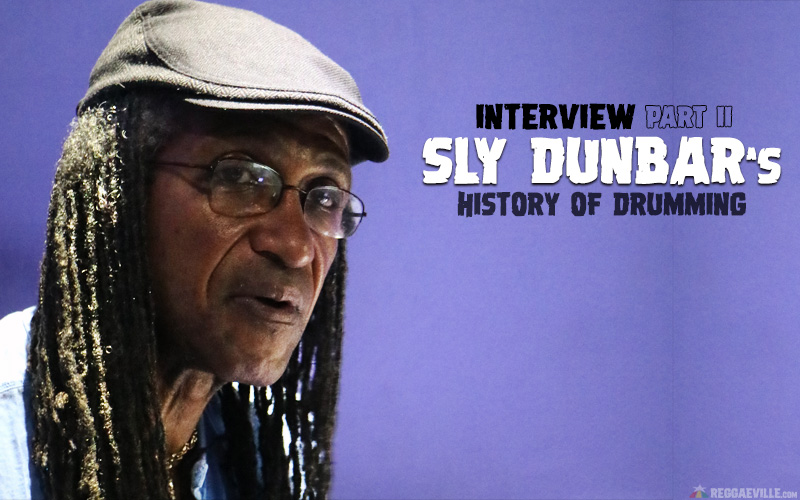 In part 2 of our history of drumming with Sly Dunbar, he talks about how he and Robbie started producing, the advent of digital rhythms, the African folk inspiration for Murder She Wrote and his recent work with the Kingston All-Stars…
I've interviewed you before and you've been very open about crediting Fil for the straight four and Lloyd for the Flying Cymbals. But this drum pattern that Channel One became famous for - did it have any link to the past or was it totally from in your head?
It wasn't totally in my head. I used to listen to a lot of drummers and drummers play things. But in reggae [at that time] there wasn't a pattern being played. There was one pattern which was "tick tick car" and sometimes they'd mix it up randomly but they didn't play a pattern. That's why if you go back to Addis Ababa, Lloyd Knibbs was playing a pattern. He played a pattern in a couple of songs well. You can go and listen to those patterns because I was always asking him about it and he'd say "Yeah man".
So I figured that more or less nobody was playing a pattern right through the song. I thought "If I play this pattern through then people are going to start humming the pattern of the drumming when they hear it". So I did that, I played it right through and everybody thought it was something on the machine that looped up and made the drums play right through for the three minutes. A lot of reggae drummers will play a lot of different things randomly. They wouldn't keep that pattern right through. So I went through a lot of things with Channel One playing patterns and JoJo started reacting to it.
I did an interview with Barnabas who said that he learned the drums from being at Channel One with you. He also said the reason you and Robbie went off and did your own thing was because you were playing certain patterns at Channel One that the renting producers didn't want. They just wanted what was in fashion so you wanted to go off and play those things your way.
Well, JoJo was a man who is okay with anything. Because they wouldn't cut the track until I found the beat. Because they'd always go back to mixing dub and drum patterns are going to play in that so when the bass and drums stand alone they can really put a lot of delay on the mix. But from ever since we started we were saying "After the sessions have faded out where are we going to be standing?" So we started saying that we should do our own recording too. I still played on a lot of people's things but we started recording for ourselves. We had things that that we knew they wouldn't want. Something like Baltimore. If I was making that for JoJo or Ernest they wouldn't take it. But we figured the industry needed something. And being around Robbie Lyn and other great musicians we just decided to do something different. And we started making and producing our own songs and playing what we felt like playing.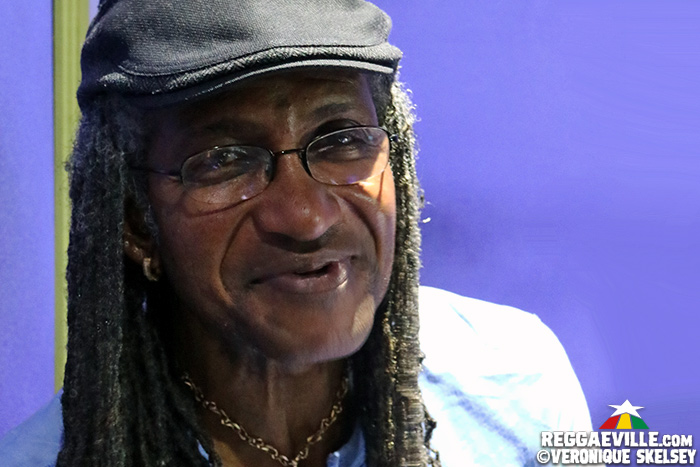 Clive Hunt told me that he supplied you with your first Syn Drum.
I think I bought the Syn Drum from his music store where he was at.
Sam Ash Music.
Sam Ash, yeah. And even the drum set that I used to tour with Black Uhuru, the red, green and gold drum set - he ordered it for me because it was a custom-made set. So we used to go there every day and check Clive. We used to hang out with him over by the music store.
Where do you think the digital thing came from in reggae and dancehall? Clive and Super Cat told me that Tyrone Downie was the first Jamaican producer experimenting with digital rhythms.
The first time I heard it really - it could be Familyman, you know? Familyman made a tune named Chim Cherie. And he made a thing for Errol Thompson one time. A little signature thing for Errol named Squeaky. So I don't know, maybe between Tyrone, Scratch and Familyman - because Scratch is a futuristic man! (Laughs) There are a couple of Bob songs with a drum machine playing on it. I don't know who really started it but I know I saw the drum machine over at Scratch. I know Familyman used to use it and made this thing named Chim Cherie.
Could the digital thing have happened sooner in Jamaica? Was Bob not feeling the digital?
Well, the drum machine was always there but most of the drummers were not into programing so I think somebody like Familyman or Tyrone would have fooled with it more. Because Tyrone is an experimental person and so is Familyman. It's what played on No Woman No Cry and there is that same drum machine on some other songs. But I don't think so. I figure Bob was an experimental person too. Bob always wanted to do things. Fresh things. New things. So I don't know.
As the dancehall thing continued some of Jamaica's earlier folk rhythms found their way back into the patterns. I went to a lecture at the Jamaica Institute about this the other day. What was your perspective on this in terms of what you and Robbie were doing?
Well I used to listen, and I still do, when it would come round to festival time. I would always sit and look at the old people dancing and playing the banjo and those things. Because here is where the heartbeat and rhythm is coming from and the whole thing is African. So this is where I got the idea to Make Murder She Wrote. I would watch the dance and then figure out if I could make the drum play like how they were dancing. Everything was there but we just went for it and brought it forward. So I would guess it was created by all these people and then we came, saw the idea and just continued with it.
What kind of sounds inspire you outside of music? Do you ever hear something falling down and hitting the ground and think "I like that"?
I look at people and I take body movements. My mother and myself used to love to watch Rex Nettleford, a very creative dancer. I noticed that when they were dancing, the drummer was the person who would take them anywhere. The body movements come from the drum so I realised that the accent on the drumming makes people move. So this is where I started playing with a certain accent because when people hear that they move their body in whatever way.
When I was playing, I was listening to James Brown. James Brown used to have a thing "Give the drummer some" and the two drummers would start playing and the theatre would get mad! People would jump out of their clothes! I said to myself "I wonder if this can ever happen in reggae?" because reggae was just that (taps simple one drop beat). But when I checked out James Brown it was the same tempo and the same beat playing (drums James Brown rhythm showing similarity) So I said "Oh, it can be played".
So when we started on Channel One I started experimenting and started to double up on certain things, looking at Africa and making rhythms where the drum and bass can just be the unit. In the dance everyone was playing one drop. Because Bob always said to me he wanted me to play an album for him. But I never got a chance because I went on tour with Peter and he'd see me and say "Boy, I like how you go on but you've ended up playing for the next man! I'm too late!"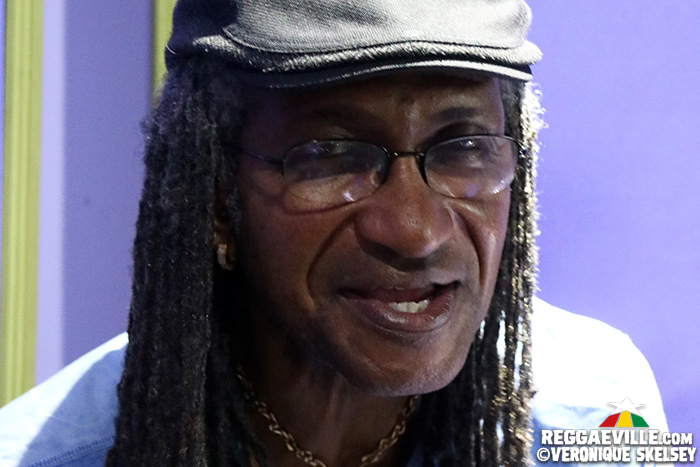 But you did play on some tracks with Bob…
Well, one night he came back. He left and came back after exile. Scratch and him saw me on Hope Road and Scratch said "Sly! Bob is here and we want to go to studio right now" at 12 o'clock at night. So me, Bob, Boris Gardiner, and Scratch went over. Scratch said he wanted me to play the one drop and Bob looked at me and said whispered "No play no one drop. Play your thing. A long time I sing on one drop. I just want a different thing." So I played some straight four thing and Bob said "Yeah man - that's in my heart". I don't know what became of the track, Smile Jamaica, because there are two versions. There is a straight four version. I think it's probably me playing on the straight four version but I don't want to say. I know it was done over at Scratch - recorded in the middle of the night.
Then one day I was walking up to Joe Gibbs and I saw Ruddy Thomas and he said "Boy, Sly, Scratch a look for you. He has a song because the drummer has come and it's not working". I said "What are you talking about man? He has some great drummers there" and he just said "No, it just nah connect". I said "Which song are you talking about?" He said "Punky Reggae Party". So I said "Alright Flick, you know it's a one cut I will take today. I will just go in and record it right now because a lick me a lick".
So I went in to record and there was no count on the tape. It was just Bob's voice alone on the tape. I heard Bob's voice and I started to feel the tempo and I said "Are you still deh deh Bob?" and he said "I'm still deh deh" and I made the roll and I said "You still deh deh Bob?" And he said "Yeah man, I'm still deh deh". So I said "Alright" and it was just me and Bob's vocal alone, seven minutes. I said "Bob you'll not need me again today" and I just got up. I saw Flick later and he said he called Bob, and Bob said "Sly beat it and gone up the road!" (Laughs) Scratch has a book named People Funny Boy and I think he mentions it in it. And Police And Thieves too I played for him. They say he's mad but he's not mad - he remembers those things you know?
When do you remember the live drum thing coming back into Jamaican recording?
It was always there because when I would put up the drum machine a lot of people never liked to see me put up the drum machine. Because they had the Channel One or Joe Gibbs sound ringing in their head. During the whole Grace Jones thing everybody wanted me to play live but what happened was the studio was not equipped to play. The control room was big and there was a little voice room and there was nowhere the band could set up.
Even today I think the people are being robbed because the drummer is by himself in a corner and everybody is in the control room. So there is no feeling, no soul. I don't even like it. I will just do it and take your money if you pay me and I am gone with it but really and truly I don't feel it. It doesn't have anything. But the studio people were into this small thing with the computer thing. They wanted this big control room and small studio room.
So the live things started coming back but it's not come back on the right note so I think that makes it worse. There is no feeling or soul in the music because nobody is eye contacting when you're playing together to say "bridge" or a man nods his head and when the groove comes on they say "wicked" so you don't know you have it locked. So I think the whole thing sometimes it's a waste still. Not really a waste but to me we are coming from seeing all these great drummers play and that's not good for them. There is no feeling - nothing in the music.
In the days of recording in two track there must've been incredible pressure not to make a mistake.
Well, most of these musicians were great musicians and that is why they rehearsed! (Laughs) So they'd nail it! Nail it proper. And if it's not right they would cut it again. Sometimes they'd leave it like that because the feel is so good. If you listen to Hello Carol there's a guitar mistake but they couldn't have picked a better take than that. They said "Boy, we like that".
In recent years foreign producers have come to Jamaica looking for the great musicians from the 60s and 70s to create something in that spirit. One of those projects is Kingston All-Stars which you are a key part of.
Kingston All-Stars. The guy from Canada, Moss came and did a thing called Rocksteady with Hopeton Lewis which was a good thing. A movie. Then he came back to do Kingston All-Stars. He got all these singers and put together a band with Hux Brown, myself, Mikey Boo plays on some tracks, Robbie Lynn, Ansel Collins, and we just created and made an album. There are some great musicians on it. I haven't heard the final mix but I think it should be good.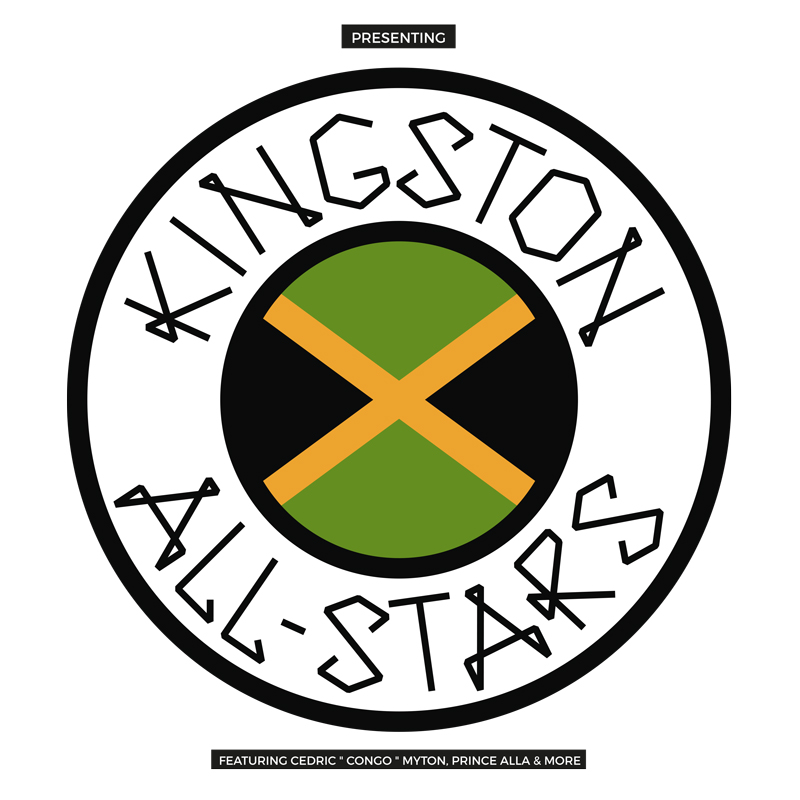 Is there anyone that we've have missed in terms of drumming?
(Laughs) Yeah, well there are some other drummers like there was a guy who used to play for Byron Lee and the Dragonaires - Stewie [Derrick Stewart] is a great drummer who teaches at the school of music. Then you have… What's his name again? He used to play for Lloyd Parks and We The People. Good drummer. He played on Love Has Found Its Way.
Devon Richardson?
Devon. He used to play with Lloyd Parks. He used to be there when we were cutting tracks by Gibbo. He is a very good drummer. I should mention that Style Scott was okay too. Another great drummer was Benbow. And Santa. When I came all of these were playing before me and I figured "How am I going to make my name in the business?" Because these were some great drummers. The reggae was going one way and everybody said "This is how it has to be done".
I want to thank Channel One, JoJo and Ernest for giving me the freedom to play. Because I was playing at the Tit-For-Tat club every night and then going to studio. You were hearing so much music, so you could take ideas and go to the studio with it. Ernest and myself worked on the drum sound for about two years to get it like that. Ernest as the engineer would know what I was going to do and how hard I would play. At times JoJo would get mad because me and Ernest were taking too long to record because we were working on this drum sound clapping! (laughs)
But I have to give all the producers and musicians a lot of credit. I remember I was talking to Robbie Lynn and I said "Boy, Robbie, I have to respect unnu because I try some things and if you just said one word saying "The drum thing no work" then I would have to change". And he never said a word so I'd just go through. I have to just big up the man there and give him enough respect. So it's not me alone that makes it happen. It is other people. Producers, singers, everybody - they could have said "No, we don't want it like that" but they gave me the chance to play.