Review
Album Review: Samory I - Black Gold
07/14/2017
by Gardy Stein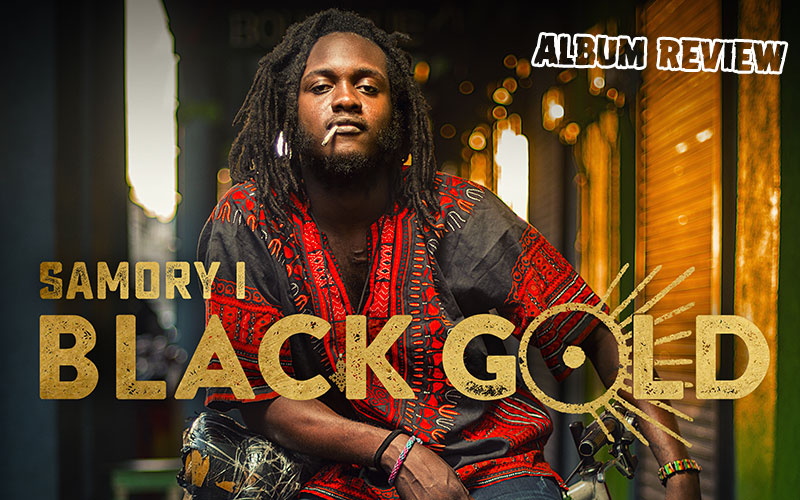 Samory I - a name to remember. A name filled with historic meaning too, as Samory Touré was one of the most successful African opponents to European colonisation in the 19th century. His great-grandson Ahmed Sékou Touré was chosen first president of independent Guinea in 1958 and, twelve years later, released the album Regard Sur Le Passé in his ancestor's memory.
In line with this tradition, it would seem, Samory I sets up a monument on his own with his debut Black Gold. His rise from a no-name to a seriously to-be-reckoned-with artist has been a swift one. Church choir, a chance encounter on his neighbour's veranda, first steps on dancehall rhythms, then a trailblazing introduction to producer Rory "Stonelove" Gilligan… asked what made him decide to work with Samory, he says: "He grants us a look through the eyes of a ghetto youth in today's world. Black Dub celebrating the black experience!" And indeed, the experience is vivid, palpable in the way Samory I vocally interacts with the rhythms. Anger, sadness, hope, indignation, love - all the emotions you can think of, resonate in his voice. Listen to the cover version Is It Because I'm Black, for instance, original sung by rhythm & blues veteran Syl Johnson. Feeling!
Apart from Rastaman, all other tracks are original material, created and recorded with and at Rory's studio and brought to life by fantastic musicians such as Kirk Bennet (drums), Mitchum Khan Chin and Courtland "Gizmo" White (guitar), Sheldon "Atiiba" Bernard (flute), Donald Dennis and Aeion Hoilett (bass), Denver Smith (percussion), Carlton "Bubblers" Ogilvie (keys) and a legendary brass section played by Dean Frazer, Nambo Robinson, Dwight, Everal Gayle and Stingwray. The result is an absolutely stunning sound which is best heard on good speakers. Just recently, I had a taste of the single Rasta Nuh Gangsta on the big bad double-stacked I-Livity soundsystem – this bass blows you away, and the extended version (the song is 9:16 long!) leaves much room for the unfolding instrumental soli.
Thematically, deep faith and devotion to the Father above shine through in tracks like Son Of David, Power, Fear Of Jah, Serve Jah and There Is A Spirit. Other subjects include harsh criticism of evil "servants of the system" in Suit & Tie and a denunciation of those who keep playing the role of the slave masters in Not Because. Weed has its place as well, as does the motherland: a natural mystic is flowing our way in Lost Africans. The title track, finally, speaks of love, sweet love, again in a perfect synergy of the singer's natural timbre and the musicians' exuberant skills.
Black Gold is a reggae album in the genre's most essential form. No easy-peasy beach and sunshine affair, no bling-bling ingratiation to pop markets, but heavy, painfully honest roots that Samory I turns into an authentic memorial of the history reggae's been born out of – suffarah's music.
---
Release details
Samory I - Black Gold
DIGITAL RELEASE / CD / 2LP [Rorystonelove]
Release date: 07/14/2017
Tracks
01. Son of David
02. Rasta Nuh Gangster
03. No Because
04. Serve Jah
05. Suit & Tie
06. Lost Africans
07. There Is Spirit
08. Black Gold
09. Weed
10. Power
11. Fear of Jah
12. Is It Beause I'm Black
13. Rastaman

DOUBLE VINYL RELEASE INCLUDES SELECTED VOCAL AND DUB MIXES