Review
Album Review: Roughhouse - Take A Look
01/24/2015
Acoustic on the move!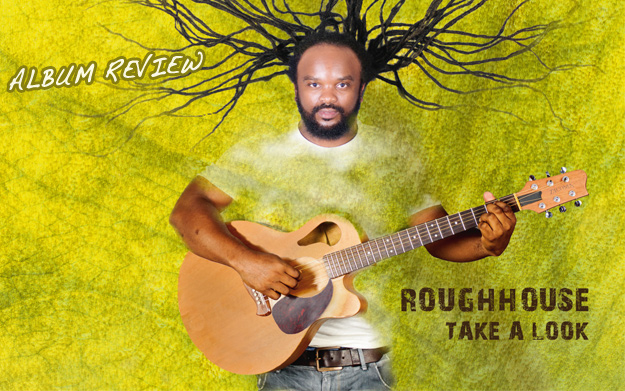 Acoustic performances have always held a special fascination for music lovers. It's presumably the pure and natural sounds of the instruments that touch us. Particularly at a time when everything can be digitally produced, original acoustic music brings the listeners back to the roots.

Acoustic performances are common in folk or rock music but also not unusual in Reggae: Gentleman's MTV Unplugged or Jahcoustix's Acoustic Frequency are two examples of Reggae artist having released an acoustic album in 2014.

Now, at the beginning of 2015, a third German-based musician releases an album called Take A Look using the current interest in acoustic music to his best. We talk about Keith Powell Jr., known as Roughhouse, who comes up with his third studio album with 12 fresh new tunes that show yet another face of the multitalented man.

Following in the footprints of his father Keith Powell Senior, who in his day was a well-known Jamaican guitar player, Keith became an excellent guitar and bass player himself since he has been playing for many international and national acts on tour, in festivals, and in studios. The list of musicians he worked for is long; furthermore, he plays in his own band, has established himself as a solo act, and works in the field of production and became one of the CEOs (Chief Executive Officers) of the record label MPerium Records. Consequently, he self-produced Take A Look and released it on the abovementioned label.

A first look on the album cover designed by Frank Erler shows the singer with his guitar in front of a greenish-yellow natural background. The background design indicates the texture of an autumn leaf. His long dreads surround the man like branches of a tree. At a second glance, you see Roughhouse submerging into the background. He becomes one with nature. The contours of his locks and his body are blurred and he has partly adapted the green and yellow colors. The link to nature of the cover refers to the natural sound of music. Particularly interesting is to note that only the guitar in his arms is not blurred and doesn't fade into the background. The contours are sharp and the delineations are clear. This underlines the importance of the guitar in this music piece. Yes, the guitar is the star of this album!

Take A Look is not a Reggae album. The next Reggae LP by Roughhouse Peace & Inspiration is announced to be released later in 2015. Take A Look has the singer-songwriter's style and contains elements of blues and rock.

The way the vibrant guitar strings fill the room with echos and creates a certain melancholy in If It's Like That or Wherever Love Takes Me, an image of an old western movie soundtrack with a lone cowboy with his guitar comes to mind. Apart from the guitar, instruments like drums, percussions, keyboard, and flute as well as several backing voices (recorded by him and by a small team of instrumentalists) accompany Roughhouse's vocals.

While his previous solo releases were more of a free mix of different styles and genres, this one is conceptualized and sophisticated. Roughhouse has decided not to sing in Patois but in English on this record, most likely to keep the distance from Reggae and follow the clear line of rock and blues.

One song that breaks the ranks is You Know and I Know. This tune breaks through like a bomb with a much higher tempo and energy than any other song in the album. It shows Roughhouse's versatile vocal skills; in addition to the guitar is the drum, another dominant instrument here. Moreover, the song is a sweet declaration of love to his empress.

Take a Look is a collection of wonderful songs, whose lyrics and melodies can be uplifting and motivating (Happiness in You) and may inspire you to reflect on the serious times of life. On the level of content, the record gives us a deep insight into the singer's soul:

He discusses experiences as a traveler in many songs: Far Away, Gots to Leave, Wherever Love Takes Me, Brand New World, Run Run Run. Traveling seems to be a blessing and a curse at the same time for him when he says: "Got to hit the road again" in Gots To Leave.

At first glance, the songs seem to be very serious and heavy hearted. This would fit into this cold and dark wintertime, when many people tend to be very sentimental. But at the second round of listening, it turns out to be a very positive album. For example, the title track Take A Look helps you gently stand up on your feet after a hard time and look forward, not backwards. A new beginning is an important subject for Roughhouse since it is a central topic in many songs (Happiness in You, Brand New World, Good News). Perfect for the release date in the first month of the year - January - the album marks a new start and an optimistic outlook into the future. No chance for winter blues!

This record is for everyone who loves acoustic guitar sounds and melodies!
---
Release details
Roughhouse - Take A Look
DIGITAL RELEASE [MPerium Records / Longflight Records]
Release date: 01/24/2015
Tracks
01. Take A Look 02. Happiness In You 03. Good News 04. If It's Like That 05. Wherever Love Takes Me 06. Run Run Run 07. Far Away 08. You Know And I Know feat. Havanna Surf 09. So Simple feat. Ajjani 10. Brand New World 11. If I Had Wings 12. Gots To Leave