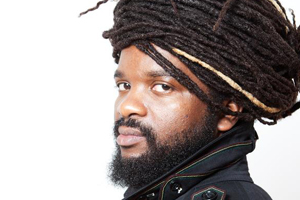 Born on the 8th of February 1974 in Manchester, Jamaica, Keith Powell begins his musical career at the very early age of 12 playing the Bass guitar.

Coming from a musically background and with his father being one of the most prominent musical figures within Jamaica, renown for his guitar playing, meant both Keith's musical experience and professionalism was initiated at a very early age. As his ever expanding reputation grew, so also his recognition within the record industry. This meant the initiation into primarily studio session employment, where he had the fortune to work with such artist as Ken Boothe, Garnett Silk, Toots, Jimmy Cliff, just to name a few.

At the age of 24 he came to Germany where Keith got involved with a new music scene, quickly he decided that this his musical career could only benefit, both with experience and financially, from a commute to Germany.

As his employment as a bass player amplified, his interest in vocals became apparent, especially as his frequent visits to Jam Sessions became a center point of convergence for him and his colleagues, where he was repeatedly requested to venture into singing. His musical talent did not solely lie with his bass, but also with his singing "Ragga" style, where he became his telling name "Roughhouse". Subsequently he began receiving engagements both for studio recording with like The Fantastischen Vier, Gentleman, Samy Deluxe, Max Herre, Patrice, and live shows such as Summerjam, Chiemsee Reggae, Splash Hip-Hop Festival, Rock Am Ring, Rock Am Park, and many more famous event in Europe. He is now the a full grown solo artist and producer and Musical Director band leader bass player for Germanys top Hip Hop star, Samy Deluxe.