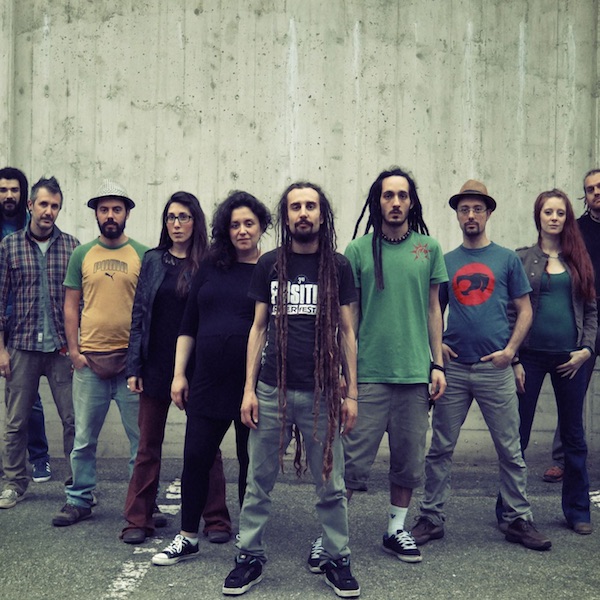 ROOTICAL FOUNDATION – Roots Reggae Family A new roots reggae big band from Milan, Italy, born in 2004.
In 2006 RF published its first album titled "Ri-uscire", with tunes both in English and Italian. In 2012 the band published "HUMAN RIGHTS" a concept album dedicated to human rights' issues: part of the money earned by selling this CD is devolved to STAND UP FOR JAMAICA, association founded in 1999, working on different projects to preserve human rights on the reggae island.
Some Rootical Foundation's musicians are active part of Stand Up for Jamaica's executive, organizing benefit events, debates and classes about the association's projects. HUMAN RIGHTS contains important featurings and guests such as Raphael (Eazy Skankers), Sun Sooley (from Senegal) and PieroDread (Franziska Family), Dread Lion Hi Fi, and the drummer Nico Roccamo and many others.
During these years, Rootical Foundation performed lots of live gigs, and participated to important Italian reggae festivals such as Ragga coi Cinghiali (Liguria - 2010), Reggae Radio Station Summer Festival (Milan - 2010), Filagosto Festival (Bergamo - 2011) Bababoom Festival (Marche - 2012) POsitive River Festival (Parma - 2012).
They also performed in Switzerland and at the international reggae festival OverJam, in Tolmin, SLOVENIA (2013 and 2014) and at Chiemsee Summer 2014, GERMANY.
During these years the band has shared stages and played opening live acts with Italian all-over-Europe known reggae bands, such as Eazy Skankers, Mellow Mood, Franziska, Krikka Reggae, and also international reggae artists such as Ky-Mani Marley (JAM), Romain Virgo (JAM), Raymond Wright (JAM), Sun Sooley (SENEGAL), Gappy Ranks (UK). Singer and backing vocals played lots of live showcases supported by different sound systems, in lots of musical clubs all around Italy.