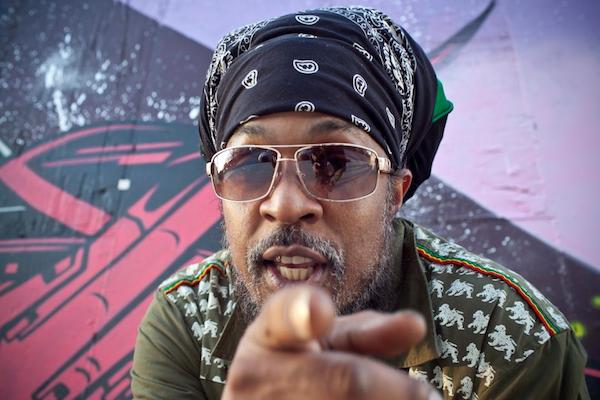 Rob Symeonn is committed to helping return reggae to its roots. Reflecting his strong moral beliefs, Symeonn's lyrics bring a positive and conscious message to his listeners. His first single on Easy Star Records, "Anything for Jah," released in 1997, was a rockers anthem, expressing Rasta devotion to Jah and a universally relevant spiritual message. Singing in a roots style—evocative of the original sounds of artists such as Bob Marley, Hugh Mundell, and Fred Locks—Symeonn, like those who came before him, understands that a universal message and a catchy song will best spread Jah's words of love.
Symeonn made his debut as a singer for the One Love International Sound System. From there, he steadily built a following among Caribbean reggae fans in New York. It was while he was honing his skills at Freedom International and Macca Bee Sound Systems that he first met and worked with fellow Easy Star recording artist Ruff Scott in 1986; Rob and Ruff have collaborated countless times since then.
Symeonn's second single with Easy Star was "Delilah," featuring toasting by Ranking Joe. That song, along with "Anything for Jah," appears on Easy Star Volume One. He later voiced "Keep On Trying" on the "Thai Stick" riddim (this can be found on the full length CD Easy Star Volume Two: Dancehall Culture. Rob also appears extensively on Ticklah's Hi-Fidelity Dub Sessions: Roots Combination album, as well as on Ticklah's latest release, Ticklah Vs. Axelrod. Symeonn's own full length, Chosen One, came out on Redbud Records in 2005.
Rob Symeonn, the Spark Igniter, began singing as a youth and sharpened his skills as a singer and entertainer by working with New York based sound systems for years. It was Easy Star Records that recognized Symeonn's talent and brought him to a wider audience when they released his well received debut single "Anything For Jah" in July 1997. His follow up single "Delilah" - the killer combination tune with the legendary deejay Ranking Joe - saw its release in May 1998. Regarding this effort we then stated.. "Rob Symeonn is certainly someone to watch for in the future as he is one of the most promising singer/songwriter talents within the roots & culture section." More than three years later we are treated to the singer's first full length CD "Abso Root ly Hot". Recorded at Selah Studio, Hawaii, and produced by The Heartical Crew and Rob Symeonn himself, "Abso Root ly Hot" certainly lives up to expectations. First of all it's a real joy to hear a fine singer with a distinctive voice. Furthermore one is kept involved by this Rastaman's conscious and upful lyrics, which are delivered over appealing, well laid riddims, courtesy of Isis, Idrum, Maakah, Poppa E, Jah Son, Solomon, Kaikua, Binghi T (all members of The Heartical Crew) and Rob Symeonn. The musical backdrops featured on this set are mainly fresh originals, but one can also hear some decent interpretations of classic riddims like for example The Abyssinians' scorcher "Declaration Of Rights", which is utilized for a standout piece entitled "True Born Rasta". Other standouts are "Bible", "Put Down Your Guns", "Leaders", "Lion In The Jungle", the infectious "Never Turn My Back On You" and the impressive "I'm In The Mood", which carries a jazzy feel. All in all this album contains no weak moments. It's truly well worth checking if you are looking for sweet melodies, delivered by a singer with a distinct and inimitable vocal style and bubbling scats.