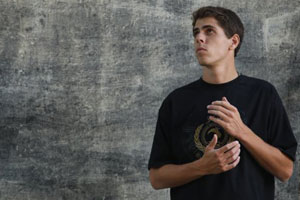 Richie started out in the music business making his debut with the Reggae Dancehall band, Stepacide (feb. 2004). Later he joined the No Joke Soundsystem as a toaster and is now working also on a paralel solo project, voicing riddims.

Richie has already been featured on several mixtapes all over Europe and has voiced dubplates for such sounds as Soundquake, Mighty Crown (5 time World Clash Champions), Kanga Roots, City Lock (Riddim Clash Champion 2009).

In 2008 the release of "Held In" on Supersonic's Devils Angels Riddim carried Richie into the 4th position on Soundquake.com's TOP SALES chart. In the same year the hardcore reality tune "Dem Say Dem a Gangsta" enjoyed a lot of success being played in every dance across Europe and featured on some of the most important Soundclashes of the year.

Presently Richie Campbell is promoting his debut album entitled "My Path" which is available for free download at www.mediafire.com. The album takes you through Richie's "path" in music and life in the past 3 years, with songs ranging from Reggae to Soul and Dancehall.