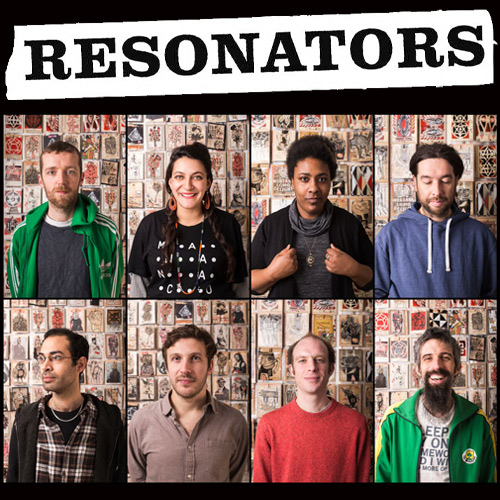 Nine-piece Brighton/London based band, Resonators, have firmly established themselves on the dub reggae scene, finding a unique and distinct sound.
Rooted in 60/70s reggae, Resonators embrace diverse influences, making their music relevant in todays Bass Music culture and reminding us of reggae's uplifting influence on the dance floor. Inspired by the meditative quality and universal appeal of Jamaican roots music the band radiate a playful and unified stage presence.
The two lead singers Kassia Zermon and Faye Houston wipe away the notion of the big-ego front man whilst Darren JamTone provides live dub effects, and the balance is set. Following its release in 2010, Resonators' eponymous debut album gained worldwide and national radio support on BBC Radio 2, BBC 6 Music and Kiss FM from the likes of Mark Lamarr, David Rodigan and Craig Charles. "...elements are truly beautiful and haunting.
In these days of homogenised, digital recordings lacking in any individual sound or identity it is most encouraging to hear something so truly original... most refreshing". David Rodigan MBE Since then Resonators teamed up with London label Wah Wah 45s, releasing a number of 7" singles including Sweet Love Affair, Gold Getter and Surrender, receiving international radio play and widespread acclaim. Their second album, The Constant (released 5th November 2012 on vinyl, CD and download) fuses direct and healing messages about today's world with progressive roots-inspired dub and a deep soulful sound. The first single taken from the album, Surrender was described by David Rodigan MBE as 'British Reggae at its best.'
The past few years have seen the band move audiences at legendary venues including Brixton Academy, Brighton Dome, KOKO, Jazz Cafe and festivals including Glastonbury, Reggae Sun Ska (France), Outlook (Croatia), Dour (Belgium)and Fusion (Germany). They have played support slots with a vast array of acts including Jimmy Cliff, Lee Perry, Fat Freddy's Drop, Horace Andy, Arrested Development and Black Uhuru to name a few.