Review
Album Review: Ras Muhamad - Salam
07/24/2014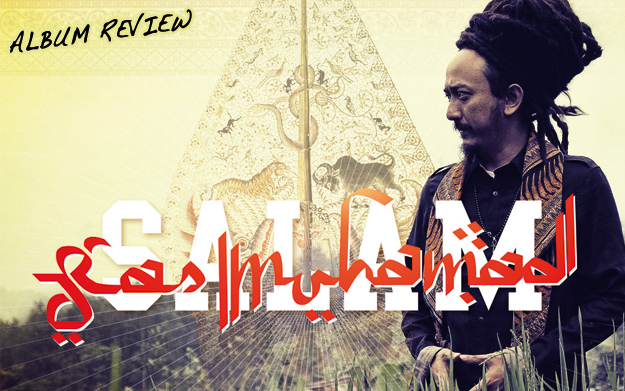 Ras Muhamad comes out of Indonesia with his third album, a sonic journey that truly represents the global scale of reggae. His super vocal style is a distinctive tenor that moves through complex melodic structure while maintaining the consistent vibe and confidence of reggae's true roots singers. Singing about truth and rights is one thing but songwriting on this level crosses boundaries that know no hemisphere. Collaborating with the Germany-based Oneness Records crew for the rhythms, the level of professionalism is raised even higher with this crew's deep sound - full of unique keyboard effects, horns, delay, and the authentic sounds of live drums, Ras Muhamad is cruising "set speed" on 16 tracks.

Songs are sung in English and Jamaican patois with a distinctive conscious messaging that is very relatable. Linguistic and cultural education are explored with the title tune Salam a typical greeting in Indonesia, with its roots in Islam, and its simple message meaning "peace".
 
His native Bahasa Indonesia language is found on the album as well. The song Leluhur is the a song on the album that was conceptualized especially by Ras Muhamad to represent Indonesian music and thought, recorded in collaboration with the Oneness Records crew with overdubs using Indonesian traditional instruments. The lyrics seem to address the effects of globalization, translated as "Ancestors I beg you to give me the time for me to sing a song for you. A song about what's happening today because it seems we lost our way. I remember these were the fingers that plowed the rice fields. These were the fingers that build the great and grand temples. (i.e. Borobudur/Prambanan) with great universal values and noble deeds has been turned to ruins and forsaken by us.".

The album delves into a diverse range of topics from the links between ancient Asian and African cultures as found in the Kabaka Pyramid collaboration Re-Education to personal motivation on Nuh Badmind Friend. The beauty of language, barriers of borders, respect of one's ancestors, humanity, war and suffering, as well as Ras Muhamad's own personal stories of struggle are all present here.

There are several collaborations with international reggae artists in addition to Kabaka Pyramid, Naptali from Jamaica is on the album singing Farmerman a fun ride through the mighty agricultural lands and hands of Jamaica and Indonesia. The tune was originally released as part of the Reggaeville Riddim selection in 2012. Sara Lugo, Jah T and Uwe Kaa from Germany all make great contributions on the recording. The album truly aims to present reggae as a global force to reckon with, Uwe Kaa sings his verses German on Barriers and Borders as they trade the meaningful chorus, "barriers and borders in our view, like a road block in a dem curfew". As Ras Muhamad sings his own verse, explaining music as a "universal language, music is like mathematics, truly everyone can understand it."

There are hints of romance and levity present, especially on All Over The World which is straight lover's rock, a shout out to the females of all looks and styles, to "rock and come in" to the sweet sounding Oneness groove.

Ras Muhamad aspires to introduce Indonesia on a global scale through reggae, to put Indonesia "on the map", specifically in music, arts and talents that the country has to offer to the world. It's ancient cultural traditions of music, dance and theatre run deep, with their influences from Buddhist, Hindu, and Islamic and African traditions, and these influences clearly inform his artistic expression. Check out Salam, its a perfect example of "reggae gone international" and a great example of how technology has made the world a smaller place for the singers and players of instruments.


---
Release details
Ras Muhamad - Salam
DIGITAL RELEASE [Oneness Records]
Release date: 07/25/2014
Tracks
01. Salam
02. Good Over Evil
03. Re-Education feat. Kabaka Pyramid
04. Jah T Interlude
05. Satu Rasa feat. Conrad Good Vibration
06. Nuh Badmind Friend
07. Farmerman feat. Naptali
08. Lion Roar
09. Leluhur feat. Kunokini
10. Learn to Grow feat. Sara Lugo
11. Conquest
12. Barriers & Borders feat. Uwe Kaa
13. So Tired
14. All Over The World feat. Mighty Che
15. Blow Them Away
16. Through The Smoke
Featured artists
Kabaka Pyramid
/
Naptali
/
Sara Lugo
/
Uwe Kaa