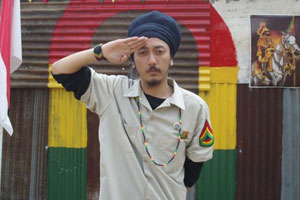 " Said I'm rising out of the east. I represent for my people…Indonesia!" – Salam, Ras Muhamad
Prolific recording and performing artist, bi-lingual lyricist, published book author, radio host & producer. The self-proclaimed Reggae Ambassador of Indonesia, Ras Muhamad has relentlessly and ceaselessly spread the message of Reggae from the aspects of culture and history throughout Indonesia and to the likes of South East Asian regions.

Indonesian-born and raised, educated in New York City for over a decade-long. Ras Muhamad born as Muhamad Egar aspires to re-introduce Indonesia on a global scale, to put back "on the map" specifically in music, arts and talents that Indonesia has to offer to the world. With a career that spans a little over a decade ago; as of July 2014, Ras Muhamad steps into the international scene with a brand new album, his fifth studio album entitled "Salam" produced by Germany's Oneness Records.

Ras Muhamad believes that through the power of music especially Reggae, people can share and learn of each other's cultures through the message. To find similarities and common ground, setting aside petty differences and finally celebrating life and all its dynamics through music. Such as the core and heart of Reggae, it's a universal expression and a message of love.

Even though hailing from a predominantly Muslim country, Indonesia has a vast diversity that prides in a rich multi-cultural, plural faiths, moderate, progressive and multi-ethnic backgrounds. Such as the National creed of Indonesia "Bhinneka Tunggal Ika" meaning "Unity in Diversity", Ras Muhamad as an Indonesian reflects his nation and upbringing through personal expression and song. Evident in his countless of tunes where he effortlessly is capable of switching diverse lyrical deliveries from English, Jamaican Patois and Bahasa Indonesia the Indonesian language.

Ras Muhamad musical influences other than Reggae, Ska, Dancehall and Rocksteady ranges widely from Hip-Hop, Indonesian traditional and pop music, Jazz, Metal and World Music. Besides Bob Marley, his Reggae "heroes" are Lee Perry, Peter Tosh, Augustus Pablo, King Tubby, Sizzla, Garnett Silk Gregory Isaacs and a very long-list of others. Lyrically, he draws many inspirations also from Hip-Hop icons such Rakim, KRS-One, Nas and Wu-Tang. If a listener would have listen closely to any of Ras Muhamad's tune his rhyme structure has subtle undertones and akin to a Hip-Hop lyricist. As he once stated that the first artists he heard when he reached New York as a child in the mid-90's were Buju Banton, Wu-Tang, Shabba Ranks and the Fugees. To simply put his vocal and lyrical style is that of a HipHop emcee molded by the spirit and energy of Sizzla Kalonji and Garnett Silk.
Not just active in the Reggae Culture, Ras Muhamad challenges himself to collaborate with other genres in the Indonesian music industry. To express himself as an artist and give the "Reggae breath" to other forms of music is challenging to an ever-growing and evolving artist. Predictability, clichés and being generic is not in Ras Muhamad's vocabulary as a form of expression. To give a short instance, he collaborated and recorded music with Indonesian Pop Icons such as Glenn Fredly , Tompi and Element. Indra Lesmana, a jazz legend in Indonesia also had experience in working with the Reggae Ambassador of Indonesia. Reknowned, Indonesian Punk Band Superglad also collaborated with him in 2013 for their album. Ras Muhamad doesn't stop there, countless collaborations with his Reggae "brethren" in Indonesia can be heard. He even lent his voice to Malaysian artists such as the R&B crooner, Nadhira and the Rock band PopShuvit. And naturally obvious, he has recorded a handful of songs with HipHop artists such as the most popular rapper in Indonesia, Saykoji.

His first nationally distributed album "Reggae Ambassador" in 2007, heavily experimented with Dancehall riddims. Ras Muhamad wanted to show a underexposed aspect of Reggae culture to South East Asia, the Dancehall culture. Ras Muhamad was the first of its kinda in SouthEast Asia, exposing the music industry to Dancehall Reggae music. In 2009, releasing his 2nd album "Next Chapter"; he continued on his duties as the Reggae Ambassador by collaborating with Norway's Admiral P, Kenya's KaSimba and the Malaysian-based Senegalese King Lhota. Musically, the direction of the "Next Chapter" album was inspired by Sizzla's "Praise Ye Jah" and "Black Woman and Child" album and the "digital Roots Reggae" productions of Bobby Digital.

In 2012, Ras Muhamad saw the release of his 3rd studio album "Berjaya" where most of his lyrics are in Bahasa Indonesia. 2013 was the year when he became the first Reggae musician to ever written and published a book, "Negeri Pelangi" or Rainbow Country. His book became a national best-seller.

Not just a performing and recording artist and also a writer. Ras Muhamad is a radio announcer and radio-program producer in one of Jakarta's most popular radio station, Mustang88fm. "JamaicanSound" airs live every week, the Reggae Ambassador plays, updates, shares news, culture and historic values with his numerous amount of fans. He deems it as a responsibility like the duties of Mutabaruka and Sir Rodigan broadcasting of Reggae culture.

So forth, the Reggae Ambassador is armed with experience as of a veteran to step into a new scene. Hailing and roaring with his brand of Indonesian Reggae music to any part of the world.



In come the musical t'ing… SALAM
Ras Muhamad's fifth album "Salam" is his most proud work where lyrics and music is strongly combined in balance, none outweighs the other due to the major part of Germany's Oneness Records. Moritz "DaBaron" Korf or "Morry" as Ras Muhamad affectionately calls him oversees the album in terms of producing and lending arrangements.
"Salam" offers Asia's first international Reggae album that is in a "Pure Roots Reggae" format, although Dancehall and Hip-Hop fans alike can truly relate to this album musically. Thematically, even though most part of the lyrics in "Salam" are in English, Ras always finds a way to deliver his Indonesian standpoint. Relevant in the first single "Lion Roar" where he explains as such a history of cultural similarities of the "Lion" symbol , between African and Asian culture and even western such as Europe.

He touches many topics as if a history teacher that teaches unconventional lessons. Such as the collaboration with Kabaka Pyramid, the critically-acclaimed lyricist in "Re-Education" where both men convey of Asia having many traces and a "hidden cultural link" with Africa from spiritual thought, architecture and physical features. In "Conquest", a listener can truly feel the rage of a son that puts a verdict against one of humanity's greatest crime and that is Colonialism. Ras Muhamad explains how Christopher Columbus gave way of "Conquest" on Asian-African nations. In the tune "Learn and Grow", with a Soul/R&B feel, Sara Lugo joins Ras Muhamad for a positive message in the form of self-acceptance and self-motivation. "accept your design from the Divine" Ras Muhamad states in his lyrics.

"Satu Rasa" meaning "One feeling" in Bahasa Indonesia is a celebration where no matter what language you speak everyone seeks for love and joy when it comes to music. The lyrics to this particular tune are in 6 languages, being in English, Jamaican Patois, Bahasa Indonesia, Flores, Mollucan and Javanese. "bunyinya beda maknanya sama" meaning "sounding different to the ears but carrying the same feeling.

Capable of conveying thoughts in different languages, Ras Muhamad invites Uwe Kaa to continue the spark and friendship they started when the German Reggae artist, Uwe Kaa toured in 2012 in Indonesia. "Barriers and Borders" is speaking of aspirations and sharing experience when a person reaches new places and learning new things of cultures. This tune is perhaps the first multi-lingual Reggae tune with German, English and Indonesian lyrics. Uwe Kaa whom in most part uses Deutsch lyrics in his previous works, makes a debut in this song; using English lyrics during the part of the chorus. A truly East meets west feeling or vice versa.
Even though dominated with Jamaican riddims, a particular track called "Leluhur". Ras Muhamad shows traditional Indonesian music on a mystical and spiritual level, it has breaths of "world music" when paid attention. Aptly named "Leluhur" meaning ancestors, he calls on his ancestors to guide way and give a guiding light to his steps and to connect people more to the natural aspects of life and the Universe. A special part at the end of the track was delivered by Bhismo's Kunokini, the lyrics are in KromoInggil, ancient Javanese language as old as Sanskrit itself.

The tune "Good Over Evil" inspired by Emperor Haile Selassie's "war" speech to the United Nations, is a Rastafari credo and call of cease-fire, putting love and humanity first. Having an optimistic view with a world that's run by mis-leadershid, humanity is "confident in the victory of Good over evil." As Ras Muhamad states in this particular song, it is like an explosion of music and fiery barrage of conscious lyrics.

"Through the Smoke", closes the album with an emotional take of Ras Muhamad's personal tragedies. His "Negeri Pelangi"/Rainbow Country" book launching in February 2013 was met with tear-gas assault by the misconduct of the Indonesian Police. He fires back on the local Indonesian media that were only looking for mere sensation, instead of positive content and others that criticizes and accused the artist for "planning" the tear-gas incident just to gain popularity. His response was simply "Go to Hell!".

Lyrically inclined, musically dynamic and Jamaican-influnced yet still Asiatic. Oneness Records boldly releases Indonesia's first Reggae international album on July 25th 2014, Ras Muhamad's "Salam".