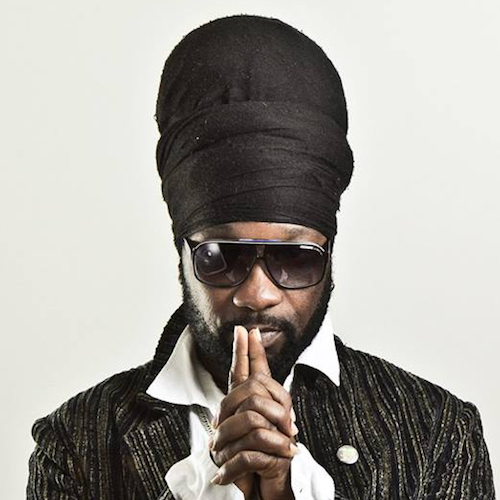 Ras Mc Bean is coming from Guyana, he is a singer with an unique and very powerful voice; with his lyrics he wants to carry out the Message of Love and Righteousness all over the world.
After travelling and performing in South America, in the Caribbean and U.S.A. Ras Mac Bean now lives in Europe and started to work with Irie Ites in Le Mans, touring France and whole Europe.
The artist signed two tracks (« Dragon », « Wa dem a go do »)on the compilation called LinkUp, as well as a duet with Lorenzo (« Brotherly Love ») Ras Mac Bean has been really discovered by people at the Jamaican Sunrise (Biggest festival in France). The two shows he performed there captured the audience with his vibe and talent.
In June 2004, Ras Mac Beans first album, produced by Irie Ites Records, came out. With international artists such as Anthony B or Morgan Heritage, also feature Lorenzo (jamaican singer) and Tricia Collymore on backing vocals and a duet with her too. Most of the riddims were build by the Jamaican Tottenham Brothers Mafia & Fluxy (11 original
instrumentals versions) as well as Addis(excellent label from Switzerland on two tracks). This album shows Ras Mc Bean´s talent and was an important step in his carrier putting him as one of the european reggae revelations of the year 2004. Indeed, you will find him on the compilation Kingston Love (Discograph- march 2004) together with Sizzla, Dennis Brown, Turbulence, Luciano, Shinehead,...and many more. Moreover, Ras Mc Bean worked with famous UK producers like Disciples, Bush Chemists,
Jonah Dan,... In June 2005, Irie Ites records release a riddim called Zion riddim with two tracks from Ras Mc Beans album: "Dragon" and the very well-known combination with Morgan Heritage "Lion is king". These tracks have a big success all over the world!
The last three years up to now ,Ras Mac Bean did many StageShows all over Europe with different Soundsystems and different Backing Bands. All those Live Shows were loved by the whole Crowd!