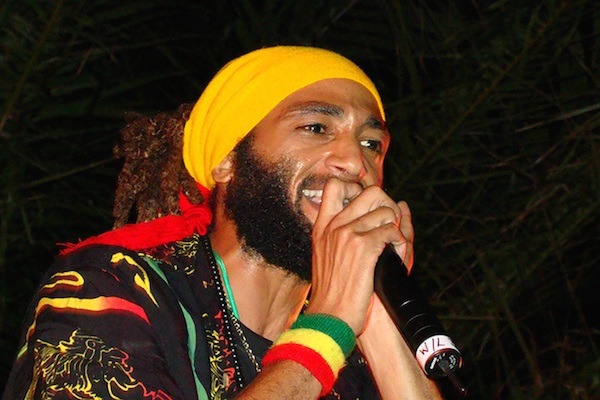 Award winning Belizean Reggae/Dancehall Artist, RAS INDIO, continues to represent putting Belizeans on the International musical map. Spreading positive vibes worldwide with his unique lyrical delivery combined with anenergetic stage presence, guaranteed to light up every stage and ignite any crowd. His musical style is one oftraditional African elements mixed with the hardcore sound of Roots Reggae—lyrically filled with Inspirational messages of truth and righteousness. RAS INDIO, aka David Cynque Obi, was born in Los Angeles, California on September 23, 1976 to Belizean parents, Bredda David Obi and Ms. Beaulah Heusner. His creativity is evident in his musical lineage, as his father is a well-known Belizean musician, and the innovator of Belizean Kungo Music.As a youth, Ras Indio relocated to Belize learning the keyboards with the guidance of his father. He started performing at local events throughout Belize at age 12 as the keyboardist in his father's band, "TRIBAL VIBES". Between the Ages of 15-21, he made annual trips with the band internationally touring Mexico, U.S., and Europe.
Returning to the US in 1994, Indio, Along with his cousin Quinn & friend Mosez, Created the first Belizean hip-hop/dancehall group in Los Angeles called Da Wood Dwellas. Together, they produced two underground albums in the U.S. and made a few visits to Belize opening for Beenieman, Mr. Vegas, Berres Hammond and Xstatic. They also made a television appearance on MTV —a show called "The Cut" hosted by the Late Lisa "Left Eye" Lopez of TLC.
Ras Indio moved back to Belize in 1999 and developed Indigenous Productions embarking on his solo career. His first album released in Belize was entitled "FREE UP MI NATION", which featured his number one radio hit, "WILD WILD WEST", This song made it to #2 on Belize Radio 96.5 Krem—FM's Top 10 Countdown. It is still heavily used as an anti-violence anthem throughout Belize. Ras Indio's Music can also be heard on 104.7 2 Bob Radio Therapy in Australia, 99.2 MEGA Radio in France with D.J. Prince Thierry, and in Hawaii with D.J. Al on Irie Radio just to name a few.
After His first release, Ras Indio linked up with other talented musicians around Belmopan, Belize to form the "BRIMSTONE FAMILY", a group with which he still performs. They are known as the "Purest, Roots Reggae band in Belize". Give thanks to the Creator, our 2007 "Push up the FIRE" Tour was truly successful… Malcolm X Fest in Los Angeles, California in May, Reggae in the Desert in Las Vegas, Nevada in June, RASTAFEST in Toronto, Canada in July, Northwest World Reggae Fest in Oregon in August. These are only a few of the stops where he shared the stage with many international acts such as Culture, The Wailers, Third World, Luciano, Ky-Mani Marley, Baby Cham, Queen Ifrica, Maxi Priest and Many others. His skills and talents include singing, songwriting and composing. He also operates a full-service recording studio for his own works as well as other up and coming Belizean artists. His work has been chronicled in Belizean newspapers such as The Belizean Times, The Reporter, and The Amandala. "With a clear deliverance, he spreads Universal messages of Truth, Love and Righteousness." BZ Times