Review
Album Review: Raphael - Mind Vs. Heart
10/18/2013
by Munchy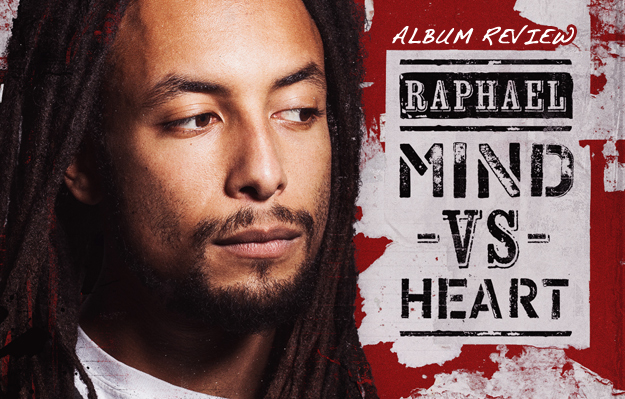 It has been more than ten years since he first started his musical career professionally, and yet Afro-Italian singer Raphael still describes Mind Vs. Heart as his debut record, that finally gives listeners the chance to really "get to know me better". At the tender age of 16 the son of a Nigerian father and an Italian mother met bass player Botta and the next four musicians Lucio, Giovanni, Alessandro, and Mammolo to eventually form the Eazy Skankers, a reggae group that soon played all over Italy, sharing the stages with greats such as Black Uhuru or Sinhead O'Connor. Raphael Emmanuel Nkereuwem bribed as songwriter and charismatic lead singer with his strong and clear, yet edgy voice and story-teller lyrics that had the fans not just hearing, but listening. Performances at GoaBoa Festival or the infamous Rototom Sunsplash proved the band's talent, and the same time had its front man gain experience that he can draw from now, that he just started his solo career last year. My Name Is Raphael was the significant title of this introductory EP that dropped in 2012 on Bizzarri Records. Including as many as eight tracks this sneak peak of what was yet to come already exposed Raphael's opulent creative output. Just one year later Mind Vs. Heart now finally marks the release of his full-length debut, another testimony of this young man's talent.

"I am just one, not a perfect man. Me cyaan change the world with my own two hands, but I can sing and tell the people what a gwaan. So sit back, press play and check dis ya one." - no sooner said than done after this perfect introduction, simply but powerfully presented on guitar chords alone. The deeply rootical Laid Back kicks right in and represents the classical one drop. A guitar on subtle reverb sprinkles gently on the heavy, round bass, while saxophone, trombone, and trumpet set rich highlights. From the hypnotic opening, Raphael swifts to the cheeky Wine With Me, an easy-listening ladies tune with a bold organ melody and a rocky lead guitar, before the pre-released anthem Soundblaster hits the speakers. "Music must be creativity and not just vanity" is the singer's message that reminds us of the times before culture was swag and dancing turned into profane daggering. Musically producer Syrix proves that modern effects such as pitch shift and fancy filters can fuse organically with an old school reggae sound, to turn this sing-a-long into a modern time classic. Less is more for the diffident title track Mind Vs. Heart that shines with the simplicity of acoustic guitars and percussion while the lyrics reveal an intimate portrait of the singer: "I'm fighting a war, and this time it's against me. I am hurting inside, and me cyaan get no rest. I smile, I cry, show off, get shy, agree, deny, clear up and confuse again. I meditate, then love, then hate, I'll change, and then it's too late." Raphael hits the notes perfectly, his voice is strong, yet his little characteristic crisp gives his vocal sound a unique touch, that can be enjoyed when he sings and also when he flips in a few tight DJ parts on the upbeat, R'n'B flavored In Every Style. "Take me to the dance fe mek dem jump and prance. Gimme any riddim and just throw a glance, me deejay any style, rub-a-dub for instance." is spitted smoothly on the fresh beat by Nite Lite Music. For a social commentary on wrongly set priorities in today's politics and society Raphael teamed up with a Germaican veteran, lyric millionaire Skarra Mucci. Asking "and dem sending all dem robots, searching water deh pon Mars. But What About Us?" appeals with an almost disco-funky horn segment and powerful guitars. Tiwony, the speedy chatting DJ with the bass voice from Guadalupe is another guest artist to be featured on Step Up, a brass driven uptempo heavy weight. Of course, the wide representation of reggae couldn't miss to touch dub vibes as well, as the last bonus shows off with delayed vocals, far away guitar chords echoing in the infinity of space and hypnotic percussion that spreads over the entire panorama.

No less than 18 tracks were produced together with Irievibrations Records, friends and colleagues from Austria, musical brothers and companions. From the roots rocking bonus track To The Foundation to the airy, easy skanking She Cry, onto the syncopate blues of Gideon, the album shines with both musical and lyrical diversity. Still the skillfully arranged tracks complement each other accurately with adorable ease to draw a perfect image of the variety of authentic reggae music – a treat for heart AND mind.
---
Release details
Raphael - Mind vs Heart
CD / DIGITAL RELEASE [IrieVibrations Records]
Release date: 10/18/2013
Tracks
01. Intro
02. Laid Back
03. Wine With Me
04. Soundblaster
05. Mind vs Heart
06. Inna Dis Ya Time
07. In Every Style
08. Duppies Inna Dance
09. Knocking
10. If Jah Is With You
11. Time
12. Gideon
13. Step Up
14. She Cry
15. What About Us
16. To The Foundation*
17. Cool Down feat. Michael Rose (Madaski RMX)*
18. Cool Down (Mada Dub Version)*

*Bonus Track